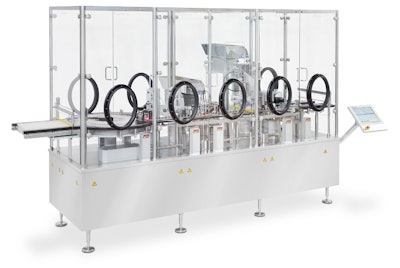 Show Daily Exclusive - Pharmaceutical packagers have the same wish list as other industries: maximize efficiency and product quality while reducing overhead, costs and labor. Flexibility is necessary too due to the wide range of packaging formats used. The tactic to achieve these goals is automation, and automated systems can be found from primary packaging through palletizing.
One area of activity is aseptic vial filling where ready-to-use primary packages are gaining market share. One system, the compact Dara SX-310-PP/D aseptic filling, stoppering and capping machine from NJM, a ProMach product brand (Booth N-307), offers a high degree of flexibility. It's compatible with stainless steel or ceramic rotary piston pumps or peristaltic pumps that utilize "single-use" tubing. Operating at 120 containers/min., dosing volumes range from 0.1 to 250ml for liquids and from 2 to 1,500mg for powders.
Users can program a variety of fills—with nozzles lowered to the bottom of the containers, halfway up or from above. Stoppering also is programmable: full stopper insertion followed by aluminum/flip-off cap application or half stopper insertion or no capping for lyophilization. A servo-driven tangential rolling head at the closing head minimizes particulate generation. Inspection stations detect fill levels, missing stoppers and raised stoppers and trigger an automatic reject to remove out-of-tolerance vials. Changeover takes only 15 min. and requires no tools.
An equally flexible labeler, the compact Courser™ 230 model, can be installed inline or as a standalone unit and configured to run vials, syringes, bottles, ampules, cartridges, centrifuge tubes, auto-injectors and other small or unstable packages. A trunnion starwheel provides positive handling and minimizes label skew.
"There's a growing need in our industry for highly versatile, low-volume packaging equipment," says Omar Azam, inside sales manager at NJM. He adds, "What makes Courser unique is its dual-purpose capability. This modular labeler can be built to handle both vials and syringes or dedicated to one, with the option to later modify the system in the field. Courser can be designed with a manual infeed and discharge or integrated into a fully automated line. . . . By enabling a wide variety of packages to be labeled on a single machine, Courser reduces floor space requirements and the cost of investment."
The labeler achieves speeds of up to 250 vials/min. and 200 syringes/min. An option for orienting packages allows for specific label placement, such as for containers with a flange or graduation, at speeds of up to 100/min.
Suitable for clear and opaque plastic, metallic and paper labels, the machine achieves label placement accuracy of +/- 1/32 in. (1mm). Changeover takes 10 to 15 min. with minimal adjustments and no tools required.
Options include an integrated thermal-transfer or laser printer to print variable data and print inspection and faulty label removal systems.
For label printing, Weiler Labeling Systems, a ProMach product brand (WLS, Booth C-3225, N-307) launches the Autonomy™ IV on-demand digital label printer. The printer offers quick turnaround, production planning flexibility, real-time variable data application, inventory reduction and/or multilingual label printing. Integration of a vision inspection option such as the Total Layout Control system from Antares Vision (Booth N-224) provides maximum quality control.
To introduce the Autonomy IV printer to the marketplace, representatives from WLS and Antares Vision discuss how print-on-demand labeling and whole-label inspection are transforming the packaging market at 1:00 p.m. today (Tuesday, Sept. 24) on Innovation Stage 3 (Booth C-1041).
Easy to operate with minimal training, printing can be initiated locally with artwork stored on the printer's hard drive. For even greater capability and control, the printer can be connected to a network or to a line data management system.
Featuring an ultraviolet-curing, drop-on-demand printer, the Autonomy IV machine can print most barcode formats and human-readable codes from static or dynamic data, including serialized data. In addition, it can print high-impact visual graphics in full color or black-and-white at speeds up to 3,050 in. (7m)/min.
For more information, visit www.NJMPackaging.com, www.WeilerLS.com, www.antaresvision.com. SD