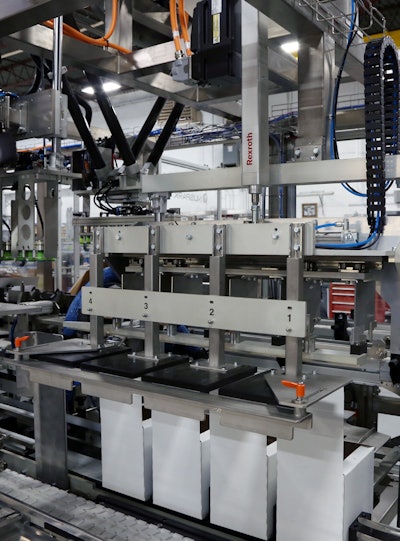 Show Daily Exclusive -
Founded in 1999 by a close-knit three-person team comprising Michael Elent, his younger brother Felix and long-time family friend and colleague Valeri Bialler, Nuspark (Booth C-5433) has grown impressively during its relatively brief time in the Canadian packaging machinery marketplace with a 20% annual growth rate until the onset of the Great Recession in 2008.
With the economic recovery, Nuspark returned to its fast-growing ways and has been expanding at a rate of 15%/year since 2011, while boosting its packaging industry portfolio—now accounting for about 70% of total revenue. The company serves a global market with machine installations in 14 countries with the U.S. market generating about half of Nuspark's annual revenue.
Now working from a new 46,000-sq.-ft. headquarters and manufacturing facility in northern Toronto, the company employs about 70 full-time people—including several fully accredited professional engineers—to produce a steadily expanding range of automatic, high-performance case- and tray-packers, vertical and horizontal cartoners, case erectors and trayformers and turnkey lines for high-throughput applications in the food, beverage, pharmaceutical and personal-care industries
"All the electrical assembly and wiring is done right here at the factory, and all the machine frames are also fabricated in-house," says Nuspark GM Boris Motskin, who joined Nuspark a few years after graduating in 2008 from Ryerson University in Toronto with a degree in aerospace engineering.
"Doing a lot of business in the food industry, we often get asked by clients about how . . . [frames] are welded, if they are fully welded, if they're washdown-ready and so on," Motskin relates. To give end users peace-of-mind, Nuspark welds, cleans and polishes all frames in-house. Most are constructed of high-grade stainless steel to ensure optimal hygienic standards.
A network of nearby manufacturing vendors and service providers produce 80% to 90% of the custom-designed parts and subassemblies that go into each machine, using CNC machining, 3D printing, laser- and waterjet-cutting and other advanced manufacturing technologies.
Best-of-breed automation components and systems are supplied by global manufacturers including programmable logic controllers and drives from Bosch Rexroth, robotics from FANUC America (Booth C-1651), electrical components and relays from Schneider Electric (Booth C-1560), human/machine interface (HMI) terminals and distributed inputs/outputs from B&R Industrial Automation (Booth C-2058), pneumatic components and controls from SMC Corp. of America (Booth LS-6169) and Festo (Booth LS-6349) and safety curtains from Omron (Booth LS-5970).
Motskin notes that virtually every machine shipped these days comes standard with all the required DNP circuitry and wiring to enable remote machine troubleshooting and diagnostics from virtually any place with an Internet connection.
As Motskin relates, the company's familiarity and comfort levels with new generation automation technologies is rooted in the extensive combined engineering knowledge shared by the company's founding partners—acquired at leading technical institutes and academies of the former Soviet Union—who all moved abroad soon after the country's 1991 breakup and the outset of a chaotic transition to a market economy.
Adds Michael Elent: "We are rather blessed in having so much engineering know-how at our disposal. Whereas the industry norm is having about 10% of the workforce as engineers, our 16 engineers account for 25% of our staff."
Motskin continues, "Having such a strong engineering team gives us a competitive advantage in respect to speedy product development and further refinement of the high-quality case packers, cartoners, tray packers and many types of custom products we produce here."
Regardless of the machine, Nuspark stresses a streamlined appearance and hygienics. "The simplicity of use is another key selling point," says Motskin. He adds, "The way we conceptualize and configure all the automation components in the machine is all geared toward optimal operator-friendliness and elimination of manual steps from the process to achieve greater productivity. Our equipment is fundamentally very simple because it has to be. For about 90% of the machines we build, the operator will use only one screen to monitor the full process, so it's not even a full-time job for them."
An example Motskin cites is a U.S.-based national cream cheese processor that installed a turnkey two-line case-packing system that is capably overseen by a single operator each shift, compared to the four operators required previously.
Always keen to stay on top of industry trends, Nuspark is enhancing its machines with the requisite data sourcing and mining capabilities needed for successful Industry 4.0 methodology implementation. "This is one of the reasons we decided to standardize all our machines with the B&R industrial personal-computer (PC)-based HMIs," Motskin explains. He says, "It gives users the flexibility to install any auxiliary software they need to upgrade their systems management, be it to implement a new diagnostics software, to hook up to a database or to process and analyze incoming machine information. The thing about Industry 4.0 is that it all comes down to the user—whether . . . they see value in having access to all that information."
He continues, "Manufacturers in many industries can achieve good results from obtaining useful real-time machinery data that will maximize their equipment uptime, and what we do is facilitate the effective machine interconnectivity they will need to make it happen."
This machine interconnectivity becomes an even more important consideration as the company moves to provide more customized turnkey systems incorporating machines and subsystems from other manufacturers and vendors.
Motskin concludes, "Our company is built on a tradition of continuous improvement and product innovation and with the motivated, highly talented workforce at our disposal, there is really no limit to what we can achieve in coming years. We have already achieved a lot in a fairly brief time, but for all intents and purposes we're really just getting started."
For more information, visit www.nuspark.com, www.fanucamerica.com, www.schneider-electric.us/go/packaging, www.br-automation.com, www.smcusa.com, www.festo.com/us, www.omron247.com. SD
Editor's note: The original version of this article appeared in the July/August 2018 edition of Canadian Packaging.
Companies in this article
Videos from B&R Industrial Automation