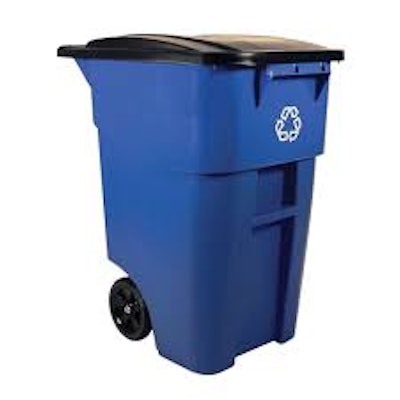 Thoughtful public policy, at the state and local level, drives higher collection rates. States with programs in place can boast better recovery success. Dorn's remarks came at the Smithers-Pira event, "Sustainability in Packaging U.S. 2019" in Chicago March 4-6.
The evidence is in. States and local governments with policy tools, targets and goals are making a difference when it comes to maximizing recycling collection and working to minimize landfill use.
The problems are many:
Low material capture including loss at MRF (materials recycling facility).
Quality inconsistency in supply due to contaminants
Soft demand in both domestic and international markets
Low cost of disposal—landfill cheap and plentiful
Cheaper virgin materials enjoy subsidies recycled content do not
Insufficient public education
Types of public policy tools being used in states like WI, ME, MA, CA, OR, WA, etc., include motivating consumer behavior with mandatory requirements and punishing the bad actors with fines and penalties.
Steps like this can help to provide market certainty, improve economies of scale and level the playing field. What drives higher capture of recyclables? Automatic collection via curbside carts, automatically built into your refuse hauling bill.
Note, some states with big populations like Florida and Texas have no public policy for recycling. States and municipalities having success in single family residential homes are now broadening efforts to include multi-family, commercial and public space.
Funding comes from regulation and enforcement. Thirty-four states have disposal surcharges, not necessarily only on packaging, these user fees might also include furniture, etc. Any excessive use of the landfill comes with a price.
Other types of controls include hauler licensing for standards and best practices, recycled content purchasing policies, and "pay as you throw" programs incentivizing less waste and more recycling. Successful programs have seen 50% increases in recycling tonnage and 15-20% decreases in disposal.
Seen as more aggressive, EPR (extended producer responsibility) mandates are included in draft bills for packaging and printed paper in IN, WA and MA. Minimum recycled content and "tethered caps" are included in proposals.
On the positive side, there are tax incentives for lower carbon impact.
The new breed of young legislators is tired of the talk and is taking action. Even if some of these proposals are dialed back for sake of compromise, the trend is for more states and local governments to create public policy around sustainability, including single use plastics and packaging.
Industry should have a role in championing good policy. And here's no doubt more policy is on the way.
For more information about Smithers-Pira packaging events, click here.
Learn more about packaging solutions at the co-located PACK EXPO Las Vegas and Healthcare Packaging EXPO, September 23-25, 2019 in Las Vegas, NV.