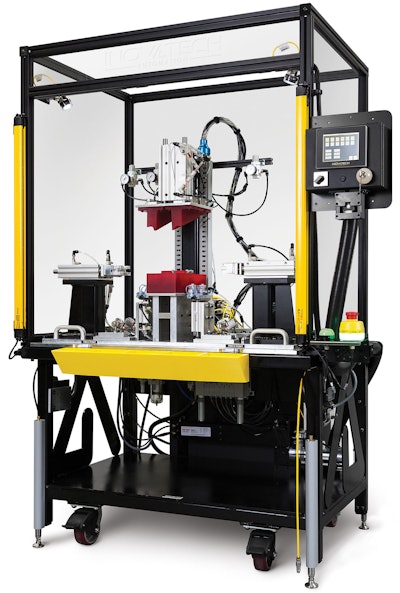 Inovatech Automation manufactures modular equipment and packaging cells, and the company also specializes in robot integration. The company was created in 2016, selling $300,000 in its first year, and then $1.8 million in its second, prompting the company to grow from one employee to 10 almost overnight.
From the inception of Inovatech, Travis Buset, director of operations, had an idea which HMI and PLC supplier he wanted to standardize his equipment around, but he had to put it to the test, first. At his previous company, he was using Pro-face America's PLCs and HMIs, but he also had experience with other controls platforms. Because the Inovatech systems require extensive programming, he had to determine early on which technology was cost-efficient and didn't require days of programming.
One of the company's best sellers is a Universal Robot, which, as is the norm, is heavy on programming and integration. So Busset put Pro-face America's HMI and PLC to the test and compared its programming time with other platforms. He found that the Pro-face controls reduced programming time from 40 hours to eight hours.
"The cost and ease of programming is everything when it comes to these applications," Busset says. "I have been programming this kind of equipment for 15 years, so I was a little nervous with Pro-face when I began using it. With any new technology you have a learning curve, and I have orders that need to go out the door with no delays. I didn't want to chance it. So I began watching programming videos for the Pro-face units, and to my surprise, I learned how to program the system within eight hours."
Aside from the ease of programming, Buset says cost-savings was another reason he opted for the Pro-face controls.
"While the Pro-face controls are half the cost of other controls platforms, the biggest cost savings are within the reduced programming hours," Buset says. "Programming is so time-intensive, and it could require hiring programmers, which can be expensive."
Inovatech also produces modular automation station systems (MASS), which are designed for end users that need to accommodate multiple product sizes and applications with one machine—instead of spending $40,000 on a system that can only run one product. Now, a key piece of this equipment are the Pro-face controls, Buset says. The machine fixtures can be swapped out to handle different product formats, and once they are switched out, the Pro-face PLC will recognize the new setup and run the appropriate program.
Another selling point of the Pro-face system was the ability to customize the logo on the front of the HMI panel to reinforce branding aesthetics on the company's equipment.
"All of our machines are black and yellow, so if a customer walks into a plant and they see black and yellow, they know that's Inovatech," Buset says. "So to have my branding on my HMI is huge for me. We get a lot of compliments from customers and other brands on the look of our machines."
Now rounding out its second year in business, Inovatech has found its sweet spot when it comes to controls. And Buset has determined that every piece of Inovatech equipment comes standard with a Pro-face controls system and HMI.
It's a decision he's not regretted, as the control system has proven to be strong and reliable. "We are running two robot systems with eight conveyors and full Ethernet, and this one Pro-face unit is doing it all," Buset says.
Companies in this article