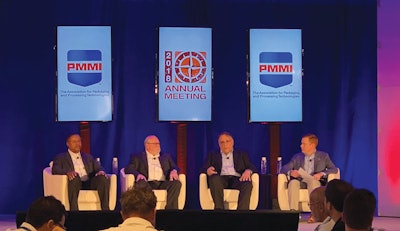 As the core consumer base shifts from baby boomers to millennials, CPGs are having to address to ever-changing demands, while speeding their time to market and expanding their product ranges. But agile, nimble, and ready to compete faster than ever before wasn't what large CPGs were built to be, according to Robert Champion, group engineering manager—packaging equipment, Nestlé USA. Regardless, they have to adapt quickly, and they are relying on their OEM partners to assist them in creating more flexible equipment that can accommodate multiple products, grappling with e-commerce challenges and, ultimately, speeding the time to market.
E-commerce complicated the route to market
Most CPGs are wrapping their heads around the rise in e-commerce and how they, too, can produce one-off products of many formats with a packaging line that has a throughput of 300 products per minute of the same format.
"It comes down to do we want to make money or do we want to play just to be on the shelf," Champion asks. "Five percent of our business is e-commerce, but it will grow, and I wonder how I'm going to get chilled foods through the omnichannel."
Though it's described in different ways depending on whom you talk to, the omnichannel generally is a thought experiment on how to harmonize solutions across physical locations, e-commerce, mobile applications, and social media. Smithfield Foods has its own internal process for e-commerce where consumers can purchase products on its website and also through a partnership it developed with television shopping network QVC. But like Nestlé, its main concern is the cold chain as a majority of Smithfield Foods' products have to be chilled or frozen.
"Not only from a food safety and security stand point, we have an obligation to deliver," says James Couch, director, Operational Improvement, Strategic Sourcing and Services, Smithfield Foods, Inc. "We want to provide the highest quality of food, and maintaining that cold chain is a prime piece of that equation. So we are always looking at ways to do that better, whether it be through packaging or other solutions."
Conagra Brands is also figuring out how to adjust to the diversification in route to market.
"While the route to market is a challenge for us, dry food has a more straightforward approach," says Jim Prunesti, vice president, Engineering, Conagra Brands. "Some of it has to do more with repacking. How do we repack more efficiently and faster?"
So how can OEMs save the day when it comes to e-commerce? It's still unclear on both the CPG and builder side, but Champion says builders can start by working with their end-user customers to determine exactly which solution they need.
"How can you help us create new capital equipment in less than a year? We are going to push you to be more flexible so that together we can adapt to the changing environment," Champion says.
Prusenti thinks the answer to meeting e-commerce demands is in smaller, modular packaging lines that have a lower throughput, are flexible in terms of what products they can package, and can be can rolled in and out of the plant as they are needed.
"These aren't 300 per minute machines, they are 100 per minute," Prusenti says. "It's right up our alley because I can deploy it throughout the facility and use collaborative robots to pack and unpack it."
Harnessing the power of machine data
Champion urges OEMs to look at their machine data in their customers' facilities and use it to find efficiencies and deficiencies and use that information to optimize the equipment. If an OEM can demonstrate how they collect, access, and use data and diagnostic information to improve their equipment, it gives that OEM a big competitive advantage in Champion's eyes.
"I'm not looking for pages of troubleshooting charts filled with everything that could go wrong, I don't have time to look through those," Champion says. "I would challenge you to provide me with a hierarchy of the 10 most atypical errors to happen in my facility, specifically. It's going to be more homework for you to have to come into our facilities, look at the machines, and understand how they are running in our plant."
Because a lot of this data is usually accessed through the HMI, Champion also called for OEMs to standardize their HMI screens to help make data more accessible and mitigate operator learning curves, which can cause downtime.
"We need our partners to show us how we can get data from an HMI, and utilize that data to see how the machine is doing," Champion says. "Rather than using bright bold colors, if you have symbols on your HMI that everyone knows, it's easier to operate equipment because people are colorblind."
Similarly, Couch believes that HMIs should be formatted similarly to iPhones and iPads as most people are familiar with those operating interfaces, he says.
"There isn't a single iOS device that my grandkids can't operate," Couch says. "So why can't we bring HMIs to that level. I need an intuitive device, and I need my operators to know how to operate it immediately."
End users are embracing IIoT, but are you?
Along the lines of accessing big data, machines and components are becoming smarter, and end users are welcoming Industry 4.0 with open arms. However, a problem arises while integrating multiple packaging machines into one complete line.
"We want to look from front of line to back, but a lot of OEMs don't offer complete lines and your machines with Industry 4.0 is closed architecture," Prunesti says. "Then, we have to spend more money to find something to connect all of the machines on the line, to add a layer on top of all of those disparate systems."
Champion tells his OEM suppliers that they should think of their piece of equipment as a part of a connected system.
"At the end of the day, you are selling a piece of equipment into a system that we have to manage, and it has to run as a symphony," Champion says. "If you want to win with me, think about what you are selling as a part of a system."
Equipment needed faster than ever
One of the biggest challenges both OEMs and end users are facing revolve around lead times. OEMs say end users demand a quick turnaround—sometimes faster than possible—while end users say the turnaround couldn't be fast enough.
"We may not have a packaging design yet, but we want the equipment in 20 weeks or less," Champion says. "If you tell us 28 weeks, we're going to push back. We put a lot of pressure points on our OEM partners to think differently. You have to be agile, quick, and nimble and you have to collaborate with people outside of the four walls."
Couch and Prunesti echoed the lead time dilemma, and Champion shared some insight on why lead times need to be so short for a company like Nestlé. "There are a lot of parallel activities going on for us to just to be able to deliver. We are always looking to improve our products or introduce new ones. For example, you will see us on the shelf very soon in the frozen and chilled sections," he says
Companies in this article