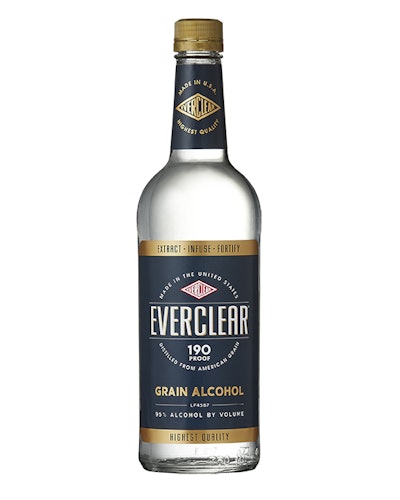 Everclear Grain Alcohol is unveiling sophisticated, new packaging that illustrates the product's versatility for consumers and mixologists. The new look will flow into markets nationwide in late 2018, replacing previous packaging.
Everclear is a brand from liquor and spirit supplier and bottler Luxco. According to the company, Everclear's clean taste and higher proof make it a blank canvas for creating infusions, liqueurs, and bitters.
"We are excited to introduce Everclear's new look nationwide," says Katie Schuette, Brand Manager at Luxco. "Through this packaging, our goal is to encompass the simple, high-quality and versatile nature of the product. The brand's new look is clean and modern—while still maintaining the iconic logo—and more in tune with the way consumers and mixologists use the product in the current craft cocktail culture."
The new look was created by designer David Cole of David Cole Creative, who applied a bold and clean design, making the label easier to read in a retail environment and drawing attention to the brand name and key features of the product. "Overall, the aesthetic is modern, yet timeless, with some minor apothecary influences to suggest the purity of the product," says Cole. "We definitely wanted to maintain the iconic diamond logo that many have come to recognize."
Confidentiality clauses prevent Everclear/Luxco from revealing packaging suppliers, but they did provide the following specifications:
• The 750-mL glass bottle measures 11.172-in. H x 3.026- in. in dia. Manufactured via a blow-and-blow process, the empty bottle weighs 382.73 grams.
• The 3-mm primary front label measures 4x5 in.; the back body label is 2.25x2.719 in.; the neck or collar label is 2.34x4.625 in. The labels are flexo-printed in two colors plus gold foil with embossing.
• The 28-mm polypropylene closure features a tamper-evident band.
The modernized packaging lends itself to the Make It Your Own by Everclear online hub, promoting responsible consumption and creative brand usage.
Deck for Iris: Clean, modern image maintains the grain alcohol's iconic logo while demonstrating its flexibility for crafting cocktails.