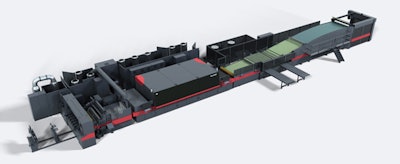 Silicon Valley printing technology company EFI is the maker of the EFI Nozomi C18000 single-pass LED ink-jet press. The new press will establish leaner and more-effective processes to deliver ready-to-sell high-quality print packaging that will provide customers maximum brand benefit in the retail store.
"This digital printing partnership with EFI reflects Smurfit Kappa's serious commitment to providing the best packaging solutions available," says Ignacio Sevillano, CEO Smurfit Kappa Spain, Portugal, and Morocco. "Our ability to achieve high-quality print production in larger volumes with the Nozomi press will mean our customers can establish better supply chain strategies and be more creative by producing multiple designs – all of which can help our customers sell more products and reduce their time to market, while employing a leaner, more sustainable packaging program."
The new press was scheduled to be installed in May at one of Smurfit Kappa's plants in Iberia – a facility that currently manufactures a wide range of boxes and trays, including ready-to-sell packaging requiring higher-quality, full-color imaging. The Nozomi press, with its high-end grayscale imaging capabilities and fast running speeds up to 246 linear feet (75 linear meters) per minute, offers the critical capabilities Smurfit Kappa can use to give its customers short-run, medium-run, and complex versioned jobs that are too costly to produce using analog post-print flexo or litho lam processes. This Nozomi C18000 would be the fourth digital printer operating at Smurfit Kappa Spain, Portugal, and Morocco.
The Smurfit Kappa plant installing the Nozomi press currently does six-color analog printing on single-channel B-, C-, and E-flute board and double-channel B/C and C/E board. The new 71-inch (1.8 meter) wide Nozomi press prints in six colors plus white and can run same grades of single-and double-channel board the company already uses at full press-rated speeds. Output from the press is unique in having certification for OCC recyclability and repulpability from the Western Michigan University Recycling, Paper and Coating Pilot Plant – a leading certification organization for corrugated recycling.
Furthermore, the Nozomi press's speedy production comes with an ultra-fast content workflow – an EFI Fiery® NZ-1000 high-performance digital front end (DFE) that provides efficient, accurate job processing to get jobs on press quickly. And with this combination of advanced digital press and DFE technology, Smurfit Kappa customers can implement more-dynamic marketing strategies in their corrugated packaging using variable-data, multi-SKU and targeted versioning production – a great opportunity for international clients to consolidate their digital printing needs.
Smurfit Kappa's new press eliminates many of the challenges associated with digital corrugated board production, offering fast production speeds up to 10,000 35x35-inch (89x89-centimeter) boards per hour two-up. The press offers accurate brand color reproduction with six-color imaging plus white, in resolutions up to 360x720 dots per inch. The press also includes a fully integrated, programmable top- and bottom-feed system that also handles media separation, lift, transport, and alignment at full press speeds. A 100% in-line image quality inspection system on the press actively compensates for inkjet nozzle, alignment, and uniformity errors for superior imaging quality.
Companies in this article