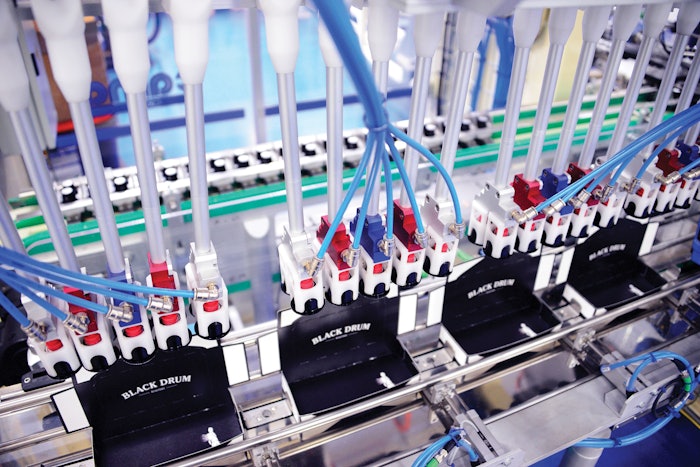 Based in Sydney, Australia, iCapsulate is a vertically integrated contract manufacturer specializing in coffee. The firm sources green coffee, roasts it, and produces capsules, pods, and roasted coffee beans. With a capacity of 1.3 million capsules—soon to increase to 2 million capsules—per day and roasting capacity of 10 tons per day, iCapsulate is constantly innovating and bringing new products to market.
Among the newest of its packaging lines is a capsule-filling line capable of 800 capsules/min. It features what Italian machinery builder Cama calls its Break-through Generation of machines. Essentially what this involves is a new approach to secondary packaging into paperboard cartons and corrugated cases. It includes lean design, cabinet-free technology, ergonomics, and user-friendly controls. To see a video of the complete line, go to pwgo.to/3450.
"When we selected Cama, the timeline for the machinery was short, while the project itself was to be the largest of its type in Australia," says Kane Bodiam, Managing Director at iCapsulate. "The machinery was built on a schedule that I didn't believe was possible."
At the head of it is an intermittent-motion OPEM system on which everything is done eight-across. It begins with denesting of capsules into a pocketed platform that carries them through filling and sealing. The firm currently purchases its capsules—thermoformed from a PP/EVOH/PP coextrusion—but plans are currently underway for installation of an in-house thermoforming operation.
Right after filling is a station where an aluminum foil lid is cut from rollstock and heat sealed to each cup. Supplied by Constantia, the 30-micron foil combined with the EVOH barrier in the capsule gives the capsules as much as a two-year shelf life. "We're getting oxygen residual in these capsules in the 0.2% range, which is by far the lowest in Australia," says Bodiam.
Into two lanes
At the end of the OPEM machine is a pick-and-place unit that picks two rows of eight capsules each and places them upside down on a discharge conveyor that is immediately divided into two. Each lane leads to the secondary packaging operation, executed by systems from Cama. One machine erects cartons from flat blanks by means of a twin-head integrated electronic forming machine. The glued cartons are then transported and phased into the robotic loading area.
One electronically controlled star wheel for each lane meters the capsules into a right-angle turn leading to the electronically controlled pocketed conveyor of a Cama IF296 monoblock cartoner. It uses four robotic end effectors each having 10 picking tools to mechanically lift 40 capsules per stroke from the pocketed conveyor and place them into four cartons.
Filled cartons are conveyed a short distance to a robotic closing unit that uses a Nordson unit to apply hot melt and close the cartons. The cartons then are discharged from the cartoning system and conveyed to the Cama FW748 wraparound case packer, which is fed by a Cama case erector. The case packer features a pocketed, servo-driven conveyor that receives cartons in a horizontal orientation and uprights them to a vertical orientation as it advances. From this pocketed conveyor cartons are pushed at a right angle into a robot that sweeps them off at another right angle and into a waiting case. In the final station, another Nordson unit applies hot melt and the cases are closed and discharged.
A short while later the cases pass a turning bar so that the back panel is facing the two thermal ink-jet print heads of the G-Series i-Tech printers from Domino. Designed for high-resolution printing at fast line speeds with complete reliability, the G-Series imprints two lines of lot and date code information on a white panel. The convenient and changeable i-Tech print cartridges are clean, efficient, and service-free.
Drilling down on machinery options
"When selecting our secondary packaging machinery there were many options," says Bodiam, "but when we drilled down to the flexibility we were after, Cama seemed the best choice. The machinery is exceptionally well built, and it lets us change packaging formats quickly and at minimal cost, which is especially important when you are a contract packager like we are. The machine interface is very user-friendly, servicing is basic and inexpensive for a machine of such quality. There's no need to keep extensive parts, while the consumable parts that do need replacement last quite long and are very durable anyway.
"The local support in Australia is fantastic, and I have found Cama very responsive. Considering the short notice I sometimes give, I've always had the technical help when I required it."
Companies in this article