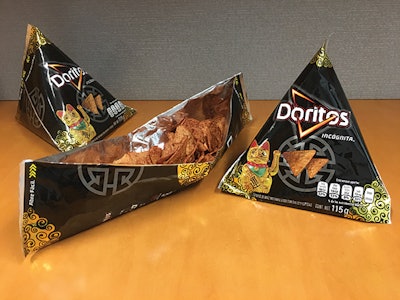 PepsiCo Mexico Foods is proving that packaging is both fun and functional with its newly introduced Doritos Incognita, a chili and lemon-flavored snack sold throughout the country in a flexible E-Z SnackPakTM premade pouch from ProAmpac.
Providing an innovative option to the traditional pillow pack PepsiCo Mexico Foods also uses to sell the product, the new tetrahedron-shaped pouch gives consumers a fun way to consume the snacks directly from the bag. The pouch is easy to open by pinching and pulling from the top, which extends the pack into a shape to make it easy for snacking and sharing (see video). The pack is intended for single serving and does not reseal.
The pack provides built-in headspace designed to add package support to protect product during shipping and handling. The geometric design also allows it to be packed in an interlocking pattern within a paperboard or corrugated shipper. In this application, a printed display shipper helps provide point-of-sale appeal.
According to ProAmpac, the E-Z SnackPak pouch does not incorporate traditional side seals, so it requires up to 25% less material than traditional snack packaging.
Sold in a 115-g size, the flat pouch measures 8.662 in. (220 mm) x 8.25 in. (209.6 mm). The extrusion-laminated structure is a flexo-printed 70-micron oriented polypropylene/70-micron metallized OPP, which provides both moisture and oxygen barrier that meet the company's shelf-life requirements for this product. Material suppliers are considered confidential.
Package graphics were designed by PepsiCo Mexico Foods, which worked with ProAmpac and its suppliers to execute. In addition to the bag's intriguing shape, the eye-catching graphics really pop. Both help to highlight and differentiate this package from the broad range of pillow pouches in this category. It's a very distinctive package and the sophisticated "good luck" campaign graphics stand out in retail and nicely complement the Doritos family of products.
Arrows and the words "Abre Facil" printed in a yellow color from both sides of the predominantly black bag point to where the consumer opens the pack. Unlike many traditional snack packs, this feature makes opening especially easy. E-Z SnackPak provides a directional "U" cut in the top seal that directs opening of the pouch linearly down the side seals to the bottom of the pouch. This provides consistent and easy opening of the pouch as it converts into a unique serving tray.
Pack development
According to Edgar Bonfil, PepsiCo Mexico Foods' Director of R&D, the company initially connected with ProAmpac at Interpack 2014. "We were looking for differentiation for Doritos aimed at using the product's triangular shape," he says. "The E-Z SnackPak was a perfect fit that also offers an easy-open format and sharing [features] that were not currently available." The easy-open accessibility of the pack aligned with the company's initial consumer research that showed a larger package that enabled sharing was preferable to a single-use package.
According to Sal Pellingra, ProAmpac's VP Global Application and Innovation Development, the Doritos pack represents "the first commercial application of the E-Z SnackPak outside of Japan. "We're very excited with the format, application, and execution by the folks at PepsiCo Mexico Foods and it was made possible by the custom filling machine from Alliedflex Technologies," he says. "It was a team effort spurred by PepsiCo Mexico Foods' hard work and vision that helped bring this technology to market."
PepsiCo Mexico Foods' Bonfil and the company's R&D Packaging Manager Luis Rene Gutierrez Quintanilla believe E-Z SnackPak represents "a very new and differentiated package in the market." They explain that inMexico, street vendors sell Doritos in the standard pillow pouch, but cut the package open with scissors along its length, then fill the package with cheese, salsa, jalapeños, and more, turning it into what they describe as a "walking taco."
Bonfil says E-Z SnackPak is the first package actually designed for an application like this. "The product's accessibility displays well and it's in a similar shape as a Dorito!"
The 115-g size is sold nationwide in supermarkets and at retailers such as Walmart and HEB, though specific prices were not revealed. Bonfil explains, "Consumers are truly delighted to see how the package opens into a tray and provides easy product access. We have received very good feedback from consumers, and on social media. Sales are exceeding expectations, and the package has been featured in our 'good luck' campaign in Doritos TV advertising along with other Doritos products."
Asked about future plans for the package, Bonfil notes, "We are pleased with the initial results and will evaluate future opportunities for this unique and functional packaging format."
Custom fill/seal equipment brings shaped pouch to life
PepsiCo Mexico Foods fills the new packages at an undisclosed facility within the country, using a new a new custom filling machine from AlliedFlex Technologies, Inc.
AlliedFlex, ProAmpac, and PepsiCo Mexico Foods partnered to modify the AlliedFlex FLX Apex machine to accommodate the unique patented ProAmpac EZ SnackPak premade pouch. The FLX Apex is an automatic intermittent-motion pouch fill/seal system specifically developed as a pilot plant, test market, or start-up machine that's suited to economically identify new market/package innovation opportunities. The machine is configurable so that it can accommodate a variety of pouch or bag formats.
To accommodate E-Z SnackPak's triangular shape,the FLX Apex machine uses a shingled pouch feeder that singulates the pouches, staging a single pouch for pick and place into a set of grippers to accommodate pouch opening and product filling. Once the pouch is filled, it is heat-sealed in a perpendicular direction, creating the triangular configuration.
At this stage, filtered air can be injected into the pouch, which helps keep its triangle pyramid shape. The air also protects the product from breakage. Alignment of the package top seal is critical as the center tear notch must properly align for ease of opening to create the tray. Next, the pouch is lifted into a position for top heat sealing by a set of temperature-controlled seal bars. Pouches are then released onto an integrated discharge conveyor for downstream manual case packing at a rate of up to 10 parts/min.
Speed was not the key consideration initially for this application. The "startup" machine was employed primarily so PepsiCo Mexico Foods could test the market and determine feasibility of the product. The FLX Apex equipment is offered in higher-speed versions, which may well be necessary based on the early success of the Doritos product in the E-Z SnackPak.
Companies in this article