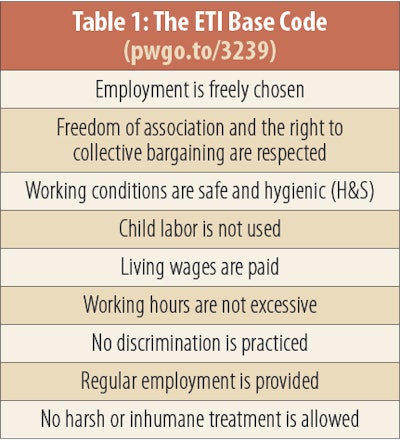 Suppliers of packaging materials are challenged to meet the ever-increasing demands for supply chain transparency by their customers. Some of these requests are direct and provide the supplier with clear understanding of the requirements. In other cases, customer requirements are buried in the fine print of purchase orders and establish contractual commitments to customer defined supplier codes of conduct. How many of you out there on the supply side have checked the fine print recently? You may be surprised to what you find your company has committed to! Committing to participate in SMETA (Sedex Members Ethical Trade Audit) can have a positive impact on your business by increasing transparency and reducing auditing frequency and fatigue.
SMETA audits are designed to find out if suppliers of major companies are following the "Supplier Codes of Conduct" sent to them by their bigger customers. Sedex (Supplier Ethical Data Exchange), the owner of SMETA, is a global non-profit membership organization that wants companies to manage their conformance to these codes of conduct and the "Ethical Trading Initiative Base Code"(See Table 1). The current version is SMETA 6.0 and includes segments for quality, labor standards, health & safety, environmental, and business ethics. It can be difficult to keep up with requirements and be properly prepared for one of these audits. A key aspect of SMETA is results transparency which are open for others to see. Failure to pass can result in loss of customers that are part of the Sedex SMETA process. Of course, it also works the other way around—by doing well, other customers can find out and will not audit further. Thankfully new processes and technologies are available to simplify the auditing process.
Resources at packaging material supply companies are typically stretched thin and use of third party resources and tools can bring added value. Our experience shows that a simple management system using SaaS (software as a service) product can be set-up and combined with a one-day on site audit. This would include preliminary information capture with a list of the specific kinds of information that must be entered in the software tool. In addition, a confidential questionnaire is prepared for your answers before the audit to determine the company's opportunities and threats associated with the conduct of a SMETA audit. Following the one-day audit to check the completeness of the information entered, the SaaS tool can be configured to help the company to meet SMETA requirements and proactively engage and collect suppliers supporting documentation. The company will also need to search through its purchase order file to see if any "Supplier Codes of Conduct" were attached to purchase orders and to determine if the signature on the purchase order legally committed the facility to do everything listed in that purchase order.
SaaS also supports the use of mock audits to help companies prepare ahead of the formal assessment. These mock audits can be conducted remotely by a third party to identify weak areas and help a company to develop corrective actions. If the company is already using management systems (e.g. quality, environmental, or health & safety), the information needed for conformance with the Ethical Trade Initiative audit can be combined into an integrated computer database, so all the information can be audited from same information source. It will contain copies of all the information that the auditors are likely to ask for and make it easy for you to maintain this information over time. You need to find an independent contractor that can get you prepared and then send you updates that may prompt changes in the system. SaaS is convenient since the contractor can access the data from time to time and let you know what may need to be updated. Finally, the SMETA audit requires you to select and pay the auditors that are involved in the program. Your independent contractor can help you go through the list of auditors and select one that will work well with your business.
With recent changes to harmonize the quality (ISO 9001:2015) and environmental (ISO 14001:2015) management system standards (see Table 2), your customers must gather information on the life cycle of their products and services. To do so, they will be asking you for more information. This is a good time to get started gathering and storing the information, so you will be ready when they contact you. This preparation will go a long way to improving your relationship with your most important customers.
Robert Pojasek, PhD, an Associate at PTIS (www.ptisglobal.com) who teaches at the Harvard University Division of Continuing Education, is a recognized leader in international sustainability and risk management.