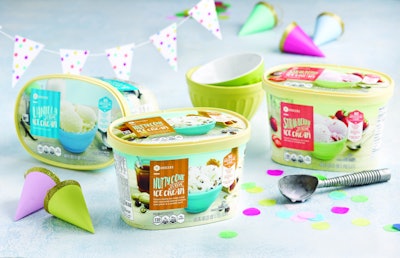 Winds of change have been blowing through the U.S. retail market for some time now, and it's gaining momentum year after year. No longer is the grocery market dominated by national brands, and no longer is there apathy toward private-label brands. In fact, more and more retailers now have a private brand range, and many now understand how the presence of a well thought-out private brand offering can allow them to differentiate their stores and encourage consumer loyalty, thereby driving greater profitability. It also hasn't gone unnoticed by some of the major retail chains that cash-rich foreign grocery stores are on an acquisition mission, snapping up a variety of U.S. supermarket chains, where they might look to duplicate their private brand model.
Many trends have emerged over the last few years that have kick-started the reappraisal of private brands by consumers. No longer are private brands considered the poor relation to mainstream-accepted brands. Once discounted by consumers as being of an inferior quality to the big brand names, private brands are now carving out their own niche as the preferred option when it comes to product selection.
A good example of this is the work we recently did with Southeastern Grocers on their ice cream assortment, which includes three tiers: SE Grocers Essentials, which includes everyday products; SE Grocers, a mid-tier brand benchmarked to be equal to or slightly better than established brands; and Prestige, a premium label that includes gourmet desserts and other products. The aim was to support them in the overhaul of their private brand offering and to elevate and grow the Prestige tier, which has proved to be very successful.
What is driving this shift? Positioning and effective branding have been key, both of which are built around robust and tactical range strategies. Our client roster includes a variety of retailers that are immensely proud of their private brand program, owing to quality products and effective category planning, coupled with fabulous category-relevant design.
Packaging reflects what's happening in the wider market, so whimsical cues took precedence for a while, then it was back to basics, where we witnessed a demand for that pantry, heritage feel. It now looks like we're coming full circle, with clean lines and minimalistic designs.
Retailers are now working in tandem with the wider market, maximizing key calendar periods, such as Halloween and Christmas, to remain relevant and achieve loyalty from their customer base. In addition, some retailers are adopting a traditional "good, better, best" range strategy, including the now common natural or organic ranges.
They are also building upon conventional strategies with ranges that offer "tastes of the world" options, affordable "free from" choices, quality ready meals, and mom-approved "just for kids" products. There's also an opportunity to offer inventive, fresh convenience without compromising on quality. These are just some ideas that drive the private brand to be chosen on-shelf over national brands.
At Equator Design, we're excited to see what happens with Walmart and their Jet.com subsidiary, which recently launched the new brand, Uniquely J. Aimed at "Millennial metro consumers," the range includes private branded goods for young, city-dwelling adults on a budget. It's not just about the money-saving element though; the brand is founded on the "cool" factor, and so Jet is paying particularly close attention to pack design. A box of coffee pods, for example, has an illustration of a tiger that wouldn't look out of place as a piece of wall art. It's aspirational and unique, and it's disruptive for the discounter marketplace. It's an interesting exploration of what's possible when private brand design thinks beyond the shelf, where the line between commercial pack design and art becomes blurred.
We often get asked what private brands want in terms of pack design, and the answer is simple: A design that lengthens product shelf life and is able to compete with well-known national brands on more than price, while remaining in line with their overarching brand position—building private brand equity creates consumer loyalty!
Following are a few trends that will force retailers to reappraise their offering in the coming year and beyond.
Breakfast: the hot, prepared foods have it
There is definitely a shift in how Gen Z (zero to 23 year olds) and Millennials (24 to 37 year olds)are consuming that first meal of the day. Snacking on-the-go is seemingly being replaced by a desire to want more involvement in food preparation. The rise of social media channels such as Instagram means that everything Gen Z does is highly considered. Images of food and mealtimes can become valuable "social currency." After all, who wants to see a picture of a bowl of cereal? Instead, social media feeds and profiles are strewn with images of meals lovingly crafted and prepared, making breakfast fair game for enhancing.
This doesn't necessarily mean this demographic wants breakfast time to be more complex. However, the already existing desire for clean eating has driven a perception that foods requiring some cooking or preparation are healthier or better for you. As a result, eggs, hot cereal, and center-plate proteins are projected to grow by 8% during the next five years, so the retail industry will need to respond. A lot of thinking will go into how these items are presented in order to harness this trend and encourage buy-in.
Eggs and center-plate proteins may need to be packaged and branded in such a way that puts breakfast at the forefront of the consumer's mind, while breakfast-suitable proteins would need to be presented in a way that says they are the perfect choice for that first meal of the day. Design will play a key role in driving home this sentiment.
Premiumization of private brand pet food
Back in 2016, the global pet food market grossed more than $74.8 billion—almost a 30% increase compared to 2011. Although the entire industry has boomed, it's the demand for more premium products that has kick-started the growth.
The ongoing "humanization" of pets is translating into clear similarities between the pet food and human food markets. Premiumization is currently shaping both markets, with increasing evidence that shoppers are trading up in pet food. Consumers have become more health-minded and nutritionally aware, which has radiated outward to the food they feed their pets. As such, trends like positive nutrition and an emphasis on natural ingredients, free-from, and paleo high-protein foods have crossed over into the pet arena (Mintel Insights, UK 2016).
Consumers are also demanding greater transparency of ingredients to overcome their concerns about what exactly goes into pet food. The concept of "clean labels" is therefore now just as relevant for pet food as it is for human food. With the cost of veterinary treatment rising by approximately 12% a year, pet owners are prepared to spend more on the food they buy for their pets to guard against health problems in later life. Many brands within the sector are falling behind this trend and are failing to provide the nutritional information consumers need when in-store. The big push for retailers will be to address this, along with investing in production processes and capabilities to leverage this opportunity, while remaining agile in order to effectively meet the changing demands of the end user.
The U.K. is slightly ahead of this trend. One example is dog and cat food company C&D Foods, which recently identified a gap in the market for a high-quality, naturally hypoallergenic product that provides clear nutritional advice. Named Hey Diddle Diddle, the affordably priced dog food landed in approximately 450 Tesco stores in February 2017. The new line includes responsibly and sustainably sourced ingredients, such as MSC (Marine Stewardship Council) fish and free-range poultry, and is an exciting, fun concept that has lots of scope for launching education initiatives around pet health and nutrition across various settings.
In creating the design for Hey Diddle Diddle's packaging, we had to deliver a stand-out pack design that would resonate with consumers and present cues in line with a quality pet food range. The design has a strong presence on shelf and is identifiable as a super-premium proposition. The brand builds an emotional engagement with the consumer, who views their pet as an important member of their family.
Hey Diddle Diddle—a famous nursery rhyme that adults and children alike can relate to—stood out as a great concept to move forward from the initial sketch stage. Moreover, with both a cat and a dog featured in the rhyme, it was the perfect name for this range and allowed plenty of scope for adding personality and playfulness to the packaging. The packaging also provides all the necessary nutritional messages, while the brown paper-bag effect reflects the wholesome nature of the product.
Vegan is here to stay
Figures from the Vegan Society reveal the number of vegans in the U.K. has risen 350% during the past 10 years, and in 2016 alone, there was a 90% increase in "vegan" searches online, suggesting that interest in a plant-based diet is here to stay. The Vegan Society reveals that 42% of vegans are between 15 and 34 years old, which reflects key characteristics of the Millennial generation. These customers are fond of new experiences, are confident and aspirational, and have a desire to feel happy and healthy.
From health warnings issued by the World Health Organization (WHO) linking processed meats to cancer, to the rise of celebrity vegans giving the vegan diet social kudos, there are more reasons than ever that Millennials are turning vegan. Our time-constrained lifestyles and love of convenience would suggest that veganism is a challenging choice, but the rise of mainstream brands that offer an accessible and easy way to follow a vegan diet erodes this perception. From milk, yogurt, and frozen meat substitutes to vegan wine and vodka, alternatives are now pretty easy to find.
Vegan ranges offer a point of difference for the major multiples, something that is key as they compete with the discounters who continue their meteoric rise. In the U.K., the market for free-from food has jumped 30% since last year to $695 million. Moreover, Mintel forecasts it will hit $880 million by 2020.
U.K. food retailer Co-op has many vegan-labeled products in store. They offer alternatives in bakery and wine and have other products on sale such as vegan-friendly samosas and vegetable couscous. All items are marketed and merchandised under the free-from banner, but are dotted across the store in their respective departments.
Retailers currently offer products that could be said to be "accidentally vegan," in that they are suitable for vegans, but aren't marketed or branded as such. You'll also stumble across private brand vegan products that sit under a free-from umbrella, but could be gluten free or might be suitable for vegans. The job for customers is to study the packaging a little more closely to identify what the product is free from.
There are definitely rumblings that retailers will go down the route where entire fixtures are completely devoted to vegan-only products. This will take the onus off the customer to look for the specifics on packaging, which will be a major shift for the sector, but one we believe is something to be excited about as retailers aim to become even more consumer and health conscious.
Designing packaging for vegan ranges can feel pretty prescriptive in terms of leveraging current trends, as typically the pack design must project feelings of vitality. Given we're trying to purport the benefits of a vegan product, we want any copy to be engaging, almost conversational, in order to create an emotional connection. We also want to promote integrity and inclusion to encourage pick up and trial.
In terms of color, pops of natural hues alongside beautiful photography can help convey the promise of taste and flavor. Tactile substrates can also be adopted to elevate the quality of the packaging, as well as help reference the inclusion of natural ingredients.
Free-from/vegan brands should aim for designs that have an optimistic feel. We need to communicate to consumers that by choosing a vegan product, taste is in no way compromised. Messaging should be clear and succinct, with the health benefits at the core of on-pack copy. In terms of the physical package, it's definitely worth using recyclable or reduced packaging, as it allows a brand to further evidence its ethical values. Finally, it's worth investing in unique and innovative packaging formats to help grab attention—disrupt and be bold—hero your product!
What does the future hold?
These are just a few trends that will have staying power and influence, as well as potentially provide retailers with a "halo effect" product offering if executed well. Each trend provides opportunities to be disruptive with branding and design, helping position the retailer as innovative and encouraging buy-in and trial.
Designs will also need to adapt as new packaging innovations come into play, such as recyclable materials, which are now gaining a greater presence in the private brand market.
Not only will buyers need to ensure they keep up-to-date with the latest channels customers are using to shop, but also with changes to the market itself in terms of trends and technological advances. Only when all of these changes have been taken into account can retailers begin to establish a growth strategy for the next decade.
Michael Duffy is Global Creative Director for packaging and brand design firm Equator Design.
Companies in this article