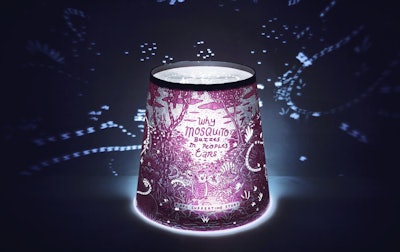 Much has been talked about regarding how the Internet is changing the way brands are interacting with their consumers and the key role packaging plays in enabling this new communication. At Packaged. The 6th Global Summit, held in Amsterdam in June, speaker Shira Rosen, Packaging Development Manager for Strauss Group Global Brands, affirmed that GAFA, "The 4 Super Heroes"—Google, Apple, Facebook, and Amazon—have "put new rules into the world."
"GAFA understands that every Generation Z is a digital native," Rosen said. "While the physical is here to stay, if we look at packaging, which is a physical, tangible thing, it can also expand to be an interface to the digital world."
Rosen's presentation, "Combining Physical and Digital Communication Through Packaging," was just one of 36 at the event. The presentations were broken up into three categories, providing something for everyone: Creative Branding and Packaging Design, New Technology and Materials, and Packaging Innovation and Development.
Other timely topics discussed at Packaged. included the state of sustainability in packaging, including the Circular Economy, advances in anti-counterfeiting technology and nanotechnology, and robotics, among others.
The greatest takeaway from the event however was the message that we are facing an unprecedented time in packaging history. Bags, boxes, and containers that once served primarily as protection for products as well a canvas for marketing are now evolving to become an advanced platform for personal communication and interactive experiences. The next step? The Internet of Things, where packaging will become an enabler of a smarter life. In fact, it's already happening.
Emotional connection is key
GAFA, Rosen told attendees, has created a new economy of networks, and innovative brands are plugging into these networks to provide the ultimate experience for their customers. One notable example she shared in her presentation was KFC Suppertime Stories designed by Ogilvy & Mather Johannesburg for KFC South Africa. Noting that mealtimes are often disrupted by technology, KFC South Africa developed a campaign to use technology to bring families closer together.

The project involved taking the iconic KFC family chicken bucket and creating limited-edition sleeves intricately laser-cut with story characters. The sleeves directed consumers to a mobile app, where they could unlock one of three original suppertime stories. When placed face-down on the table, the phone's proximity sensor automated the selected audio story, bringing the bucket to life with sound, light, and vibration, using the phone's speaker, flashlight, and vibration functions. As the audio played, the stories were animated by light projections that filtered through the illustrated and laser-cut bucket sleeves, creating an interactive storytelling experience.
The new network economy is not only driving the development of packaging that demands action from consumers, but also encourages them to share their experiences on social media. One example Rosen talked about was Strauss's Origamoo campaign for its Parra ("Cow") Chocolate, one of Israel's most beloved chocolate brands. To breathe new life into the brand and increase consumer engagement, in 2015 Strauss took its traditional red candy bar wrapper with cow illustration and replaced it with 1 million different graphic designs, created using HP's SmartStream Mosaic software and printed on an HP Indigo 10000 digital press.
The unique wrappers were also designed to be folded into one-of-a-kind paper sculptures of cows using origami. Each wrapper was marked with a single identification number, similar to the numbering of artwork. Consumers were invited to photograph their cow sculptures creatively and share them with the brand's fans on social media for a chance to win an iPhone.
Rosen's themes were echoed by speaker Gönül Bölükbasi, Packaging & Graphics Manager at Coca-Cola Turkey, Caucasus & Central Asia, in her presentation, "Packaging Stories: Because Each Has its Own." Bölükbasi shared insights on some of the company's projects in Turkey designed to create an emotional connection with its consumers and generate excitement around the brand.
One example was the highly publicized, first-of-its-kind Share a Coke campaign, which was rolled out in many countries. In Turkey, 500 names and 12 generic phrases were used. "Share a Coke was a connect project," Bölükbasi said. "It connected people from all walks of life on a more personal level and created a personal relationship with Coke." From there, the Share a Coke campaign inspired a more literal concept of sharing, with a limited-edition release of a two-can package wrapped with a shrink film and perforated at the center that let consumers split the pack apart to share.
Turkey also picked up the ribbon bow package, first launched in Columbia, to celebrate Coca-Cola's 50th anniversary in Turkey. As Bölükbasi explained, the "label" consisted of a double-sided plastic material with a string that consumers pulled to create a bow. By carefully selecting the glue for the material, the bow could be made over and over again.
One highly anticipated campaign each year in Turkey is the Tribute to Fashion campaign, done in partnership with Vogue magazine, whereby fashion brands design the graphics for the shrink labels used on Coke cans and bottles. The real innovation, says Bölükbasi, was the inclusion of a wristband revealed when a portion of the label covering the top of the can was removed. The wristband mirrored the graphic design on the can.
Last year, a special launch party for the Tribute to Fashion campaign was held at one of the largest department stores in Turkey, attended by fashion influencers and stakeholders, and several venues hosted an exhibition of the packaging. The result: The campaign was shared by thousands on social media, and Coca-Cola reached its two-month sales forecast in less than one month.
Another campaign that had a huge social media impact and increased can sales was its Summer Sizzle program, where Coca-Cola Turkey replaced the iconic red color of the can with a number of bright summer colors, which led consumers to collect the cans.
Wrapping up her presentation, Bölükbasi shared these lessons learned through Coca-Cola's packaging campaigns:
· Emotional connection is key (Share a Coke)
· Follow through creative ideas as one leads to the next (Share a Coke perforated two-pack)
· Seek partnerships with others to create mutual value (Tribute to Fashion)
· Repurpose creative works for your unique value proposition (Ribbon Bow)
· Challenge long-standing standards (Summer Sizzle)
Packaging as a digital touchpoint
Connecting with consumers can also involve digital connectivity. Among the speakers at Packaged sharing information on technologies that make this happen were Chris Jones, co-founder of Novalia, presenting "The Future is Now – Printing the Consumer Experience; Eric Vanroyen, Director, Business Development EMEA, for Thinfilm, "Give Your Brand a Voice on the Retail Shelf and Beyond"; and Yoav Hoshen, co-founder of Water.IO, "Disposable IoT Smart Packaging Solutions."
As the title of Jones's presentation might suggest, Novalia's technology combines print and electronic components to create immersive, playable experiences. U.K.-based Novalia uses conductive inks to produce a printed circuit that when touched either triggers sounds from its surface or sends information to the Internet. Printing can be done using traditional flexo or screen printing processes.
The resulting projects, such as the Taste Freedom pizza box for Pizza Hut that connected via Bluetooth to a laptop or smartphone and was synced to DJ apps that allowed consumers to mix music, are phenomenally engaging and innovative. (See other examples of Novalia's work.)
In fall 2016, Hershey created a limited-release package with Novalia for its TAKE5 candy bar brand called the Remixer. A new interpretation of the iconic 808 drum machine, the battery-powered Remixer box was printed with five rows of three beats with pause and stop buttons that could be used to produce more than 30,000 unique track combinations.
Said Jones, "For packaging, you want to use the least amount of electronics possible, so you can use Bluetooth, which uses low energy. All the heavy lifting is done by the device. Otherwise, you couldn't justify the expense of putting the electronics on the package itself."
Enabling technologies
As mentioned earlier, the next step in packaging's evolution, and one we are beginning to see already, is IoT, which involves the interconnection—by way of the Internet—of computing devices embedded in packaging, enabling them to send and receive data. One often-cited example is a pill bottle connected to a smartphone that can remind patients to take their medication and can also alert doctors and caregivers to the patient's use of the medicine.
Thinfilm's Vanroyen began his presentation saying, "Our vision is the Internet of everything. We want to make almost any kind of product Internet-enabled. It is the future of communication and consumer engagement."
Oslo, Norway-based Thinfilm is a printer of electronic NFC (near field communication) chipsets for IoT enablement. As Vanroyen explained, NFC is part of the RFID family, but works very differently—"it's more consumer-focused." The largest part of the product is the antenna. The frequency delivered by the antenna wakes up the smartphone, so no dedicated apps are required for consumers to access information delivered by NFC-enabled packaging.
"Each tag has a unique ID, which is a main difference between something like a QR code," said Vanroyen. "It's very efficient for tracking and for personalizing the message and can be changed at any time." For example, he added, in pharma packaging, it could be used to do a recall, or for a lotion package, it could give consumers different skincare advice during the summer and then in the winter. "Marketing can do different campaigns at different stages to the same consumer," he added.
According to Vanroyen, the applications for NFC are huge. "One of the most important may be e-commerce. NFC could be used for reviews, how-to information—for example, instructions on how to reorder parts, put a product together, etc.—product registration, track and trace, telling the brand story, brand protection, and customer surveys, just to name a few," he said.
The cost per NFC tag is 20 to 30 cents, "which is expensive," Vanroyen admitted. "But, when you think about marketing campaigns, it's a different story. You can use it to target specific markets and for limited-time campaigns." Currently Thinfilm can print 4 million to 5 million tags per month, for 50 million per year. But, with its new facility in San Jose, CA, by the end of the year, Thinfilm will begin producing tags roll-to-roll, increasing its output to 4 billion to 5 billion tags per year by 2018, which will cut the cost of a tag in half.
Water.IO, of Israel, offers IoT-enablement with a different technology, as Hoshen explained. Water.IO produces the Smartcap—a bottle closure fitted with a low-cost sensor—along with a smartphone app for the consumer and an analytics dashboard for the brand owner.
The Water.IO solution was developed to address the issue of lack of hydration "in the fast-paced, modern world." Says Water.IO, in the U.S. alone, dehydration results in at least 1.5 million outpatient visits, 200,000 hospitalizations, and 300 deaths per year.
Water.IO, said Hoshen, is the only company with permission to put active electronics on food packaging. The Smartcap sensors are either built in or attached to existing caps. The sensors measure the content in the bottle, without touching the material. The sensors interact with the consumer via light, vibration, or alert, and connect the package to a smartphone or any other communication hub.
The first Water.IO version, Water Reminder, helps users by reminding them when to keep hydrated throughout the day. This version contains a simple reminder that blinks, vibrates, or sounds an alarm to alert users that it's time to hydrate. The Smartcap keeps track of when the water bottle is opened or closed to avoid false alarms. Settings can be changed to alert users to drink during a predetermined period, and the technology will adjust reminders based on bottle usage, so users aren't reminded to do something they've already done.
The second and third versions of Water.IO, Water Connect and Water Health, offer more comprehensive features. Water Connect is connected to the smartphone app, where users can set their profile, track their daily water consumption, and follow the hydration profiles of friends and family. Water Health is capable of adding supplements like vitamins or flavor additives to the water by releasing them from inside the cap into the water.
But the sensor technology is not only designed for hydration. Other applications include an adherence cap that can be added to a medicine pill bottle or syrup bottle; a blister clip-on that can connect to any blister pack; and caps for products such as coffee capsules, cosmetics, household and cleaning products, and laundry detergents.
With the analytics dashboard, brand owners can gather and analyze data about their customers. "Data is important not just for consumers, but for brands," said Hoshen. "If brands are generating data, they can learn who their customers are in real time, how they use their products, and how they engage with them. Packages are the right point to generate that data."
Coming full circle, in Shira Rosen's presentation, she said, "GAFA is putting the consumer in the middle and understands the value the consumer can achieve. What's in it for the producer? It's not linear, as the usual linear world. It turns into a loop. The brand owner can get big data. It's becoming the new currency.
"At Strauss, we launched a new application where we are inviting consumers to scan invoices from their groceries. From this we are learning a lot. We have people to analyze the data. This helps us to give more personalized and precise solutions to consumers. Once they share it via networks, it gives us great advertising. These are two things that are more valuable than buying the product."
Packaged. The 7th Global Summit is scheduled for June 25 through 26, 2018, in Amsterdam.
Companies in this article