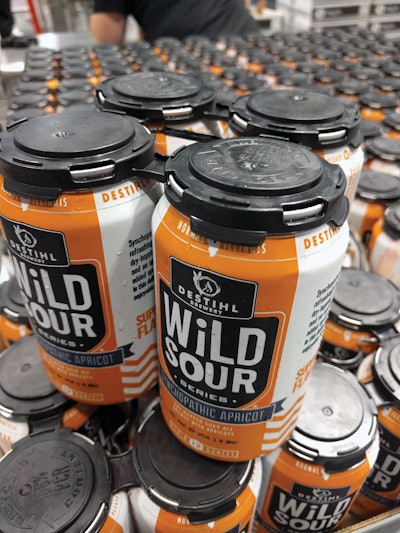 According to Nielsen, annual craft beer sales in America have grown more than 65% in the past five years, with sales of almost $5.8 billion for the year ended January 28, 2017. But now American craft brewers are beginning to see shipment volumes decline as retail shelves are occupied by more and more varieties from more and more craft-brew competitors.
Nielsen reports that for the first half of 2017, retail-store sales of craft-style beers fell $143 million to $2.3 billion. Looking at a different metric, volume growth, the Brewers Association also reports a slowdown for the first half of 2017. According to BA's mid-year 2017 growth report, the U.S. craft beer market saw volume production increase 5% for the first six months of 2017, a slowdown from 8% volume growth in the comparable period last year. "The growth pace for small and independent brewers has stabilized at a rate that still reflects progress but in a more mature market," says Bart Watson, chief economist of the BA. "Although more difficult to realize, growth still exists."
Watson also points out that the Nielsen numbers look only at off-premise sales. "Smaller brands, the ones still growing, tend to have growth in their own tap rooms and in independent stores that may not be included in Nielsen data," says Watson.
But enough statistics. Even if its heretofore feverish growth has finally shown signs of tapering, that doesn't make the craft brewing segment any less interesting in terms of what various breweries are doing in their approach to packaging. Here's a random sampling of what craft brewers—and one supplier of an all-important ingredient to craft brewers—have been up to.
'Cleaner package design'
Destihl brewery of Illinois has begun rolling out new brand packaging for its 12-oz cans. First came the release of Synchopathic Apricot, a seasonal sour, as part of Destihl's Wild Sour Series. Destihl wanted to create a more cohesive packaging identity that links all their brands together.
"We saw an opportunity to create a cleaner packaging design while still maintaining and building upon the brand identity that our brands have garnered over the years," says Founder, CEO, and Brewmaster, Matt Potts. "Months of design development paired with years of sales information on our individual brands helped us to develop these new can designs, which we believe will increase our beer's shelf visibility and recognizability by linking our various brand families together with our strategic design characteristics and coloring scheme."
By December of 2017, Destihl Brewery hopes to have rolled out the new packaging for all its brands throughout their distribution footprint, which currently includes 20 states plus Washington, D.C. The new cans, supplied by Ball Corp., will also be available at their Destihl Restaurant & Brew Works locations in Normal, IL and Champaign, IL and at the brewery's massive new $14 Million production brewery and Beer Hall which opened in Normal, IL last May. A rinse/fill/seam system from CFT combined with a Filtec fill level inspector and a carrier applicator from PakTech were installed for can filling. Also in use are PakTech-supplied injection molded HDPE carriers that have molded into them the fact that they are made of 96% Post-Consumer Recycled content (PCR). PakTech notes that soon Destihl will be using carriers made of 100% PCR material.
The opening of the new production facility served as the impetus for the package redesign as the new brewery warranted an exciting, new look for Destihl's cans. "We've been quite anxious get these new cans into the market," commented Neil Reinhardt, Destihl's Director of Sales. "We have always been able to sense the excitement around our brand in every market that we enter, and we feel like this package redesign will help to amp that excitement to the next level. The design is approachable, yet vivid and energy-packed."
Improved appearance
At Green Man Brewery it wasn't the graphics that had to be addressed. This Asheville, NC, brewer was struggling with label adhesion challenges and didn't like what previous label materials said to the marketplace about the Green Man brand. But since connecting with UPM Raflatac and label converter Prime Package and Label Inc., the brewery's labels are applied efficiently and can withstand hours in a bucket of ice and still look great.
UPM Raflatac builds the pressure-sensitive label from 2.6-mil white biaxially oriented polypropylene, adhesive, and release liner. This construction is sent to Prime Package and Label for printing in five to seven colors on a flexo press.
"Our label is not the simplest to produce because it is so detailed," says Jon Spath, Director of Operations at Green Man Brewery. "When we went to Prime Package and Label, the visual and print quality of the label took a major step forward. It's important, because on a bottle, the label is the only branding we have. It can't wrinkle or detach from the bottle. UPM Raflatac's label stock is a better-quality material. It has a great feel on the bottle and fantastic adhesion. When I pull from a wet cooler a bottled of beer that has been there for several hours, it's critical that the label still look immaculate."
Bellevue's better keg labels
Bellevue Brewing Co. of Bellevue, WA, sends about 15 different kegged beers to bars and restaurants that pour its beers. Each keg requires not only a keg collar label to identify the beer variety but also a corresponding tap handle label that the bartender can apply to the tap handle so that patrons can quickly see what beers a bar has on tap. Getting tap handle labels to customers had become a problem for Bellevue because they were traditionally printed, inventoried, and sent separately from the keg collar label. Too often the labeled kegs were arriving at a bar or restaurant but the tap handle labels were missing or forgotten or misplaced.
That's where innovative label converter Rind Print comes in. Using a hybrid digital and flexo press, in-line die cutting, and some proprietary laminating and substrate handling tricks, Rind supplies keg collar labels that have pressure-sensitive tap handle labels integrated into them. Some details Rind chooses not to divulge, but essentially the keg collar labels are produced in the following manner.
Two roll-fed materials are fed into the hybrid press: a white biaxially oriented PP with Avery Dennison's ClearCut™ Adhesive Technology and a C1S paper tag stock. Flexo printed at the bottom of the tag stock is copy that every keg collar label gets: "Thank you for buying our beer—to re-order, go to bellevuebrewing.com." Digitally printed on the white BOPP are attractive scenes of Washington's Mt. Ranier, instructions on how to tap the keg, the brewery name, ingredient and regulatory information, and the identity of one of the 15 beers that Bellevue puts in its kegs—Pale Ale, Scotch Ale, Bohemian Pilsner, etc. Also repeated digitally in bold letters at the bottom of the BOPP substrate is the beer variety; this is what eventually serves as the tap handle label. Immediately after printing, and in the same pass, the digitally printed BOPP with its Avery Dennison adhesive is laminated on top of the flexo-printed paper tag stock. Next, and still in the same pass, the keg collar label is die cut and the tap handle label at the bottom of the BOPP is kiss-cut. Instructions printed on the keg collar label—"This is your tap handle sticker; pull here"—tell the bar tender to remove the kiss-cut tap handle label and apply it to a tap handle just like any other pressure-sensitive label.
The beauty of the hybrid press, says Rind Print's Tyson Marshall, is that all 15 beer varieties can be printed in one production run without having to change plates. The bottom line? No longer do tap handle labels get separated from the keg they belong to because now they are integral to the keg collar label until the bar tender pulls the pressure-sensitive tap handle label from the keg collar label and applies it to the tap handle.
New can end
The craft brewing segment is alive and well across the pond, too. In London's West Norwood neighborhood, the London Beer Factory is using a novel can end to make more flavors and aromas come to life when consumers drink their beer from the can. "Hops have aroma, and that's what we're trying to emphasize with this end," says brewery owner Ed Cotton.
Developed by Crown Holdings Inc., the 360 End® is described as the world's first full-aperture end for two-piece cans. The entire lid of the beverage can is removed when the ring pull end is pulled, which practically turns the metal can itself into a drinking cup and eliminates the need for separate glassware. Ideally suited for beer, it allows the full flavor and aroma of the beer to hit the drinker's senses.
Cotton says the can end, which drops right into the filling and seaming equipment used at the brewery without mechanical adjustments, is now used on five beers in 330-mL cans. He acknowledges that it costs a little bit more than a conventional ring-pull end. But consumer response has been positive.
"These things take time, you know," says Cotton. "But gradually, we hope that more and more people will realize that this is a better way to drink beer from a can, especially now that so many beers are brewed with such wonderful aromas."
Machines make the difference
Like many craft brewers across the country, when KettleHouse Brewery of Missoula, MT, expanded around 2006 beyond its own tap and pub business and began broader distribution of canned beer, business grew steadily. So much so that this past January the firm opened a new production facility featuring a canning line consisting of a depalletizer from SKA Fabricating, a Craftmate 24-valve rinser/filler from Krones, a seamer from Ferrum, a Spartan cartoning machine from Econocorp, and some Domino ink-jet printing systems.
"We come from very humble beginnings, and if you'd told me a few years back that I'd be spending $1 million-plus for a can filling system, I would never have believed you," says brewery Owner Tim O'Leary.
When it comes to packaged beer, KettleHouse does cans only, and only in the 16-oz variety. In 2008 the firm installed its first cartoning machine: the E2000 from Econocorp. That machine now operates right beside the new Spartan cartoner on the new line. "The E2000 does 8-count cartons and the Spartan does 4-packs," says O'Leary. "We run at a comfortable 12,000 cans per hour." An ink-jet system from Domino puts date codes on the top rim of the can while Domino units integrated into the two Econocorp cartoners put ink-jet codes onto paperboard four-and eight-packs.
Looking to the future, O'Leary says a stretch wrapper for pallets is appealing, as is a system to automatically erect corrugated trays and another system to put paperboard cartons into the trays. "We have a great relationship with Econocorp at this point, so using their equipment to automate the job of corrugated tray forming and loading makes sense."
What about hops?
Where would craft brewers be without their ingredient suppliers, especially when it comes to the all-important ingredient known as hops? One such supplier is Brewers Supplier Group. A subsidiary of Rahr Corp., the firm's newest division is BSG Hops, which recently opened a new facility in the Yakima Valley town of Wapato, WA. There the firm processes bales of hops into compressed pellets that, if packaged and stored properly, will retain their brewing value for years.
Packaging at BSG Hops is done on a VerTek 2400 vertical form/fill/seal system and a PrimoCombi 14-head 5-L combination scale, both supplied by WeighPack. Packages come in three sizes: 11-lb, 22-lb, and 44-lb. The film lamination used to make the bags, which is supplied by Phoenix Packaging Enterprises, is a 5-mil lamination of polyester/foil/nylon/PE. The polyester layer is reverse-printed in one color on a gravure press.
According to Director of Hop Operations Shane Dale, the WeighPack equipment was selected on the strength of its speed, its ability to handle a thick rollstock, and its ability to produce packages with 2% or less residual oxygen.
"Producing sealed bags with a low oxygen residual is challenging," says Dale. "The bags we make are quite large, and when you're running at speeds to 15/min it's difficult to entirely gas flush on most machines. We needed to know that the bags coming out of this machine would be robust and reliable, otherwise the gas flushing is a waste of time."
Dale goes on to say that some vf/f/s machines rely on a thin band sealer. If a small particle of hops gets caught in the seal, the seal will fail, leading to oxidized and degraded hops. "With the VerTek," he points out, "the one-inch top and bottom seal and the 3-inch back seal are not affected by particles. We have even seen where an entire pellet will get trapped in a top or bottom seal. The sealing tools will crush the pellet and seal right around it, still providing a reliable oxygen seal."
"We knew that low oxygen residual was a prerequisite for this project," says WeighPack's Thomas Davis. "So we supplied a gas flush tube and connection in addition to a gating mechanism on the forming tube to stage the hop products accordingly. The end result is a system that guarantees efficiency and effectiveness. Quantities are accurately proportioned, bags have quality seals, and low oxygen residual is assured. From initial project concept to final fruition, we successfully constructed a packaging system that allows BSG to provide pristine product to its clients."
The power of packaging
According to the Nielsen Co.'s Craft Beer Category Design Audit released in May, 66% of American Craft beer buyers say that a beer's package/label is very or extremely important for getting them to notice a beer. Moreover, 60% say that the package/label is very or extremely important in convincing them to give a craft beer a try by buying it. And overall, 71% of craft beer buyers say they like to try brands with bold and interesting packaging.
The chart shown shows how audit respondents felt when Nielsen asked this question: "When you are at the store choosing a craft beer, which physical attributes of the packaging tend to make the strongest impression on you?"
Companies in this article