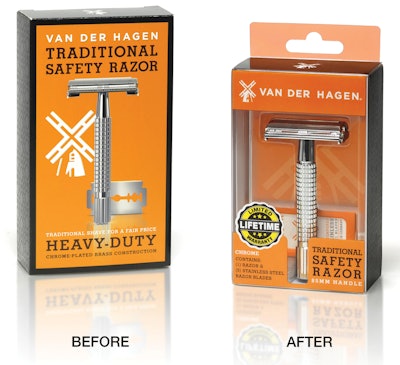 Van der Hagen Enterprises, owned by Universal Beauty Products, Inc., Glendale Heights, IL, is a premier global manufacturer of men's toiletries such as specialty soaps, safety razors, and razor blades. In 2015, when Universal Beauty Products acquired Van der Hagen, the company's safety razors and blades were being packaged and marketed in opaque paperboard folding cartons. But UBP saw potential to package these products in a more shelf-impactful way.
Transparent packaging was the key to making the top quality of the razor apparent to consumers. UBP believed that a direct open view of the razor would better convey the quality and distinctiveness of the product and showcase the laser etching, color, and finish choices. In addition, with the paperboard packaging there had been some damage-in-transport-and-display issues. Tears and cracks in the cartons create negative consumer perception.
So the decision was made to convert from opaque paperboard folding cartons to clear plastic folding cartons from HLP Klearfold. The Klearfold® cartons are manufactured using .012 APET (amorphous polyester) and are offset printed in a 4-color process—three special colors, varnish, plus a pattern-applied silk screen coating that provides a distinctive texture and tactile effect to the carton's side panels.
The cartons are scored using HLP Klearfold's proprietary Soft Crease® RF scoring technology to ensure uniform creases, clean lines, and top-notch appearance. The cartons set up easily with little folding resistance. The cartons are set up and loaded manually for the time being.
Klearfold also produces the clear plastic .026 APET trays in which the razors and 5-count blade packs are nested. These protective trays enhance the overall neatness of the product presentation.
Currently, the Van der Hagen products are being marketed by many major retailers—including Walmart, Walgreens, Target, Rite Aid, and Amazon. Korhan Beba, VP of Marketing for Universal Beauty Products, notes, "We've received positive feedback from our retailers regarding the new package design, and we believe customers will appreciate and be enticed by a sneak peek at the razor before purchasing. The cost difference between the previous paperboard cartons and the new Klearfold cartons is about 60%, but we are not passing this additional cost to our consumers. We believe we can make up for it with the expected increase in sales due to the significant improvement in presentation and visual appeal."
Companies in this article