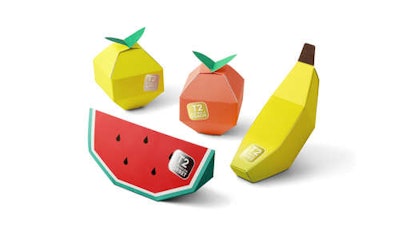 Metsä Board's packaging design for the T2 Mini Fruit Tea range won first place in the Limited-Edition category at The Dieline Awards 2017. The designs, for Australia-based tea company T2, previously gained an IF Design award in the Beverages Packaging category earlier this year and a Merit award at the 28th Hong Kong Print Awards in 2016 in the Paper Packaging category.
Metsä Board's design team based in Shanghai worked closely with T2 to create the packaging as part of T2's 2016 Christmas campaign, The Grand Most Exotic Bazaar. The fruit-shaped boxes reflect the flavor of the tea stored within them, which includes banana bake, watermelon sorbet, Turkish apple, and peach.
The design is printed on the reverse side of MetsäBoard Pro FBB Bright 250 gsm fresh fiber paperboard. The uncoated side was deliberately selected to echo the natural feel of the fruit and to give a softer texture to the boxes while still reproducing vivid graphics. The stiff and durable structure of MetsäBoard Pro FBB Bright enabled the design team to create a glue-less packaging structure through clever creasing and folding of the material. The packaging also holds up well in transport and on the shelf.
Entries into the U.S.-based Dieline Awards are judged on four key elements: creativity,
marketability, innovation, and execution. Cyril Drouet, Metsä Board's Design & Innovation Director, says he is delighted that the skill of Metsä Board's designers and the quality of its product have been recognized.
"We are thrilled to have won first place in the Limited-Edition category. The team in Shanghai worked very hard with T2 to achieve a design that is beautiful, innovative, practical, and durable, and it is very satisfying that everyone's hard work has been rewarded in this way."
Companies in this article