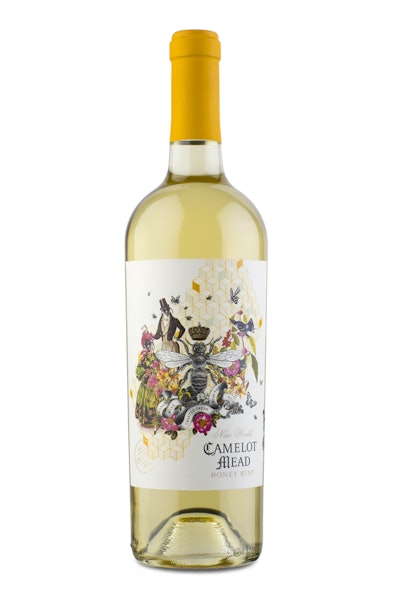 Oliver Winery, Indiana's oldest and largest winery, will re-release Camelot Mead, a light and refreshing honey wine, in a redesigned, premium 750-mL package.
Oliver Winery has made Camelot Mead for more than 40 years. The wine defies traditional mead styles with a clean, floral-honey aroma complemented by a light, citrusy flavor and subtle notes of honeycomb.
"Making a great mead is about two things: honey sourcing and fermentation management," says Bill Oliver, Oliver Winery CEO and founding family member. "Sourcing for Camelot Mead is critical, as it is for all our wines. We use pure orange blossom honey, which is aromatic and clean."
Craft beverage enthusiasts will appreciate the package's edgy charm. Its intricate label collage, designed by California-based agency CF Napa (cfnapa.com), features bees, a honeycomb, and flowers.
"Our Camelot Mead is a legacy product and one of the first widely distributed Oliver wines," says Chris Hibbert, Oliver Winery Vice President of Sales. "We love its heritage, but we were eager to illustrate its truly unique character with new packaging."
A playful die-cut frog peeks out from the label's right edge. The frog is a nod to the winery's limestone frog sculpture, named "Jeremiah" by Oliver employees. On this package, the frog is a tribute to all things undiscovered, underestimated, and refreshingly different, according to Oliver.
"It's beautiful and whimsical and a touch bizarre," Oliver says. "I love the glass too—so unexpected yet appropriate. You won't find many other sweet whites in a classic flint Bordeaux bottle like this."
Camelot Mead retails for $10 and contains 10% ABV. It is available in 18 states (Connecticut, Colorado, Florida, Illinois, Indiana, Iowa, Kansas, Kentucky, Michigan, Minnesota, Missouri, North Carolina, Ohio, Tennessee, Texas, Virginia, West Virginia, and Wisconsin), as well as at the Oliver Winery Tasting Room and online at oliverwinery.com.