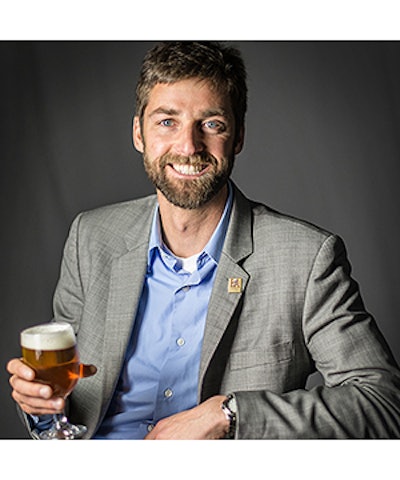 Editor's note: Few organizations are better equipped to describe how the craft brewing movement has emerged, where it is today, and where it might be headed than the Brewers Association. Headquartered in Boulder, CO, BA is a trade association whose mission is to promote and protect the interests of small and independent craft brewers. Just a few days before the start of the Craft Brewers Conference in Philadelphia, PA, we talked with the organization's Chief Economist, Bart Watson, for this detailed view of craft brewing in the U.S.
Packaging World:
What kind of volume are we looking at where craft brewers are concerned?
Bart Watson:
Craft brewers produced 24.5 million barrels in 2015. Once you subtract out exports, which were more than 400,000 barrels, that gives us 12.2% of the U.S. beer market by volume. Last year growth was 13% by volume and 16% in terms of retail dollar sales. We've had eight out of ten years with double-digit growth, so it's been a pretty good decade. Going forward we have an aspirational goal here at the Brewers Association of getting to 20% of the U.S. market by 2020. Based on what I'm seeing now, it certainly appears to be doable.
So many of us think of craft brewers as people who started in their garage and are now selling beer in their neighborhoods and home towns. What about exports?
It's small but growing. It really varies by brewery, and it's a limited number of craft brewers who are involved. Most breweries don't export at all because they can't even meet demand in the U.S., so looking into export markets makes very little sense. When craft brewers do export, Canada is number one, but overseas we're also seeing strong demand for U.S. craft brewed products, particularly in Europe and Asia. The UK and Sweden have been strong markets in recent years, too. I do think it's something that will continue to grow in the future, particularly as the U.S. market growth inevitably starts to slow down. There's more demand abroad than there is available supply right now. But most U.S. brewers are looking to expand domestically first.
Do you have any resources to support exports?
We have an Export Development Program that helps brewers understand some of the challenges, like making sure there's an identified cold chain and that the distributors and importers on the other end are going to be treating the beer the right way. There are some limitations to exporting super fresh, hoppy IPAs around the world, and I think that's one reason we've seen a few U.S. craft brewers start to establish a presence overseas by building breweries in Berlin, for example. Remember, freshness is a big part of the appeal.
What's the big picture look like today? Are there too many craft brewers?
We're at about 4,400 craft brewers now, and they're opening at the rate of about 2 per day. But I don't think there are too many, and I say that for a couple of reasons. One is that the vast majority of craft brewers are very small and locally focused. They're operating like a neighborhood bar, sometimes combined with a restaurant, and they're distributing within a pretty tight locale. In such an environment, adding another one doesn't necessarily change distribution that much. Look at all the small wineries in the U.S. We have more than 8,000 wineries in this country, and Americans drink a lot more beer than we drink wine. When you talk about saturation you really have to talk about where. Portland, Oregon, has 60-plus breweries, and San Diego County has more than 110. In regions like that, maybe we should expect to see a slow down in new breweries being added. Though having said that, in both of those areas we still saw growth last year. I think there's still a lot of room for growth in the U.S., especially in places like Texas or Florida.
What about all the craft brewers being snapped up by the big guys? Is authenticity somehow endangered in this process?
As the larger brewers enter this space we are seeing some blurring of the lines between the products of independent brewers and large brewers. Anheuser-Busch has been the most aggressive, buying eight breweries recently. But remember, that's eight out of 4,400. Probably more troubling to the craft brewers is the combination of those acquisitions with some of the moves that AB is making in distribution channels. They incentivize their distributors to carry their products, and that combination is one that has the potential to limit market access for some independent brewers.
I see on your Web site that you define the craft brewer as small, independent, and traditional. How small is small?
Less than 6 million barrels per year. Brewers like Boston Beer and its Sam Adams brand are at about 2.5. Yuengling is less than 3 million. For comparison, Anheuser-Busch in the U.S. is like 95 million barrels, and globally they were at 360 million, though after the merger with SABMiller they'll be near 525 million.
Speaking of Boston Beer, what do you make of their Nitro Project?
This isn't the first arrival of nitro in the craft segment, but it is the largest roll-out to date. In general, I think it shows that craft brewers will continue to innovate in their beers. The gas mix in packaged products is just part of that. Craft brewers have shown an ability to create new flavors, and nitro is another step in pushing that envelope. (For more information and a video on the Nitro Project, visit pwgo.to/2193.)
What role is the retailer playing in this movement? I noticed that Walmart, as part of its 2013 commitment to buy an additional $250 billion in U.S. products over 10 years, has signed a deal that will bring craft beer from Harlem Brewing Co. to 39 Walmart stores in New York.
There's no question that large-scale retailers are becoming more interested in being flexible in their purchasing, in having local products on the shelves. So the next challenge for craft brewers is to figure out how their small local production model matches up with larger, more consolidated distribution channels and retail channels. Seeing the world's largest retailer recognize that there is demand for a product from small local producers and making that happen in a subset of their stores, I think that's significant.
What's the role of packaging in all of this?
Certainly brand identity is a big part of the beer business, which is very brand driven. Brands are essential, and packaging is the most tangible part of a brand identity when a beer lover is looking at the shelf or looking at taps. I think we're seeing that, with more and more products in general, brewers are looking to differentiate and find ways to stand out. For a lot of brewers that's meant brand and packaging refreshes in recent years.
Are the refreshes being executed by professional agencies?
It's a mix. As brewers evolve and get larger they tend to use professionals, but it depends on what the brewery's brand identity is all about. If the brand identity is quirky or incorporates logos from the founders or a friend or an artist down the street, then that's the direction they are likely to go. The brewer needs to think in terms of what they stand for and what the beer lovers who choose their products are going to see on the label. One thing that has made small breweries successful is their ability to brand and market in niches in a way that's difficult for large national brands to do. Here in Denver we have craft brewers who market to the heavy metal crowd and have branding and packaging that corresponds with that. Or we have brewers whose packaging reflects an environmental bent.
What do you make of the whole shift to cans?
It's a trend that's emerging very quickly. When we bench-marked in 2011, about 2% of craft brewer volume was going into cans. In 2014 it was up to 10%. There's a number of reasons we've seen craft brewers shift to cans. One is just that there are particular occasions where cans work better. Craft brewers have expanded their reach and beer lovers are demanding their beer in new usage occasions. The can just makes sense if you're hiking or you're on a golf course or near a pool. Then there are the environmental benefits. Cans are lighter and aluminum is well established as a recyclable container. You can also bring some amazing art to a can. Some brewers have really capitalized on the 16-oz can as a platform for art.
What about the can shortage we hear about?
There isn't a can shortage per se. There were some challenges that some brewers faced earlier in the year, and some of this is again a mismatch between large-scale industries and small-scale ones. Many craft brewers are small and we essentially have three can manufacturers in this country, soon to be two. Those large companies are working hard to make sure they're nimble enough to meet the needs of small manufacturers like craft brewers. I think brewers are figuring out that if they want to use cans they have to find ways to make sure cans are available in the quantities they need.
I think part of the can availability problem was that craft brewers struggle with the large minimum orders that the can manufacturers prefer. Do you think part of the solution may lie in suppliers like Verst Group, a producer of shrink sleeve labels that now keeps a sizeable inventory of bright stock and decorates cans in the modest quantities that craft brewers favor?
I think that's one of the mini models that we're going to see breweries use to solve some of this mismatch that I just talked about. Bright stock and shrink labels have certainly been part of it. It's similar to the mobile canning companies that also provide services like that to brewers. We've also seen small local cooperative purchasing groups where a bunch of brewers will go in together to unite the purchase of bright stock or rent a warehouse for can storage, so that they can meet minimum orders collectively. I think we'll continue seeing solutions like that emerge so that brewers can stay in cans if that's a format they want.
What about automation? Are craft brewers open to it?
It depends so much on volume. Go into a Sierra Nevada or New Belgium Brewery and you'll see a lot of it. Some things are still difficult to automate. Mixed packs, for example. Nobody has really com up with a good way to automate mixed packs, even though they've been one of the faster growing formats in craft brewing. I expect the growth of mixed packs to continue, partly because it goes back to one of the key drivers behind craft beer's surge in popularity, which is the demand for variety. People who are drinking craft beers are interested in having different beers for different occasions, and a variety pack is a nice way to get that with a single purchase.

Opportunity for packaging machinery builders?
Chuck Skypeck, Technical Brewing Projects Manager at the Brewers Association, makes this observation about the packaging machinery scene in the world of craft brewing.
"If you think back to when craft started, beer was only produced by large-volume breweries. Smaller scale, affordable packaging equipment was simply not manufactured because, prior to the craft industry being established, there was no demand for small-scale beer packaging equipment. This has changed, to a degree, but smaller volume packaging breweries still face certain limitations in availability of smaller scale packaging equipment."