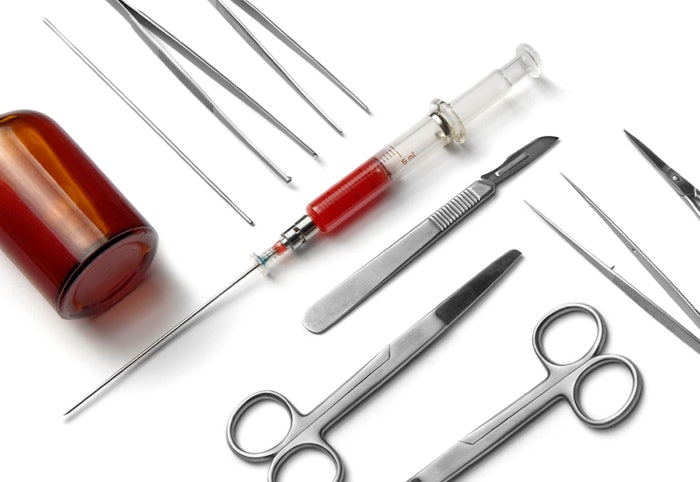 Tips for color in medical devices
The use of color in medical devices can aid with instructions, help users identify drug types/strengths, emphasize the user interface, and much more. But adding color adds complexity.
• Paul Greenhalgh, Director of Design at Team Consulting, has years of experience in developing medical devices. He explained that getting the right shade is important in triggering the right emotional response and maintaining consistency in your brand. You may need to mix your own custom color, so be sure to build extra time into your schedule.
• You must also look at the pigments that go into a color, and ensure that your supplier has proper change control for raw materials in place. The same shade of blue, for example, can be made with different pigments even if the CAS number stays the same. Cecile Balloffet, Medical Business Development Engineer at Clariant, said that pigment changes can influence reliability—including mechanical properties—and can also invalidate your leachables testing. Look for suppliers that perform fingerprint testing of raw materials and have backup production facilities to ensure supply.
Creating a coherent user experience means tying together color, design, iconography, interfaces, and instructions. While the med device itself may be the hardest part of the color design, the trend toward an integrated product and package means that packaging colors and materials should be considered early on as well.
Tools to use packaging as a media channel
The Internet is a useful marketing tool for widely used products like shampoo, but it is not as effective in targeting specific groups such as the diabetic population, for example. So how do you reach patient groups when the main commonality between them is their prescription?
Dr. Christophe Bureau, Vice-President of Strategic Innovation at Stevanato Group S.p.A., explained, with the help of new apps, "Technology allows us to turn a vial into a patient connection."
Companies are beginning to focus on the virtue of peer-to-peer support, and prototype apps are being tested that create communities among disease populations. Community building, in turn, creates new business models. Bureau described potential tools:
• Patient-level anti-counterfeiting and recall checks that give users the power to scan a code on their vial and view the medicine's journey. Unknown batches can be reported in real-time. Bureau noted that this functionality is very popular in India.
• Virtual leaflets for drugs that can include real-time updates and patient counseling information.
• Mentoring programs that allow patients to ask each other about lifestyle problems.
• A "comfort zone" of sorts that lists businesses catering to the disease population (healthy restaurants, gyms, etc.). In this case, the shops that want to be referenced would pay to be listed.
For apps focused on daily life activities, the issues of patient data privacy aren't necessarily applicable because a user's data is not being shared when they simply enter an online community. Bureau expressed excitement about the shift toward improving patient lifestyles. "We teach patients to survive their disease," he said. "But they want to live with their disease, not just survive."
Trends in healthcare and packaging
Chess vs Tetris: "Is the future of pharma packaging more like Tetris or chess?" asked Peter J. Schmidtt, Managing Director at Montesino. According to Schmidtt, the answer is Tetris. In chess, moves are sequential, and there's a clear winner and loser. Much like the shapes in Tetris, multiple factors are coming down (child resistance, serialization, etc.), that both change and accelerate in pace as companies work to accommodate them.
The shift is reflective of the change in pharmaceuticals in general, where medicines by design (MbD) and a patient-centric focus are replacing the previous blockbuster drug model. Even the way we buy our drugs is changing, with wholesale and retail giving way to online sales, as new entrants like Apple and Google throw their hats into the ring.
Combination products: The trend toward patient (and people) centricity means that the focus of new product development is moving from clinicians and treatments to patients and caregivers. Combination products that ease delivery and promote connectivity are getting smaller and smarter, and self-administration and point-of-care diagnostics are becoming more popular to uphold quality of life.
As the lines blur between drugs and devices, delivery devices must become more durable and reliable. Bill Welch, Chief Technology Officer at Phillips-Medisize, explained that though the cost of the device is very low compared to the drug, "the device can jeopardize the success and marketability of the drug, so risk tolerance on the device has to be commensurate with the drug to be delivered."
The blurred lines also have an effect on regulatory filing, particularly because not every country treats combination products in the same way. In the U.S., 21 CFR Part 4 for Combination Products was issued in July 2013, stating that combination products have to comply with requirements from both drug product and medical device regulations (21 CFR 210/211 and 21 CFR 280, respectively), but if you fully comply with one, you can meet limited specifics of the other.
Kübler-Ross Model: Multiple speakers at the show identified the curve as an important consideration in designing healthcare packaging and technologies. The model represents emotional stages that a recently diagnosed patient may go through (including denial, anger, and acceptance). It's important to consider the patient's journey. Packaging can have a big impact on adherence during the critical navigation period when the patient feels fearful or depressed. Patient adherence contributes to confidence in treatment and creates an upward trend in the patient's outcome, which benefits the patient and pharmaceutical industry as a whole.
Companies in this article