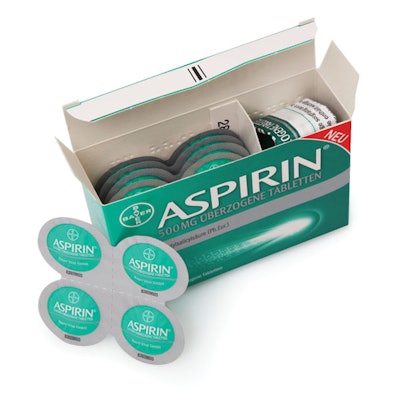 On-shelf evidence these days would suggest that brand owners are starting to understand that designing with people in mind has benefits not only for society at large, but also for greater productivity in the workplace and for a company's reputation and bottom line.
Good design—variously referred to as universal, inclusive, or accessible design—is all about giving a positive experience at point of use to as many people as possible whatever their age and ability, lefties and righties included. Good design thinks about "real people" in real-life situations. Real life tests the limits of someone's patience and shows up a poorly-conceived package design. If there is a fatal flaw, it needs to be rectified before the package goes to market. Otherwise, a brand will find itself losing customers to a competing brand with packaging that doesn't put up a fight or bite back.
It's far from the case that age and infirmity, weak wrists, stiff fingers, and poor eyesight are the only factors a designer must consider when developing a pack that's stress-free to open and use. Two hands don't seem enough when there are babies and toddlers needing a feed and a change of diaper. The concept of one-hand or no-hand dispensers for household care products gets the thumbs-up especially from younger consumers. In a 2015 household care packaging trends survey by industry market research firm Mintel, significant interest (39%) was shown in the 18-34 age bracket and among households of three or more, while the least interest (7%) was expressed by over-55s in one-and two-person households.
"What it tells us," says Viktorija Gnatoka, Global Packaging Analyst at Mintel, "is that yes, older consumers are interested in packaging that is easier to use, but so are young families with children who need packaging solutions that fit their busy lifestyles. This means that packaging development should never be directed strictly at one consumer group, as there are many consumers who would appreciate packaging solutions that ease their household routines."
She says one of her favorite examples from the home storage category is a breast milk storage bag launched in Thailand. From a company called The First Years, part of Tokyo-based TOMY, it gives mothers a convenient way to pump, store, and feed breast milk. "These bags have great on-pack communication about all features of the product, emphasizing multiple convenient attributes in product use," says Gnatoka. "It was definitely designed with the consumer in mind. It protects the milk and makes it convenient to use. It speaks to the consumer's needs in this special category."
Japan excels at designing products and services around the needs of people with the focus on a consumer's wellbeing, health, and happiness. To prove the point, video game developers are introducing products to keep Japan's growing "silver generation" healthy and mentally agile long into old age. Meanwhile, the Japanese packaging community, converters in particular, are continuing their concerted efforts to offer brand owners solutions that improve product handling features such as good stability, anti-slip properties, and controllable product flow.
Bayer's aspirin pack
It took a creative collaboration to produce a "totally new," user-friendly product concept for Bayer-branded Aspirin in the form of an unusual, shamrock-shaped strip pack for four single tablets. Bayer Health Care's U.S.-based head of packaging and technology innovation, Guido Schmitz, led the shamrock project and tells Packaging World that machinery builder Romaco Pharmatechnik and its development of a "unique" intermittent die-cutting system made possible a higher flexibility in shaping.
Constantia Flexibles developed the material for the shamrock package, which is based on a paper-aluminum lamination with a hot tack Surlyn layer. The aim was to combine easy opening for consumers with the high water-barrier protection required of it by a new moisture-sensitive Aspirin product formulation. While being easy for adults to tear open, the package has been tested and passed as childproof, states Schmitz. For portability, the package structure is perforated to divide into convenient units, which are separately branded as Aspirin for identification purposes.
Structural design was the work of Berndt+Partner Creality with Sterling Brands responsible for global branding of the "new generation" Aspirin. The final packaging component, Edelmann Group's new carton design, also has the consumer in mind by providing a compartment for the product instruction leaflet so it is easier to access, adds Schmitz.
The Bayer package, winner of the European aluminium foil industry Alufoil Trophy 2015 Cross-Category Award, appeared first in the German market, where it is seeing significant growth and has become a hit across Europe. A second Romaco Pharmatechnik high-speed packaging machine has been implemented, says Schmitz.
Switching from the previous polypropylene blister pack pays off for the consumer, who not only gets a "unique packaging solution" designed for their convenience, says Schmitz, but also the benefit of a product that performs better.
Schmitz specializes in over the counter (OTC) lines in Bayer's Consumer Care division in the company, which after 35 years on the payroll gives him a long leash to exercise his creative and technical talents for storytelling.
"My designs are consumer-centric and developed with empathy. I use a holistic design approach to tell the story of the product, and make the product better by the packaging structure." Products must be made attractive for the older consumer, he says: "If they can't open a product, you need to ask why. Developing new concepts it's important to understand your target generation. I try to see 5-10 years ahead. Who will be your 45-60 year olds? Look what the impacts on them will be."
But any new design must be profitable for Bayer, and Schmitz emphasizes that if he and his team of partners come up with a radical new product concept that works especially well for the consumer—the aim of any 'universal' design—then its benefits and advantages must spread across multiple product lines. In other words, scalability must be at the heart of a convincing business case for replacement packaging if it will incur additional costs for Bayer to implement. For instance, the specially developed Romaco strip pack machine, now producing what Bayer claims is the first shaped pack for tablets, has the flexibility to run products currently in development says Schmitz.
Oxo's Good Grips
If any company anywhere in any category can lay claim to understanding universal design it's New York-based OXO, a maker of Good Grips household goods and office products that are specifically designed "to make everyday living easier." Smart Design Group, also in New York, is a design consultancy launched by former employees of OXO. Russell Blanchard, Director of Design at Smart, tells Packaging World: "Our guiding principle is to ignore age. Otherwise, it's too easy to stereotype or segregate. What's relevant is ability. We arrive at understanding through observation of people. What they find difficult inspires better design options."
Smart Design wants to educate companies to understand that packaging can make "a better brand ambassador" and urges them to think about the cost of not going for the "good design" option. "We are helping install a culture of innovation, and businesses are becoming design literate," says Blanchard. He thinks this is finally bringing about more investment in packaging.
When an outstanding design enters a category, that category becomes a breeding ground for good practice. Says Blanchard: "Improvement by one company raises expectations among consumers. Other companies come out to compete. Big businesses see a more nimble start-up coming along to 'eat their lunch.'"
More than 172 million people worldwide suffer from rheumatism and arthritis, according to liquid carton packaging industry giant Tetra Pak. The Swedish company seeks endorsement from the Swedish Rheumatism Association (SRA) for products such as an easy to grip, one-step screw cap called HeliCap. By 2030 an estimated 67 million Americans of ages 18 years upwards are projected to have have doctor-diagnosed arthritis, says the U.S. Centers for Disease Control and Prevention (CDC). Age then is immaterial when it comes to physical capability.
Good design is more than a "nice to have," it can promote efficient work practices. When Smart's Blanchard was asked to sift through his favourite example of good design that he's seen recently, the transplanted Londoner and former bartender came up with a glass bottle for spirits produced by New York-based 86 Co. The bottle is easier to open quickly because it has no foil over the closure, and it features different grip zones as well as a shaped bottom. This makes it safer to grab quickly yet hold securely while pouring. A ridge in the middle is to help bartenders with smaller hands. A scale indicates exact measures in fluid ounces and liters for inventory control, batching cocktails, and measuring recipes for house-made syrups and infusions. Labels with "useful and honest information" are reinforced to be easy to remove so the bottle can be reused.
The 1-L bottle is weighted for the perfect pour and has been designed with a long neck to easily hold with the full hand. It's shaped for a consistent flow of liquid and has been designed to fit speed pourers snugly. There are two rims, one at the top to grab and pull the bottle upwards from out of the well, and one around the base of the neck that acts as a fill line and a comfort zone for long pours.
Paint, too
Another Smart Design favourite is a plastic paint container with a threaded closure produced for The Sherwin-Williams Co. Salient features of this good design include a chunky, squared body with an ergonomic side handle, lug lip for drip-free pouring, and double bail and slide for easy carrying and pouring control.
Blanchard says a designer should look for "moments" where the experience can be improved and made "great" for the consumer. He acknowledges that in healthcare this is difficult because the need to include legal copy "kills" product design, and factors such as cost and supply chain requirements can result in a "bland customer experience." But even in health care there are examples of good design. One that Blanchard points to, from Belgium-based pharmaceutical manufacturer UCB, is a syringe designed for self-medication of a drug called Cimzia that is used to treat Chrohn's disease, rheumatoid arthritis, and a few other ailments. But this syringe is nothing at all like the ones we're used to seeing in the hands of health professionals. It's ergonomically designed and has a loop on the needle shield to make it easy to remove the shield when it's time to self-administer the drug. Parts of the syringe are coated in thermoplastic rubber to be soft and easy to grip. And the larger-sized plunger rod can be pushed down hard without risk of breaking it. Compared to the widely available and standardized syringe, this one helps users—who have minimal hand strength, numb joints, and little dexterity—exert 48 percent more force. No wonder Cimzia was recognized by the Arthritis Foundation for its ease of use.
For health and safety, some products need child-safe caps and closures. One such cap in the American marketplace represents a good example of universal design because it's also easy to open. The choke-safe cap is from German closure specialist Menshen and was chosen for Treetop fruit puree and YoKids yoghurt. The thread makes it possible to open the closure with one hand, needing only a three-quarter turn without having to reach around it, with grooves in the skirt for a good grip. A large diameter makes it hard to swallow, but there is a hole designed into the center that, in the worst-case scenario, would let a child breathe should the cap be ingested after all. For added safety, the tamper-evident plastic strip remains attached to the pouch. To keep the product at its best, the cap has a plug for the spout that prevents product from entering it, which acts as a barrier to oxygen.
Also by Menshen is a ball-top closure being used for Garnier's Fructis hair shampoo and conditioners. A shiny green, spherical embellishment makes the cap easy to use under running water when hands are slippery and when sight is obscured or occasionally non-existent.
On the subject of child-resistant closures, Menshen's marketing manager Christian Nöh at a packaging exhibition earlier this year in Zurich, Switzerland, gave brand owners this valuable piece of advice: "Keep in mind that caps must be easy to open by older users yet designed to deter children getting into products that pose a danger to them. But at all costs avoid people-resistant caps."
It's interesting to note that universal design principals were on display in this year's annual DuPont Awards competition. "The novelty of this year's entries lies in the fact that we saw packaging designs that added intuitive functionality in a way that was both simple and meaningful for the user," says David Luttenberger, Global Packaging Director of Mintel Group USA and the lead judge in DuPont Awards 2015. "There's frequently a lot of technology behind seemingly simple designs, but when you can design packaging in a way that resolves an issue and is intuitive to use, that's value."
Among the winners in DuPont Awards 2015 was AmorePacific's squeezable mascara tube, a package whose design aims squarely at ending the frustration of inconsistent delivery, dried out product, and difficulty in extracting product from the tube. It is said to be "the first matte silicone mascara tube in the world" and has an aluminum laminated inner pouch.
SkinnyPack, another DuPont winner, has a round mouth for easy access and square edges for better grip and handling. A salsa from Ana's Foods has been on the market in this new container in North America since November 2014. The structure fuses a thin, flexible in-mold label (IML) film to a sturdy, rigid, injected-molded plastic frame. The concept was developed by Canadian plastics company IPL under the new ownership of One 51 environmental services business based in Dublin, Republic of Ireland. (For more on both of these DuPont award winners, visit pwgo.to/1838.)
For anyone wanting guidance on the basics of good design, there's an International Standard just come out known as ISO/CD 17480 (Packaging - Accessible Design - Ease of Opening). It includes a checklist of performance characteristics a package must have to be in compliance with the standard, including things like torque, opening pull forces, and colour contrast for optimal readability of labels.
What's clear is that producing a package with universal appeal, a package that's inclusively designed and accessible for real people and real-life situations, is a collaborative exercise. It also takes close observation and empathy to rid a design of fatal flaws. But the rewards are great for companies that invest resources in getting it right.