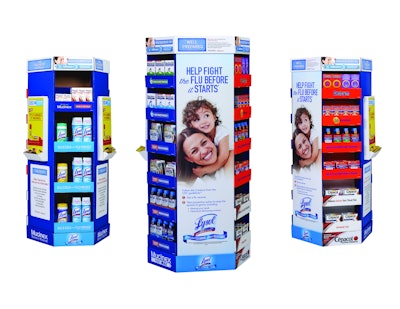 The role of packaging continues to expand in pharmacies. In recent years, for example, the ongoing proliferation of Rx-to-OTC switches has emphasized package design—structure, shape, and graphics—to help inform consumers and improve medication adherence.
One of the proposed benefits of increasing packaging's role was to give pharmacists an better opportunity to interact with patients. To this point, however, the enhanced role of connecting pharmacists/pharmacies with consumers has focused on primary and secondary packaging. Now, advanced retail display packaging is joining in the effort.
At the August 22-25 NACDS Total Store Expo in Denver, Menasha Packaging Co., LLC displayed a merchandising program called PharmaTailing™.
Paul Murphy, Menasha's Senior Director of Retail Sales and New Business Development, describes PharmaTailing as both a product and service. It uses the company's smart display beacon-enabled merchandising platform to actively connect shoppers and pharmacists.
PharmaTailing is also a service and a new measurable in store media as well, he says. With the company's "strategic knowledge and experience, we are able to help CPG companies and healthcare retailers market, display, and merchandise product groupings that encourage multiple product purchases, increasing sales for the both the retailer and the CPG."
Menasha's smart display beacon-enabled retail display, such as the six-sided mega, is a key component of the PharmaTailing platform. The Menasha team can also help CPG companies with product packaging to complement the POP merchandising. Any retail display can also be beacon-enabled for a total custom solution.
PharmaTailing is a merchandising platform developed to improve a patient's experience, increase top line sales for health care retailers and close the knowledge gap between pharmacists and front-of-store items.
"In the new retail health care path to purchase," says a Menasha press release, "pharmacists have the greatest amount of interaction with patients and, according to the American Pharmacist Association, seventy-nine percent of patients follow product recommendations from their pharmacists. Based on this logic, Menasha built PharmaTailing to put the pharmacist at the core of patient care."
The vision for PharmaTailing began after Menasha identified a needs gap in health care retail carved out by the advent of the Affordable Care Act. Pharmacists need tools to help them manage patient care, especially as far as recommending items from the front of the store that can deliver important therapeutic value to patients.
Menasha, which refers to itself as "an industry leader in managing RX to OTC switches, has partnered with Shelfbucks to make it possible for pharmacists to quickly and securely link to patient health records, discuss symptom therapy management and make front-of-store product recommendations based on ratings and reviews from curated content."
Murphy says, "Shelfbucks provides the enabling technology, which allows the displays to share valuable product information with the shopper and enable the connection with pharmacist. When a shopper encounters a smart display they have the option to acquire curated content about their limiting condition and the therapeutic value of the products being displayed to aide in symptom management. The platform also enables the shopper to seamlessly request a pharmacist consult in store."
Watch a video on PharmaTailing here.