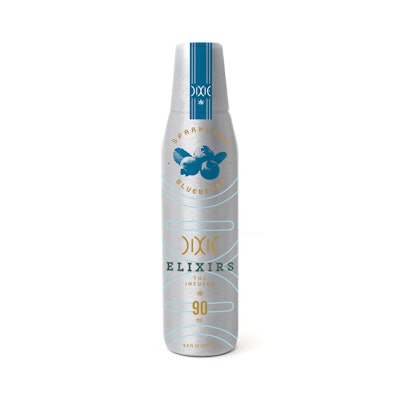 In January 2014, the floodgates were opened on an entirely new category of consumer products when Colorado became the first U.S. state to legalize marijuana. In its first annual report, released in February 2015, the Colorado Marijuana Enforcement Division disclosed that in 2014, 4.8 million edible marijuana products and nearly 150,000 lb of marijuana flowers were sold through licensed dispensaries.
Being the first to navigate such unknown territory can bring a number of challenges, as Colorado—and its marijuana product manufacturers—learned over the last year. According to Lindsay Topping, Director of Marketing for Dixie Elixirs & Edibles, a maker of THC-infused medical and recreational edibles based in Denver, the ground is constantly shifting in this new market. "The laws change really fast, product types change really fast, and what we want to say on our labels changes very fast because we are learning every day, and we are trying to make the best decisions with the information we have," she says.
In September 2014, the Colorado Marijuana Enforcement Division threw pot product manufacturers a curveball when it enacted new regulations around the maximum dosage of THC per product serving and around the packaging of edibles. For Dixie, this meant removing its flagship line of carbonated, cannabis-infused beverages from the market while it designed a proprietary new bottle and cap design—a project that involved multiple "pivots," as Topping says, to quickly deliver a package that provided the required functionality while meeting the new regulations.
New regulations for enhanced safety
Dixie Elixirs & Edibles, a Dixie Brand, Inc. company, launched its first product, its "pot soda," in 2009. Since then, the company's lineup has grown to include 30 different products comprising 100 SKUs, including chocolates, mints, tinctures, and other edibles as well as balms, capsules, and topicals using 12 different delivery systems (e.g., ingestion, oral mucosal, inhalation, etc.). "We really try to touch on a lot of different ways that someone can consume cannabis and give them an opportunity to find the right way for them," says Topping.
The Dixie Elixirs brand of carbonated beverages includes six varieties, primarily fruit-flavored, such as Sparkling Blueberry, Wild Berry Lemonade, and Peach Iced Tea. Before the redesign, the sodas were packaged in a proprietary, resealable aluminum bottle, designed specifically for the recreational market.
Under the new Colorado Edible Marijuana Laws however, Dixie needed to change the packaging to include a child-resistant cap and a measuring/dosing device. The new regulations, Topping explains, came as a response to several alleged incidents of overdose by adults, and an increase in the number of children admitted to the ER because of cannabis consumption.
She counters, however, that when comparing the number of incidents reported by the American Association of Poison Control Centers versus the number of edibles sold in 2014, the incidence rate was just 0.0006%. "So it was very, very low," she says. "But because cannabis consumption publicly and legally is so new, people are very aware of and reactive to any incidence of accidental ingestion."
The new laws also require that no single item be more than 10 mg in strength, unless it is part of a multi-serving unit that is clearly demarked and separable. In the case of the liquid, the required measuring device allows consumers to calculate the correct dosage.
Packaging changes on-the-fly
While costly, implementation of the regulations was "the right thing to do," says Dixie Brands CEO Tripp Keber. "However, we were forced to search far and wide to find packaging for our flagship Elixir product that would meet our standards as well as meet the compliance requirements of the state. Turns out, no packaging existed that was child-resistant, resealable to a child-resistant state that also held carbonation and contained a measuring mechanism for dosing…so we invented it. However, making a new bottle doesn't happen overnight. Instead of settling on inferior packaging, we made the decision to remove the Elixirs, which represent about 40 percent of our revenue, from the market while we waited for the new bottle to arrive."
The new regulations, announced in September 2014, required that all packaging be transitioned by February 1, 2015—"a tight timeline for anyone in packaging," says Topping.
Initially Dixie planned to put a C-R closure on its aluminum bottle, but the rolled threading on the bottle would not allow for that type of closure—resulting in the first pivot. Working with TricorBraun, Dixie tested a standard PET preform with a 28-mm neck that could accommodate a stock C-R polypropylene jigger cap.
"We started testing it with carbonation and understanding what works and what doesn't," says Topping. "We are actually still in the process of testing. So in version two of this package, we will modify that standard off-the-shelf C-R cap to be even better and be a truly proprietary structure."
Once testing was complete, TricorBraun designed a custom mold for the 8.5-oz bottle that mimics Dixie's trademark aluminum packaging, with the bottle supplied by TricorBraun. The second hurdle came at the package manufacturing stage. "We wanted to do everything we could to mirror our aluminum bottle. But at the last minute, when bottles were coming off the line, we saw that they were not as opaque as they needed to be," explains Topping. "Our packaging has to be 100% opaque to be sold."
With bottles pre-sold into the market, Dixie quickly changed gears and opted for a digitally printed opaque full-body PETG shrink-sleeve label. "A lot of times in this industry, you have the best intentions, but you are running full speed at a brick wall, so we have become very accustomed to pivoting," says Topping.
Version two of the packaging, scheduled for a July launch, will feature opaque bottles and transparent flexo-printed labels that use a special silver ink that allows for a varied striation, replicating the texture and color variation of aluminum.
Topping the new package is a Listerine-style pinch-and-close jigger cap, also supplied by TricorBraun, that allows consumers to pour the beverage into the cap to measure. A serving line on the inside of the cap marks off 15 mL of product, or 5 mg of THC. Although this is below the state-mandated 10-mg dose per serving, Topping says Dixie recommends consumers start with 5 mg. "Someone can always choose to take 10 milligrams, but knowing where five milligrams is is a really important consumer advocacy point for us."
Designing for an adult audience
In terms of public safety of marijuana edibles, Topping says that while C-R closures are important, they are only effective in deterring children ages five and under from accidentally ingesting the product. "Once you get older than that, safe storage is about the only thing that will guarantee it stays out of the hands of children and especially teenagers," she says.
To decrease kids' interest in the product though, Dixie designs packaging that signals the edibles are intended for adults. Label graphics for its Elixirs—which stayed the same on the new packaging, with the exception of the opacity—have been created to be sophisticated, clean, and "clearly not for kids," says Topping. Colors are monochromatic, with fruit identifiers printed in earthy tones, rather than in bright, cartoony colors. The Dixie name, in stylized lettering, runs vertically along the front of the package, with the logo repeated in several areas, including on a color-coded tab that runs across the cap and bottle.
The sophisticated graphics are also designed to inspire consumer confidence. "Our customers are not stoners," Topping says. "The people who consume cannabis are not only one type of person. If you ever walk into a dispensary, you see people from all walks of life and all ages, and mostly what we believe about consumers is they want to have confidence and trust in the products they are purchasing. That is why we look the way we do, and that's why our messaging is what it is. Everything we do is about communicating to the customer that they can trust us. We do what we say we are going to do, so they can have confidence in consuming our products and knowing exactly what they are going to get."
Reentry to the market
After being out of market for several months, Dixie launched its new Elixirs packaging on April 17, 2015. Along with the new bottle, Dixie also introduced new flavors, a new product formulation that eliminates artificial ingredients, such as sweeteners and dyes, and a new 90-mg dosage.
Said Kleber at the time of the relaunch, "Although it has been a long and financially painful journey, we're very proud of our team members and packaging partners at TricorBraun for their patience and vision during this transition, and we are excited to be back with these new flavors and an all-natural formulation. We are also appreciative of the patience of our customers who we know were eager to see this product back on shelves."
Companies in this article