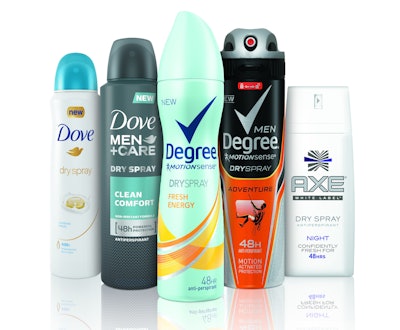 Unilever has introduced a new dry spray antiperspirant technology in the U.S. for five of its brands that it says addresses consumers' dislike of deodorants that leave a sticky or wet sensation. "Deodorant is one of the most important personal care products we use every day, but the user experience still leaves much to be desired," says Matthew McCarthy, Senior Director of Antiperspirants and Deodorants for Unilever. "Americans are demanding more from their personal care products, and with the launch of new Dry Spray Antiperspirants, they will enjoy a dry and clean application experience unlike anything they've tried before."
While just launched in the U.S. in December 2014, Unilever's dry spray technology has been available in 37 countries globally for years, continuously evolving over the past two decades. According to Unilever, its Dry Spray Antiperspirant is the number one-selling antiperspirant globally. "That is part of the reason why this launch is so pivotal, as it finally marks the introduction of the latest spray technology in the U.S. market," says Sarah Montante, Senior Brand Manager, Unilever Personal Care.
The dry spray technology relies on a water- and alcohol-free product formula partnered with a precision-engineered aerosol can actuator that produces a soft spray. As Unilever Senior R&D manager Douglas Tomczak explains, the spray pattern and spray rate delivered by the actuator are specifically aimed at improving the user experience. "This is a holistically designed system achieved by the actuator and valve design working together with the product and propellant to deliver an optimal skin feel when dispensed by the consumer," he says.
The new technology is being used across five brands—Degree Women, Degree Men, Dove, Dove Men+Care, and Axe—comprising 24 variants, with each brand featuring its own custom bottle and actuator design, new for the U.S. and Canadian markets. Says Tomczak, each can and actuator design was tested with consumers, and their feedback was a critical component throughout the package design process.
Tomczak adds that the package shapes are "huge departures from traditional aerosol products sold in the U.S. and Canada." Whereas antiperspirant products have traditionally used three-piece tinplate cans with stock buttons, the new Dry Spray Antiperspirants use custom packaging that maximizes product experience through ergonomic engineering and sleek, modern designs. "Each incorporates unique features such as co-molded components and TPE finger pads, in conjunction with uniquely shaped can designs that feel nice in the hands of our consumers," says Tomczak. For example, for the Degree Men actuator, Unilever partnered with Pinifarina, the Italian design firm that also works on Ferrari.
Regarding new package graphics, Montante says that they were drawn from existing brand designs to ensure that consumers would recognize the new brand offering.
Companies in this article