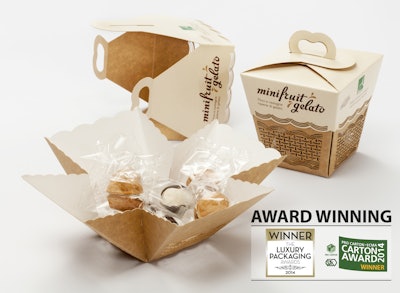 Giuseppe and Roberto Prioriello, co-founders of Pringraf comment, "We fell in love with the Highcon Euclid, seeing it as an ideal solution. We had been looking for something special, something more productive that would help us bring our dreams to life. We have been in the printing business since 1994 and have always been passionate about the connection between graphic design, digital technology, and printing. This revolutionary new product will remove the limits inherent in creating truly imaginative design and will make the realization of package design far more hassle-free."
In order to demonstrate its commitment, Pringraf entered and won design awards with a Gelato box package digitally creased and cut on a Highcon Euclid machine. The company's awards include the ProCarton ECMA Food category and the Luxury Packaging Awards Best in Show and Best Luxury Food Pack categories.
The Gelato box packaging brief came from Pingraf's customer, Aloha. The company wanted to package its product in a wicker basket but didn't think that it would be possible to create the concept with cartonboard. However, this was made a reality thanks to the Euclid's capabilities. The wicker structure was created through high-quality intricate laser cutouts that can maintain the basket shape during customer use, perfectly representing the intended product presentation. Additionally, it resulted in an ecologically sustainable, less expensive concept, which also saw the customer achieve increased sales and market presence. Time to market was only three months.
"I have known Pringraf for several years," says Nigel Tracey, Highcon Sales Director. "The company is a true innovator and the Highcon Euclid is a great match for them. I am looking forward to seeing how it helps grow the business."
Pringraf signed the deal with MGraf, the latest addition to Highcon's distribution channel in Italy. The Highcon Euclid II incorporates numerous productivity and quality improvements. This is a result of the valuable input garnered from Euclid customers around the world. Upgrades include a new substrate handling system, enhanced creasing quality, and optimized cutting algorithms.
Companies in this article