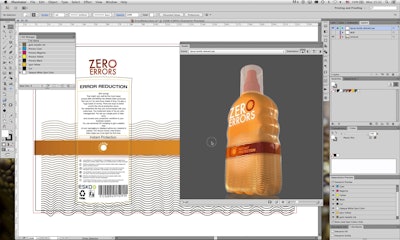 Graphic Systems Group, or GSG, is a New York City-based creative production agency whose "Camera to Consumer" services include packaging and production consolidation, consulting and technology, and creative studio services, across all medias and all geographies. Ninety percent of GSG's clients are brand owners, most of which are in the fashion and beauty, cosmetic, and pharmaceutical industries.
On its website, GSG describes itself as "a highly people-centric business with a strong focus on client service." So why did one CPG client recently call and curse out GSG co-founder and President Ken Madsen? The outburst was triggered by a picture Madsen had sent to the client of one of their retail POP displays—in its very early concept stages, a sketch really—sitting at the end of an aisle at CVS. As Madsen recalls, "She called me immediately and was extremely upset. She said to me, 'First of all, you built the display; you weren't supposed to do that. And then you put it in the store? Are you guys out of your mind! I'm going to get fired.'"
But her job was safe, and so was GSG. The POP display wasn't real, and it wasn't really sitting in the local CVS. Using Studio, a collection of software tools for 3D packaging design and visualization from Esko-Graphics, Madsen had transformed the client's 2D concept into a "hyper-realistic" 3D image, which he then virtually positioned at the end of an aisle in a nearby CVS store using his iPad and Augment's augmented reality technology, and then took a picture of.
"Once she learned it was all virtual, she came flying down to our studios," says Madsen. "I showed her what we had done, and she was just blown away."
The application above is just one example of how GSG is using Studio to help its clients execute their packaging design concepts in ways that enhance collaboration, facilitate stronger designs, reduce time to market, and save costs. According to Madsen, the more GSG uses Studio, the more it uncovers new and exciting ways to leverage the technology.
Better design execution
GSG was founded in 1994 as a photographic retouching specialist. In order to grow, GSG began offering a range of other print production services, including large-format displays, prepress, ad campaign management, studio services, digital asset management, and more. In 1999, the company added digital production services to its menu, offering its clients banner, microsite, and website creation. From 30 employees in 1994, GSG has now grown to 180.
In the area of packaging, GSG's role in the past had been to build and manage packaging mechanicals. This might include creating comps or prototypes from mechanicals, creating line extensions from a master design, or managing the package's digital assets. With Studio, GSG saw an opportunity to work directly with brand owners and creative agencies to help them execute their design concepts. "We work with some great brands, and they are always looking to us for innovation and ideas about a process," says Madsen. "We told our clients, 'We have a tool we think will help creative teams dial in, get stronger designs, and have more time to do what-ifs and change outs during the ideation process."
Studio is a modular solution that includes a mix of plug-ins and applications that work together. These include Designer; Toolkit for Boxes; Toolkit for Labels; Toolkit for Flexibles; Toolkit for Shrink Sleeves; Visualizer; and Store Visualizer.
Starting from a simple, 2D line drawing in Adobe Illustrator, users can employ one of the Toolkit plug-ins to communicate with Esko's library of shapes to create a 3D image of a package. For example, for a flexible package, users can choose from styles such as a pillow bag, gusseted bag, stand-up pouch, four-side-seal bag, sachet, or diaper bag. To make the 3D image of the package more realistic, users can interact with it, add air or liquid to the bag, or insert a geometric shape to mimic a product such as a candy bar. Graphics from Illustrator can be added to the bag to ensure that seals or gussets do not obstruct important design elements.
From there, the 3D file, called a Collada file, can be imported into Visualizer, where the user can choose from a number of different substrates, and printing and finishing effects. These include options such as gloss or matte-coated paper, clear or white plastic film, metallized label paper, PANTONE colors, embossing or debossing, and hot-stamp metal foils, to name just a few. Says Esko, "The real-time images in Visualizer are ultra-realistic thanks to a patented print modeling technology. Visualizer simulates the printing and finishing operations one by one, in the correct order, and on the right substrate…."
As a last step, Esko offers Studio Store Visualizer—developed by VTales Graphics—which allows the user to view and interact with a 3D package in a virtual retail environment that Esko says "offers an unmatched level of reality." Users can choose from among five retail images, add custom retail images, or create virtual stores choosing from among floor and ceiling styles, and aisle and shelf layouts.
At any stage in the design process, the user—in this case, GSG—can send the 3D file digitally to clients as a Collada file, which they can view in Acrobat Reader or on an iPhone or iPad using Esko's free app, Studio Viewer.
Collaboration to the 'nth' level
When GSG first considered purchasing Studio, one of its concerns was that the technology might eliminate the need for prototypes and might cannibalize its prototype business. "But then we realized, our job is to bring best-of-breed technologies to our clients," says Madsen. "If we don't do it, someone else will. There's just too much value in it."
What GSG found was that Studio does not replace prototypes; but it does reduce the number needed. "One of our clients used to spend a quarter of a million dollars a year in prototypes," relates Madsen. "Once we introduced Studio, that number went down to $33,000. What happened was that they learned they could take the main shot, the hero, and make a prototype of it. Once they approved the design, they would have us create 3D files with Visualizer for the rest of the line, because they felt comfortable with the look and feel of the 3D image. Not only did they save money, but they also cut their time to market by 50 percent. You can't ignore that."
Madsen adds that another key advantage of Studio for GSG's clients is the ability it gives them to collaborate and communicate with all levels of their company, and even with the packaging manufacturer and converter, while a package is still in its concept phase.
As one large fragrance client told Madsen, in the past, when a package was in the concept phase at their company, the only people who had input on the design were the brand manager and maybe the CEO and CMO, because there was such a rush to get to the mechanical stage. Says Madsen, "But now they thought, 'Wait a minute, if GSG can get the 3D image done in a day and a half, we can share it with 15 other groups within the organization so there's harmony on how we are doing our point of sale and our advertising around this product.' That's collaboration to the nth level."
Providing the package manufacturer or converter with a 3D file of the design concept upfront can also help them provide input on the feasibility of the design in terms of cost, or manufacturing or printing challenges, and suggestions for making changes. "Now you are collaborating with the guy at the end," says Madsen. "Now you can see why this process is a paradigm shift, it really is."
Among some of the other ways clients have used the 3D package designs created in Studio are for consumer focus groups, for early marketing collateral, for creating instructions for retail employees on how to line up product on the shelf, and for other applications. GSG even created a virtual 3D custom counter space for a cosmetics company that allows them to place product on it.
And that's just the tip of the technology iceberg at GSG. Currently, the company has a business plan to build out a 3D room at its facilities with Esko that would allow for clients to interact with stereoscopic 3D images. Clients will face a large projection screen while wearing a glove that will allow them to pick packages up off a shelf in a virtual retail environment and manipulate them.
Another idea germinating at GSG is using a 3D printer to bring virtual 3D designs to life.
But at the end of the day, Madsen says, "it is the clients who come up with these fantastic ideas on how to leverage this technology to the nth level."
Companies in this article