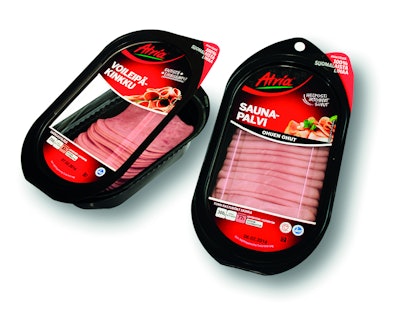 Offering an unusually round shape and eye-catching graphics that emphasize the brand, this package is probably more notable for its functional properties. Click here for a TV ad in Finnish. The large grip tabs on the top and bottom parts of the package are placed next to rather than on top of each other as is customarily the case. This makes it easy for everyone to open the package, especially seniors whose hand strength and dexterity are diminished. The package also closes securely and keeps the lunch meat fresh and tasty.
The Finnish package design agency Packdesign ID (www.packdesignid.fi) was responsible for coming up with the innovative design. The firm notes that, in Finland at least, easy-open packages have been a priority for several years in the pharmaceutical space. But consumers still encounter and settle for food packages that are difficult to open and reclose. This presents a terrific opportunity for package design firms, says Maija Olkkonen-Sepo, Managing Director at Packdesign ID.
Atria's Packaging Development Manager Janne Hautala chooses not to identify the Modified Atmosphere thermoforming and sealing system that it uses to package its product in the new design, nor does the firm indicate material specs or vendors. But Hautala does indicate that the packaging is APET/PE based, the lidding material gets some printing, and a label is applied to the top and to the bottom of the package.
Companies in this article