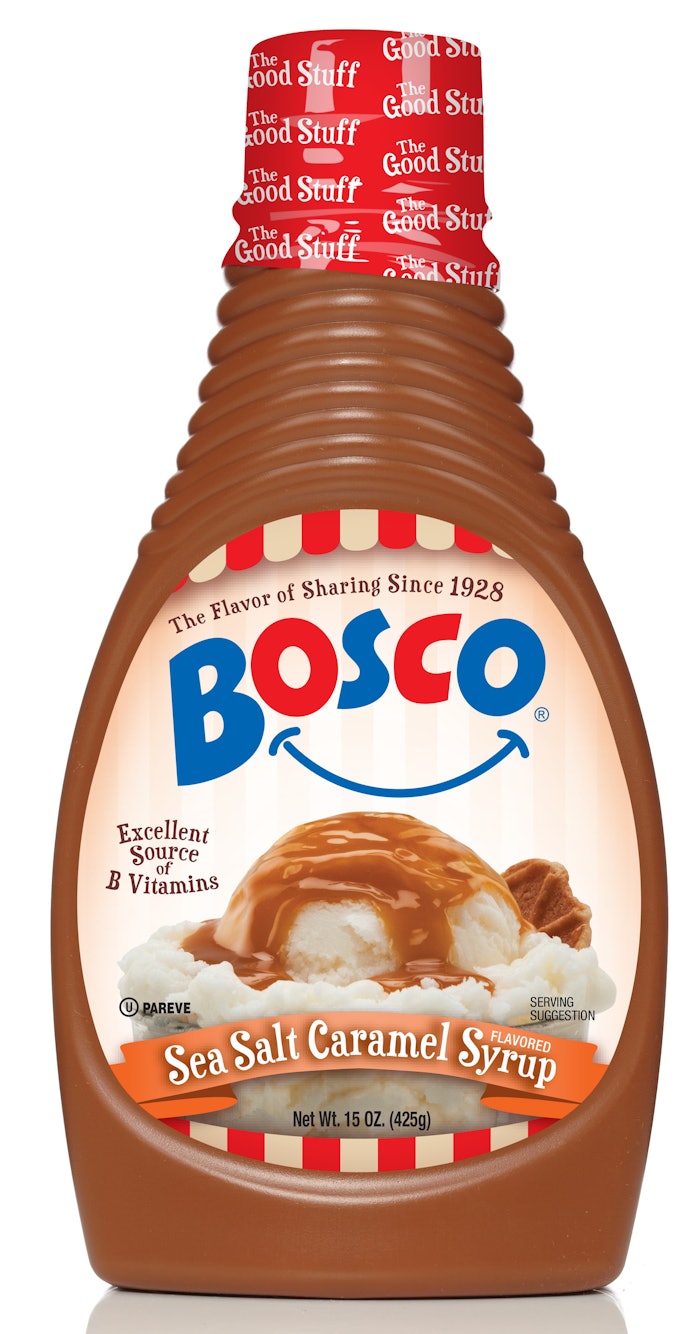 Created in 1928 by a physician who wanted a healthy and delicious "milk enhancer," syrup company Bosco Products has launched its newest flavors, Sea Salt Caramel and Fudge Brownie, in new packaging. Made with natural cocoa and B vitamins, including B2, B3, and B6, Bosco's new flavors are available in 15-oz plastic bottles with an MSRP of $1.99 to $2.49.
The new updated packaging has been designed to pay homage to the brand's roots, while also emphasizing the health benefits to the brand and might be more recognizable to Baby Boomers—the original Bosco fans.
"Grandparents are always looking for ways to connect with their grandchildren and certainly one way is over food," says Bosco Vice President Scott Sanders. "We frequently receive emails about how Bosco creates bonding moments over chocolate, chocolate milk, and sundaes."
A family-owned business, Bosco is made in New Jersey and is experiencing brand resurgence. For the first time in 35 years, the syrup is being carried in retailers nationwide. Bosco Syrup can be found in Walmart, Shop Rite, A&P, Pathmark, Cost Plus World Market, Stater Bros, and select Publix and HEB stores, among others.
Fun brand facts
With a long and iconic Hollywood history, Bosco Chocolate Syrup was used as fake blood in the shower scene in Alfred Hitchcock's Psycho (1960) and in Night of the Living Dead (1968). In addition, Shrek® declared his love for Bosco. But, it's best known from the Seinfeld episode titled, "The Secret Code," where George Costanza reveals his ATM pin "Bosco" to J. Peterman's mother on her deathbed, who in turn repeats the word as she dies.