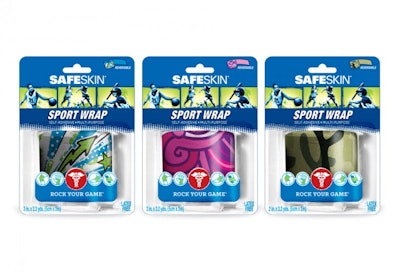 To assist with its SafeSkin Kids sport wraps product, Kimberly-Clark approached Goodwin Design Group to consider next-stage products and the brand platform to ensure future success, primarily through product innovation opportunities. Goodwin shared consumer insights, demonstrated trends, determined strategies, and implemented solutions for SafeSkin to remain a category leader.
While Kimberly-Clark planned to focus on product solutions, Goodwin's recommendation was to also work on the brand packaging. Together with consumers, Goodwin created a new strategy and brand platform for an entire line of products that moms, parents, and coaches truly want. Goodwin designed the products together, tested the range to select those that were most appealing, and refreshed the brand packaging to speak to kids of all ages, and those who care for them, in a visual language they understood and preferred.
Kimberly-Clark launched SafeSkin Kids Sports Wraps in 2011, creating the kids' wrap category and capitalizing on a new retail market opportunity. Yet there was little brand equity in the original SafeSkin Kids packaging, and it visually projected that it was for "little kids." By late 2012 the brand's leadership was being challenged by a new competitor, which marketed a wrap featuring a popular licensed property with strong kid and mom appeal.
Kimberly-Clark returned to Goodwin, the studio that redesigned the company's GoodNites brand packaging (2007). Kimberly-Clark aimed to reposition its relatively new SafeSkin Kids sport wraps in the face of opportunities in the category and to insulate the brand against new competitors. The Goodwin team responded with new brand packaging and product innovations, featuring several on-trend, decorative solutions that appeal to girls and boys, while clearly communicating efficacy and benefits to moms.
"Rather than taking the licensing route as did the competition, we recommended Kimberly-Clark develop new strategies derived from consumer insights to meet this challenge and improve Kimberly-Clark's superior-quality product's appeal," says Bill Goodwin, founder, Goodwin Design Group. "The vision was to create compelling, on- trend product 'deco' to engage active girls and boys ages 7-15, create a point of difference for SafeSkin to lead the category, and appeal to moms as a quality, trusted brand that protects their kids and aids in healing sport-related injuries."
From a design strategy standpoint, three objectives were paramount:
1. Identify trends that resonate with active kids ages 7-15
2. Develop sport wrap decorations to leverage trend findings
3. Design new brand packaging
Discover—research
Goodwin's design team engaged groups of moms, kids, nurses, and coaches to share ideas and create a brand exclusively for them, by them. "We also visited retailers to watch them shop the category, and led discussion groups to better understand the challenges and opportunities for the brand," adds Goodwin.
Branding
The original package did not clearly convey what the product was or its proper usage. "We performed a visual audit to demonstrate category norms, and recommended considering the use of icons, illustrations, or photography. This allowed us to demonstrate multiple uses while maintaining gender-neutrality and communicating whom it was for—with images of various kids of various ages playing a range of sports. The key was to balance an appropriate visual language to appeal to youth's interests, and to mom's needs. We found that balance in our design exploration, co-creating and proving the value of symbols, like the caduceus to communicate efficacy," says Goodwin. "Kimberly-Clark introduced innovation to the category as new designs evolved around product decorations, which updated the sport wrap with reversible, on-trend colors and deco."
Adds Terry Montimore, Goodwin's Vice President of Creative, "We researched various categories and hundreds of patterns, which were both gender-neutral and gender-specific. We created a series of designs for girls and a series for boys, as well as one with mutual gender appeal. For girls, there were animal print motifs and bright swirly patterns; for boys we took influences from comic book themes, explosions, lightning bolts, etc., to convey sports-oriented action. Then we showed the exploratories to kids, got their reactions, and synthesized the final patterns."
A green lightning bolt
"We wanted colors that could be easily repeated along the 'skin's' wrap format and would work with a three-color printing process, plus the color of the wrap fabric," says Brian Barto, Goodwin's Director of Creative. "There was a lot to learn throughout this process because Kimberly-Clark had never printed on a fabric substrate before. For example, we had to determine how much stretch was acceptable before the designs became unreadable. We kept tweaking the designs and were on call during the prototype printing process, which went through several sample iterations before the final designs were achieved."
A swirly pink-purple wrap appeals to girls, connoting motion when wrapped around a kid's arm or leg and, similarly, the lightning bolt pattern looks cool in the round. "When it came to the designs themselves, we tried to make them gender neutral," adds Montimore. "It really all depends on the color; the pink/purple if printed in blue/green appeals to boys. Recent trends have ushered in colors that were never seen in male and female sports apparel—for example even pink is not only acceptable, but often preferred."
For added impact on pack, Goodwin added a bright red-encircled caduceus centered below the clear product panel. Alongside the caduceus, the designers placed action sport symbols denoting product usage—for achy knees, wrists, feet, and elbows.
Companies in this article