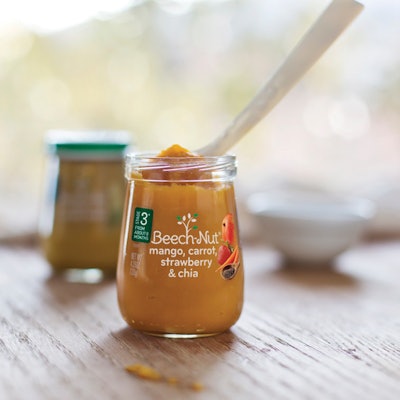 Millennial moms shopping the baby food aisle have recently been met with a new vision: Shelves stacked with premium, honeypot-shaped, clear glass jars displaying the vibrant, rich colors of 100% natural fruit and vegetable purees. Bright orange carrot, deep crimson pomegranate, luscious golden apple, and rich purple blackberry are just a few. It is the vision that drove Beech-Nut Nutrition Corp.'s year-and-a-half-long journey to transform its products and packaging to better meet the needs of today's moms and bring them back to a declining category.
According to Andy Dahlen, Beech-Nut's Vice President of Marketing, in recent years, moms have been switching from commercially prepared baby foods to homemade in order to ensure the freshness and nutrition of their babies' food. A drop in the birth rate has also affected the category.
"Over the last five to seven years, there has been a decline in the birth rate, so that is a factor facing the category," Dahlen says. "But even if you account for the decline in birth rate, there are ounces leaving the category due to moms who are choosing to not enter the category or are getting the food and nutritional needs of their babies met elsewhere.
"If you look at the per-baby amount of ounces consumed from the aisle, in 2005, a baby would consume on average 1,700 ounces. In 2012, that number was just less than 1,200 ounces. So 500 ounces are gone. We know from the birth rate and the fact that there have been no changes in nutritional recommendations that babies are still getting those ounces; they are just not getting them from the category."
Driven by the desire to make its brand relevant and compelling to modern moms, in late 2012 Beech-Nut—led by Dahlen, along with brand agency Bluedog Design™—set out to reformulate its product line and disrupt the baby food category forever with "Real Food for Babies" in packaging as premium and "pure" as the product itself.
Gentle cooking yields natural product
Beech-Nut, a subsidiary of Hero AG of Lenzburg, Switzerland, was founded in 1890 and has been producing baby food since 1931. Located in Amsterdam, NY, at "One Nutritious Place," the company is the number-two leading baby-food brand in the U.S., producing jarred fruit and vegetable purees, cereals, pouched purees and yogurts, and a limited line of toddler meals and snacks.
According to Dahlen, the company's history is one of innovation in packaging and nutrition. "It was a brand built around competency in packaging," he says. "In 1931, Beech-Nut was the first to put baby food in a vacuum-packed container. That was an innovation at the time. Throughout the history of the brand, the company has been a leader in terms of being the first to remove any additional salts and sugars, and the first to launch a stage eating system for baby food, where the textures and the products were designed to meet babies' needs as they grew."
Therefore, it was only natural in 2012 for Beech-Nut to embark upon a transformational change in its brand focused on product and packaging innovation. As Dahlen explains, the project was a co-creative process between Beech-Nut, Bluedog, and approximately 3,000 moms. To understand what consumers were looking for in a baby-food product, Beech-Nut and Bluedog conducted both quantitative and qualitative research through ethnographic studies, one-on-one interviews, and focus groups.
"The studies were really designed to get at how moms were feeling about feeding their babies, about the category, and about caring for their children, all going into a deeper emotional level to help guide us in the right way to deliver a product that would be relevant to mom and address her needs," says Dahlen.
According to Bluedog CEO Michelle Hayward, the answer was "simple": "We found out when it comes to food for their babies, moms believe simple is best, and simple means real—that means more flavor, more healthful, and more enjoyable."
To deliver simple, 100% natural products, Beech-Nut worked with a proprietary supplier to develop gentle cooking™ technology, a method that ensures the freshness of the fruits and vegetables, without the addition of excess water or preservatives. During cooking, Beech-Nut uses indirect heat similar to a double-boiler to preserve the color, texture, and flavor of the products.
The chef-developed recipes of the new Beech-Nut brand include 40 products, some single-ingredient, such as Honeycrisp Apples, Sweet Potatoes, and Bartlett Pears, and others that use several ingredients, such as Apple & Blackberry and Sweet Corn & Green Beans. The products are divided into three stages, with Stage 3 (for babies approximately eight months and older) using grains and other ingredients not commonly found in traditional baby foods—among them, avocado, quinoa, amaranth, chia, and others.
"At every single home we were in [during ethnographic studies], the moms were making avocado," says Dahlen. "It's a healthy fat, and there are not a lot of avocado choices in the baby-food aisle. So we have avocados in several of our SKUs."
Differentiating the products from organic baby-food offerings and others that claim to offer a more healthful option, Beech-Nut's line "is just the fruit or vegetable and nothing else," Dahlen says. "There is half a honeycrisp apple in the Honeycrisp Apple jar. That's what's in there, nothing else." The product has an 18-month shelf life—six months less than competitive jarred baby-food products—due to the lack of preservatives.
Simplicity is key to design
To translate the simplicity, freshness, and quality of the new product through packaging, Dahlen gave Bluedog full rein over the design, without any constraints. "We could not incrementally change our design," he says. "We needed something transformational.
"Bluedog is a very progressive agency that digs deep into the meaningful relationship a consumer has with a brand, especially our main consumer, young millennial moms. They also have intimate knowledge of simplicity and a strong design competency to deliver the forward-thinking solutions I needed for Beech-Nut."
After conducting research with millennial moms, Bluedog's Hayward says the brand agency began to try to translate visually the idea of simplicity. "We found there were key themes of purity, connection, and singularity," she says. "If you think about what those words mean, you really start to think about the fact that mom has a job to protect her child's innocence. That's why she is in the kitchen making the food, that's why she is deliberate when it comes to anything that goes on that child's skin or in that child's mouth. She wants as little as possible to get between the raw ingredients and the final pureed food.
"We took that quite literally. It's one of the reasons that glass was an imperative for this project and why we developed the brand identity the way we did. What we wanted mom to see when she was turning her cart and going down the aisle were the vibrant colors and textures of the products."
The 4.25-oz custom glass jar, supplied by Owens-Illinois, provides a clear view of the product and is designed with a honeypot shape that conveys a homemade, premium appearance. The design allows the jar to nestle in the hand and provides space for a spoon to wrap 360 deg around the inside, "to scrape out every last ounce of that goodness," says Hayward. "When you think about canning glass, and when you think about premium, there are reasons that glass is used," she adds. "It really does connote purity and freshness."
Notes O-I, because glass does not absorb food colors or smells, the food inside keeps its natural taste, smell, and appearance. The glass jar for Beech-Nut is also designed to stack on shelves at retail and in the home, and is 100% recyclable.
Maximizing the visual clarity of the glass jar and reinforcing the idea of the brand's transparency, Bluedog selected a clear, pressure-sensitive label to decorate the package. A new Beech-Nut logo takes center stage on the label, using a loose script "that represents the sweet connectivity between mom and baby," Hayward says. Growing out of the "h" in the Beech-Nut brandmark is a tree graphic that ties the brand back to nature and also alludes to the family-centric nature of the company.
Under the logo is positioned the product variety name in lower-case letters. On the right-hand side of the logo is ingredient photography, showing that "it's really just the good stuff in there," says Hayward. Each variety is also labeled in the upper left-hand corner with a 1, 2, or 3, designating stage.
Jars are topped with green, twist-on metal closures, decorated on top with the Beech-Nut logo and on the rim with the repeating copy, "100% natural."
Visual disruption
After installation of a $10 million state-of-the-art production line at the Amsterdam facility (as reported by an article on timesunion.com), Beech-Nut began production of the new brand, which was launched nationwide in early April. The product carries an average retail price of $1.09—a cost on par or close to that of jarred organic baby foods, and about a third less than the average price for pouched foods in the category, according to Dahlen.
"There are a fair amount of retail stores where we are getting premium placement opportunities, either on the shelf or in end caps or displays," says Dahlen. "The stopping power of the product at shelf is very strong because of the transparent jar and the great colors we have. So much of the category people view as being grey and beige and just not that colorful. That's something we sought to disrupt, and we have."
Adds Hayward, "We are taught in the world of package design that we need to scream our equities as loudly as we can—from 30 feet, from 15 feet, from 10 feet. We broke the rules here. What we really wanted to do is reinforce the food. You see the food; it's glorious, it's beautiful, it's vibrant, it's textured. It's real food, and we made room for that food to speak to that authenticity and relevancy on its own. I think we took Andy's mandate of 'Be disruptive where you can be disruptive' seriously."
To see a spin + zoom 360° photo, click here.
Companies in this article