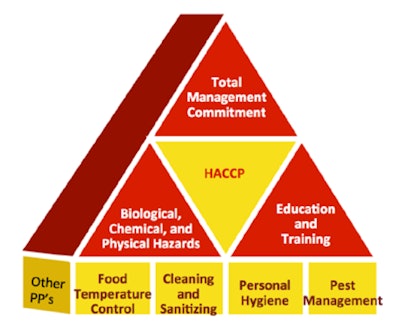 Whenever a new regulation is released—especially one as significant as the Food Safety Modernization Act (FSMA)—there's bound to be a sense of information overload, perhaps accompanied by misinformation, panic, and a supply of parties who will provide "quick-and- easy" solutions that are neither of those things. Good advice for food companies and their equipment supplier partners is: Take a deep breath and get prepared for FSMA!
The best way to prevent a sense of panic is to realize one basic fact: FSMA is about 85% Hazard Analysis & Critical Control Points-based.
Hazard Analysis & Critical Control Points, or HACCP, has long been the foundation of food safety best practices and prevention of food safety problems—just like the FSMA, which will encompass it. HACCP has been a cornerstone of food safety best practices and regulations since its inception in the 1960s as a collaboration between Pillsbury, the U.S. Army's Natick Laboratories, and NASA to produce safe foods for the U.S. space program.
FSMA, while complex, can be seen as a kind of "HACCP on steroids," in that it will apply to all FDA-registered facilities, which means all companies, domestic or foreign, engaged in manufacturing, processing, packing, or holding food for consumption in the U.S.
A HACCP primer
For those not on the front lines of HACCP, it can be broadly defined as a systematic approach for the identification, evaluation, and preventive control of food safety hazards. The primary focus is on preventing problems that could lead to foodborne illness or injury, and it is commonly applied across many food plants as well as supply chains, from farm to table. This is done by analyzing hazards and defining the critical points to control them, and following up with corrective action, and of course, the associated documentation. This well-established discipline is a voluntary practice for many plants and a regulatory requirement in some. (Regulations in the U.S. came in 1995 for fish and fisheries, in 1996 for meat and poultry, and in 2001 for juice.)
Whether by regulation or voluntary compliance with industry best practices, HACCP has become widely adopted throughout the food industry because in addition to complying with the law, it's part of many major retail customers' requirements and can also help companies set food safety benchmarks for continuous improvement.
Many tools already exist for the above considerations and are in practice today, including the current Good Manufacturing Practices (cGMPs) and Sanitation Standard Operating Procedures (SSOPs) common for FDA-regulated products. These are important building blocks in support of an HACCP program, and they lay the foundation for safe food production.
• cGMPs, or GMPs (with the "c" for "current" assumed), have been fundamental to food safety assurance programs for manufacturing, packaging, and holding/storage for several decades. cGMPs provide the basic principles plants should follow in manufacturing safe food, providing clear procedures and documentation to ensure that the plant and the products and materials moving to and from it are being produced according to plan. This spans all aspects of the plant, from operator training to the operation of machinery to supply chain interactions. The FDA is updating GMPs as part of FSMA, and these regulations will continue to serve as a foundation for prerequisite conditions needed for safe food production.
• SSOPs are written procedures that plants create and implement as part of a preventive program. They include daily records that document procedures and corrective actions taken, and they are required by some plants, such as meat and poultry facilities, regulated by the U.S. Department of Agriculture's Food Safety and Inspection Service. (Those plants must make SSOP records available to FSIS upon request, similar to the FDA's greater role under FSMA.) SSOPs can cover facilities (production and environmental monitoring); personal hygiene; equipment (processing, packaging, and storing); and operations (sanitation, processing, rework, and training).
Together, GMPs and SSOPs provide the foundation for other, more advanced programs for assuring product quality and safety. These include HACCP systems as components to international safety management standards from organizations such as ISO, the Safe Quality Foods Initiative, and the Global Food Safety Initiative.
It's no surprise that these tools, and the prevention-minded HACCP methodology as a whole, are at the core of FSMA. Like HACCP, the FSMA is based on the knowledge that end-product testing is insufficient for attacking the causes of hazards in the processing plant, on the packaging line, or in the supply chain—and that testing is not as effective as prevention.
Successful maintenance of an HACCP plan requires commitment from management, ongoing training and updating, and in general, ongoing vigilance to the plan's well-defined details.
As of this writing, the FDA has proposed several of the major rules and has opened them up to lengthy comment periods. The FDA will then take additional months to respond. Only then will final rules and guidance documents be published and the law implemented in the following months and years.
In the meantime, the best path for affected companies to take is: Don't panic, be proactive, and be prepared. If you aren't already operating in an HACCP environment, you should strongly consider doing so. If you are a food plant operator and have an HACCP program in your plant, now is the time to extend its reach to your processing and packaging lines. Because whatever changes may come with FSMA, its underlying principles and tools will ultimately be a market-driven requirement as well as a legal one.
About the author: Jeffrey T. Barach is former Vice President of Science Policy for the Grocery Manufacturers Association, is currently the FSMA expert for The Association for Packaging and Processing Technologies, and is a participant in in the FDA-sponsored Food Safety Preventive Controls Alliance, to develop FSMA training materials.