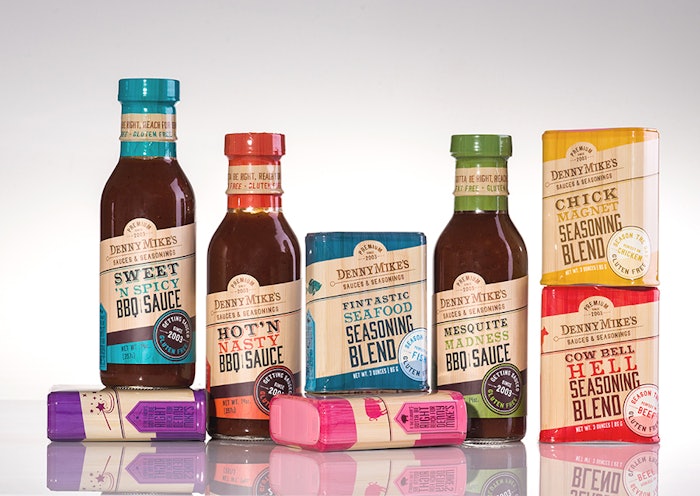 DennyMike's, an award-winning line of all-natural and gluten-free sauces and seasonings from DennyMike's Cue Stuff, Inc., has been relaunched in a bold new package design along with a generous upsize in the sauce packaging. According to brand creator and company owner Dennis Sherman, the new look and tone of the brand are a more accurate representation of his continued commitment to the highest-quality products, while a new pricing structure is a nod to today's price-conscience consumer.
"These products were conceived in my BBQ restaurant in Old Orchard Beach, Maine, and were branded to match my sense of humor," explains Sherman. "We've enjoyed phenomenal success, but it was time for a facelift that lets the products shine in a more sophisticated way and truly reflects what's inside every bottle and tin. We also wanted to make it easier for consumers to try the products and join our loyal fan base, so we passed along some economies of scale to reduce the price point of the entire line."
Notes Sherman, he remains committed to the original recipes, which call for the highest-quality ingredients and a small-batch process, and therefore, the products remain wheat-free, all-natural, and made without high-fructose corn syrup. Sherman recently relocated his operation to a 10,000-sq-ft dedicated facility to increase production and allow better control over ingredients and the restrictions required for wheat- and nut-free production.
In addition to the fresh, contemporary labeling, the 8-oz sauce flask has been replaced by a more standard 14-oz round bottle that contains enough sauce for several servings. The 3-oz rub tins remain the same size but are now in a more user-friendly shaker-style container. Sherman says he worked with retailers on a new pricing structure that significantly reduces the cost of the entire product line to consumers.
"We listened to what our customers asked for in terms of ease of use and price," Sherman says. "We understand that today's consumers aren't only focused on quality—they have to be able to afford the products. So while we were working on the new branding, we also worked on our pricing structure. The result is a terrific new look with a very appealing price point."
Sherman and his creative team at Portland-based Pulp+Wire strategically enhanced the sophistication of the branding while maintaining brand equity by keeping the color palette for each flavor. According to Taja Dockendorf, President of Pulp+Wire, the package designs have a more modern feel and are simplified to put the emphasis on the individual flavors and sauce styles for deeper shelf impact.
"The DennyMike's rebrand has been a wonderful exercise in examining the retail BBQ buyers' thought process and crafting the look and feel around that. We studied consumer buying patterns, color recognition, and shelf competitors to make sure DennyMike's new brand not only resonates with buyers but continues to represent the company culture."
Since its launch in 2006, the DennyMike's line has enjoyed rapid placement throughout the Northeast, North Atlantic, and Mid-Atlantic regions. The products are currently under consideration by specialty retailers on the West Coast and in the South, and Sherman expects to have agreements in place by the end of Q1-2014.
"Our new look and pricing structure are an exciting evolution of the brand," says Sherman. "We anticipate an enthusiastic response from consumers and current and potential retailers. It's time for DennyMike's to be available from coast to coast!"