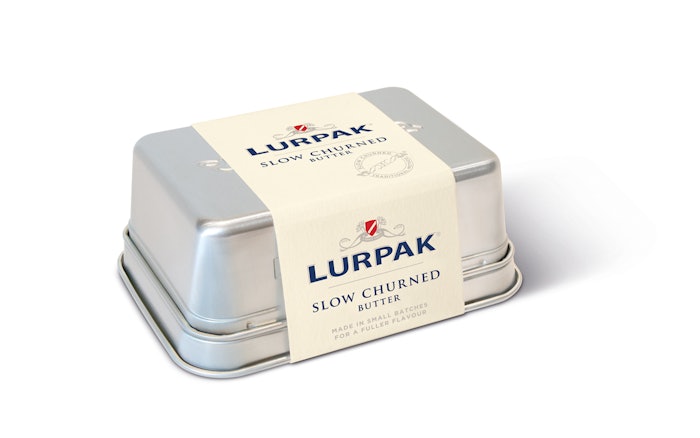 Introduced in the U.K. by global dairy brand Arla, an innovative new package that replicates an elegant butter dish feeds consumers' growing desire for authentic, artisan foods while elevating a commodity product to a premium position. Arla's new Lurpak brand Slow Churned Butter—made with a method inspired by early dairy tradition in small batches—was launched in November 2013 in a beautifully designed, brushed aluminum dish that holds a 200-g stick of butter.
"The new Slow Churned Butter is being used to build Lurpak's credentials as a foodie brand," says Shaun Jones, Realisation Director for Pearlfisher, the design agency responsible for the brand strategy, structural innovation, and packaging design for the new product. "Lurpak Slow Churned is a premium offering within the category that appeals to people who enjoy pure, unadorned butter moments—it is the butter for butter connoisseurs."
Pearlfisher's challenge for the new brand, Jones adds, was to create a balance between the Lurpak brand equities and heritage, and the artisan positioning of the new product. Among Arla's key requirements for the package were that it had to disrupt the category and stand out from the rows of plastic and paper on-shelf as well as be commercially viable, food-safe, and financially feasible. It also needed to fit in with the company's corporate vision for their product packaging to become fully recyclable by 2020.
During the package design process, Pearlfisher conducted a cross-category audit to understand how other brands were doing premium. "We were inspired by the drinks category, taking a material that consumers consider to be 'throwaway' and 'everyday' and turning it into something desirable that they want to keep and put on their table," says Jones. "The new butter dish harks back to the nostalgic memories of the role that butter and the butter dish used to play at mealtimes."
The silver, rounded-corner, recyclable butter dish, from a proprietary supplier, is embossed on the sides with the Lurpak brand logo and on the top with the graceful Lurpak Lurs icon of Bronze Age musical instruments, which have become symbols of Demark. The dish is wrapped with a cream-colored parchment band, also bearing the logo and icon. "The introduction of the cream background softens the established silver and blue Lurpak color palette, which has been retained to ensure a visual connection between Slow Churned and the rest of the Lurpak range," says Jones.
Inside the dish, the butter is wrapped in a cream-colored foil and paper laminate material that provides product protection and freshness while creating a natural, aesthetic appearance.
Says Arla Vice President Global Butter & Spreads Laurence Fischer, "Working closely with Pearlfisher, we created a unique Lurpak brand that shifts the focus from being a food-lover's ingredient to celebrating the way good butter tastes and is consumed. The Lurpak Slow Churned Butter identity and the innovative packaging design create a new in-home brand experience that takes FMCG [fast-moving consumer goods] and butter to an entirely new level."
Lurpak Slow Churned is being sold in U.K. Tesco, Sainsbury's, and Waitrose supermarkets for ₤2.30 (US$3.79) per pack. 
Companies in this article