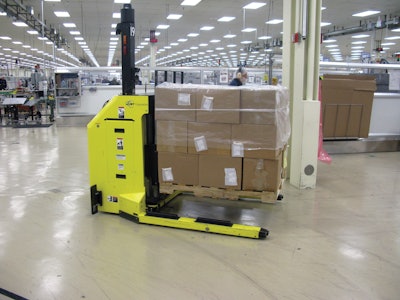 Automated Guided Vehicles (AGVs) are gaining in popularity in many corners of the manufacturing universe. But it's a safe bet that few applications involve automatic retrieval of packaging materials and bulk product from the warehouse, delivery of those materials to multiple packaging lines, and removal of finished packaged goods, empty bulk product drums, and recyclable or trash material from those packaging lines—all with a simple electronic call from the packaging department. That's why the AGV implementation at Perrigo, the world's largest producer of store brand pharmaceuticals, is so notable. The benefits gained since implementation include these:
• About $2.7 million is saved annually.
• Perrigo's Enterprise Resource Planning system (ERP) is leveraged to ensure repeatability and quality.
• Six manual touches per pallet has been reduced to one automated touch.
Trent Martin, Lean Sigma Blackbelt at Perrigo, described this impressive example of automation at The Automation Conference last May. This fall we asked for an in-plant peek at what it's actually like in action, and Perrigo graciously said yes.
The enormous Perrigo headquarters in Allegan, MI, includes two buildings where AGVs, all from JBT Corp., are in use. In both buildings, packaging is a 24/7 activity. And ever since the AGVs became a fixture, it's an activity accompanied by a melody that's oddly soothing in a geeky/techie sort of way: the constant chirruping of a busy fleet of AGVs letting Perrigo personnel know they are on the job.
We begin with Plant 7, where a wide variety of tablets and capsules are put into an equally diverse number of primary and secondary packaging formats. The building stretches 410,000 sq feet, and its warehouse has more than 18,000 bin locations holding packaging components and capsules or tablets in bulk drums. The warehouse is one of two distinct zones where the AGVs do their thing. The other zone is the packaging department. These two are separated by a GMP Zoning handoff area that minimizes warehouse vehicle traffic from directly entering the packaging department.
Three different types of AGVs are deployed in Plant 7. All the AGVs provide 360-degree safety to Perrigo personnel. Sensors detect anyone or anything in front, rear, or sides of an AGV, and the vehicle is then directed to slow down or stop accordingly.
In Plant 7 are these AGVs:
• Forked Counterbalance—Four of these are in constant use in the warehouse. They pick pallet loads of packaging materials (caps, bottles, corrugated, etc.) or bulk drums of tablet products and put them in the GMP Zoning handoff area just outside the packaging department.
• Forked Straddle— Nine of these are in constant use in the packaging department, performing one of two tasks. Either they are picking up pallet loads of packaging materials or bulk tablet drums from the GMP Zoning handoff area and bringing them to the 29 packaging lines in the packaging department, or they are picking up pallet loads of in-process or finished goods from the packaging lines and taking them to a processing or put-away location or to the stretch wrapper in the warehouse. They also are used to take empty bulk tablet drums, recyclables, trash, and other outbound materials from the packaging lines back to the outbound materials area.
• Atlis Flatbed—Three of these smaller vehicles are used to take less-than-pallet quantity packaging materials from a kitting area in the GMP Zoning handoff area out to the packaging lines in the packaging department.
Though the Perrigo warehouse is clean as a whistle, it's still a warehouse and not a super hygienic packaging department. That's why the GMP Zoning handoff area is utilized to limit direct traffic between the warehouse and the packaging department. This buffer zone is kept "super clean," says Martin. As a result, even though the four Forked Counterbalance AGVs that operate only in the warehouse move in and out of the buffer zone constantly, they never enter the packaging department. Similarly, the nine Forked Straddle AGVs that operate only in the packaging department can also move in and out of this buffer zone without ever entering the depths of the warehouse.
Based on pull
The best way to talk about or understand this multifaceted automation solution is chronologically, says Martin. He has spearheaded the AGV initiative at the Perrigo plant since the first two vehicles arrived in 2005 as part of a proof-of-concept initiative, so he knows the implementation like the back of his hand.
It starts with scheduling, which is performed in Perrigo's SAP Enterprise Resource Planning system. Once an order is scheduled for a given packaging line and the shop floor paperwork is issued, it's all about operators calling for materials from the warehouse.
"Everything is based on pull," says Martin. "It all starts with an operator in the packaging department placing a call. Part of the shop floor paperwork generated by the ERP system is a Materials List showing all materials required for an order: bottles, caps, bulk containers of tablets, thermoforming sheet for blister packs, bundling film, corrugated, outserts—whatever it may be. Each of these is represented on the Materials List by a bar code, and these Materials Lists are sent to the point of use, i.e., the packaging lines. Also bar coded are all the locations on that packaging line where materials are consumed and need to be delivered and/or replenished. To make a call for material, the operator uses a hand-held wireless device to scan the bar code of the required material on the Materials List and the respective production supply area bin location the material must be delivered to."
After the plant's ERP system confirms material availability and quality status and performs batch determination, the ERP system communicates this call, now in the form of a warehouse bin location, to the SGV Manager software. This is a Windows-based software tool that controls and monitors the JBT AGVs. Proven software algorithms efficiently translate material movement requests and assign the task to the vehicle that can most efficiently complete it. Vehicles travel via the most efficient route defined in JBT's Layout Wizard to navigate through the facility to complete the assigned task.
The vehicles navigate using a specific combination of encoder feedback and laser triangulation, which allows for accurate and repeatable movement. A laser scanner mounted on top of the vehicle provides navigation throughout the facility. The eye-safe laser scanner strobes the plant looking for reflective targets mounted at intervals on the walls and on warehouse racking. When three or more targets are located, the vehicle is able to identify and update its exact location. Vehicles continue in this manner updating their position several times per second, providing smooth, steady movement at a maximum speed of up to 300 ft/min.
The SGV Manager software also monitors the battery status of each vehicle and sends vehicles to a charger as needed. System-managed "opportunity charging" ensures as many vehicles as possible are charged and available to perform tasks at all times, explains Martin.
"Charging stations are spaced out across the packaging department and the warehouse," says Martin. "So if an AGV isn't engaged in an active order, it's programmed to recognize that as an opportunity to go to a charging dock. If there were just one central charging area, response time would be compromised. This way, the AGVs are being charged close to the place where they'll be asked to go rather than in a remote corner of a huge facility."
Martin adds that if a vehicle's battery gets as low as 20% charged, it's ordered to the nearest available charging dock. "With the fast charging technology used, we can get that 20% up to 80% in about eight minutes," says Martin.
Programming
The actual programming of the AGV system was done by a combination of SAP programmers, the Perrigo IT department, and resources at JBT.
"It's common for AGV systems to be implemented utilizing physical call buttons located throughout a facility," says Martin. "However, we chose to optimize the installation, maintenance, scalability, and overall long-term 'cost of ownership' by utilizing handheld portable wireless bar code scanners to integrate and control the call process parameters using our SAP ERP system. By doing so, we are able to leverage SAP to ensure control of our processes by performing standard functions like material availability and quality status checks, as well as batch determination, in real time—and it all takes place at the time of the call by the Production Specialist. Additionally, the same wireless scanners are then utilized by the Packaging Specialists to simply scan the bar code on the materials delivered to confirm the correct materials were received, update the material movement transaction that documents precisely what moved from the warehouse to the packaging department, perform a final quality status check, and, provided no quality restrictions exist, perform the good issue to the packaging order to ensure 100% material traceability. To the Packaging Specialist it's as easy as pressing the gas to go and hitting the brakes to stop."
The nine Forked Straddle AGVs in the packaging department and the four Forked Counterbalance AGVs in the warehouse carry a variety of pallet loads, so they do all the heavy lifting. But the Atlis Flatbed AGVs are perhaps most intriguing because of how versatile they are. Martin explains how they operate.
"Packaging components like bottles and caps on a high-speed line are consumed in large quantities quickly, so it makes sense to send them to the line in pallet loads. But with some packaging materials it makes no sense to have an AGV deliver a full pallet load. Look at a roll of neckband material, for instance. A full pallet might last a week or more. So for these materials, we bring less-than-pallet-load quantities. The line operator still applies the same hand-held bar code scanner to a bar code on the Materials List to make the call. But the SAP integration allows us to send the requirements to a kitting area in the warehouse that we call 'the Supermarket.' Here an attendee kits in smaller quantities the number of rolls of neckband material called for. The Supermarket Specialist also kits other materials that are required on other packaging lines. The kits are placed on a cart, and the cart goes on the flatbed Atlis AGV, which then goes out to the packaging department on what we call a 'milk run,' stopping at whatever locations it's programmed to stop at so that operators can scan and retrieve the items called for."
MRO items and labels
Two other categories of materials are replenished by these small flatbed AGVs. One is MRO items such as gloves, ear plugs, hair nets, and cleaning solutions, for example. The other is labels, which are also brought to packaging lines on the flatbed AVGs. Labels are stored in a controlled and limited-access area. When an operator calls for labels, an attendee in the label storage area picks the required number of labels into a label cage and stages that cage in a designated staging location where the flatbed Atlis AGV retrieves the label cage for delivery to the location specified.
It's worth noting, says Martin, that the flatbed Atlis AGVs are not pre-destined to any standard route, dropping off things along the way. The path they take is determined only by what they have on board.
It's not unheard of for Perrigo's production to incur spikes to a point where the AGVs can't handle the volume. But provisions for this were included in the planning stages.
"In planning the system's capability," Martin explains, "we took all of the material movement requirements based on historical data and created a system designed to operate at about 80% utilization. That leaves 20% surge and/or surge recovery capacity. If we have a peak that pushes us over our 20% surge capacity for an extended period of time, that's when we simply drag and drop any required number of calls to the manual forklift radio frequency (RF) pick queue, which automatically alerts the forklift drivers to supplement the AGVs so that packaging lines aren't starved of materials."
Before leaving Plant 7 it's worth pointing out that just one Lantech stretch wrapper handles all the pallets that come out of the packaging department. Wrapped pallets are, only then, taken by fork lift drivers to trailers destined for Perrigo distribution. "JBT does make truck-loading AGVs," notes Martin. "But there are so many variables to be considered, we just don't see it being for us in the short term."
One more note on the stretch wrapper. It's located in the "super clean" buffer zone between the warehouse and the packaging department. A steady stream of Forked Straddle AGVs drop pallets onto a powered roller conveyor infeed ahead of the stretch wrapper. The SGV Manager software communicates with the stretch wrapper's PLC by way of a communications protocol from Kepware called KEPServerEX.
Like any packaging machine, the stretch wrapper can occasionally go down. If it does, this condition is communicated to SGV Manager, which automatically directs incoming AGVs to put pallets not on the roller conveyor infeed but rather on a floor location next to the stretch wrapper. This allows a fork lift operator to move that pallet to the side and make room for subsequent pallets. Once the stretch wrapper comes back up, a fork lift driver feeds pallets to the stretch wrapper until it has caught up again. At that point, SGV Manager tells incoming AGVs to resume feeding the stretch wrapper by placing pallets directly on the powered roller conveyor infeed.
The ALC
The other area where AGVs are in use at Perrigo is the ALC, or Allegan Logistics Center. Slightly smaller than Plant 7 but still sufficiently massive, the ALC encompasses roughly 200,000 sq ft of a 527,000 sq ft distribution center.
Unlike Plant 7, the ALC is not used for primary packaging. It's all about brite stock finishing, which is driven by two key factors. First, Perrigo's primary containers and the product they hold are frequently identical across multiple private-label customers. Second, those private-label customers place orders in a large variety of volumes. Under such circumstances, it only makes sense to separate operations like unscrambling, orienting, filling, and capping from labeling, multipacking, case packing, and palletizing—even though it means handling product twice. Martin explains why.
"When you have multiple pieces of equipment all connected in a series, each one has to be operational for any one piece of equipment to be running. So the more pieces of equipment you have in series, statistically the more downtime you have. So for something like a cough syrup that will leave our plant under multiple labels, we decoupled the packaging operations. One half--the container feeding, filling, capping half—takes place in Plant 5. The finishing half—labeling, inspection, multipacking, case packing, palletizing—is done here in the ALC. It's an arrangement that has allowed us to double uptime. There's no increase in containers per minute. But there's a big increase in uptime. That's how this becomes so much more efficient."
So why is the brite stock approach not applied to tablets and capsules produced in Plant 7? "We studied it and determined that, while savings opportunities exist, they are not as great as they are with liquids," says Martin. "It's because with liquids it's more difficult to store bulk product until it's in the bottle. With tablets and capsules, it's easier to store bulk before it's packaged in bottles or blister packs."
Another difference between Plant 7 and ALC is that only one type of AGV, a Forked Pantograph, is in use. Also quite different is that what's being picked from the warehouse is a brite stock container (see photo A) that might weigh up to 2,800 lb. But as in Plant 7, material replenishment is all based on pull. The operators scan a bar code, the ERP system communicates this call to SGV Manager, and SGV Manager dispatches a vehicle to a brite stock container in a specific warehouse bin location.
Nine packaging lines
Once the AGV has picked a brite stock container or palletized materials, it delivers it to a designated location on one of nine packaging lines. At the head of each of these lines is an automatic brite stock unloader designed by Perrigo and manufactured by an unnamed automation partner. It pushes layer after layer of filled containers onto an accumulation table that feeds a lowerator that feeds a labeler. Labeled containers then move through 100% inspection, twin-packing, case packing, and robotic palletizing. Then it's AGV time again, as the operator properly tags the finished goods and places the SAP call. SGV Manager then dispatches a vehicle to pick up the full pallet and take it to the distribution flow racks.
The AGVs in Plant 7 have been running smoothly almost two years now. Allegan Logistics Center came on this past summer. Next up is Plant 5, where AGVs will also support all inbound and outbound liquid filling requirements. The Plant 5 implementation is all mapped out and ready for installation following the commissioning of six additional AGVs from JBT.
Looking back, Martin acknowledges how dramatic a change the AGV initiative represents. The process control and material movement automation elements of the initiative continue to produce significant quality and safety benefits in addition to more than $2.7MM in annual recurring hard savings.
"The time to automate is not when you're trying to heal a company that has faltered," says Martin. "The time to automate is when you are experiencing high growth, and Perrigo has been in a solid growth mode for some time now. Still, this was a step change. Organizational readiness and change management were keys to this project's success. The people element had to be considered first and foremost, especially the way in which we communicated with those whose primary function had been driving fork lift trucks or moving materials. It was critical to discuss openly that by leveraging automation to perform the more repetitive functions, we could allow our valuable people assets to perform more value-added activities. Doing so not only extends our low-cost producer position and supports growth, it actually increases long-term job security."

Companies in this article