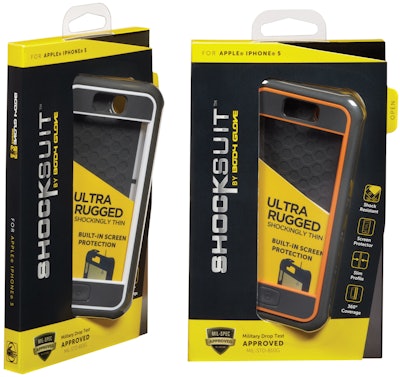 Fellowes, Inc., Itasca, IL, designs and manufactures ShockSuit cell phone protective casings under a licensing agreement with Body Glove International, Redondo Beach, CA. To market these mobile phone carrying cases, Fellowes wanted to develop unique packaging that could quickly catch the consumer's eye and convey a message of durability, dependability, and distinction.
David Williams, Advanced Packaging Design Engineer for Fellowes, notes, "We had been using the same type of packaging that many of our competitors were using—flat, similar shaped and sized clamshells, sealed within paperboard cards. It was nothing new, unique, or creative. Over the years, we've created and successfully used many different types of packaging. However, we have not strayed very far from our comfort zone or from what the competition was doing. We felt we were stagnating in the way we present some of our cellular products. We wanted to shake things up a bit. We wanted to more clearly, quickly, uniquely, and creatively attract the consumer's eye to our product features. With the high confidence we have in the quality of our products, we also believed that high-quality, inventive packaging could contribute to sales increases."
Separating from the pack
To stand out in the marketplace, Fellowes wanted to implement highly customized and stylized packaging to accommodate its high-end cellular accessories packaging. After investigating various options, Fellowes chose to work with Display Pack, Inc. to develop the new packs.
Fellowes was interested in Display Pack's diverse capabilities to combine plastic and paperboard packaging components. Upon visiting Display Pack in August 2012, Fellowes also was pleased to learn more about the company's advanced packaging design capabilities.
In January 2013, the two companies began working on the Shocksuit packaging project. By April 2013, after constant close communications about design and deadline parameters, Fellowes was shipping Shocksuits in the new packaging.
Williams notes, "We were very appreciative of Display Pack's design and manufacturing abilities and their patience in implementing last-minute changes in the designs and prototypes. We've created what we call a 'disruptive' pack. It's displayed literally 'off the wall' at a disruptive angle within the packaging, serving to catch consumers' eyes. In addition, we've added unique visual features to the packaging surfaces, designed to give consumers a more appealing and motivating shopping experience."
For the Apple iPhone 5 and Samsung Galaxy GS3-4 Shocksuit cases, Display Pack is using RPET .020" plastic film for the front blister and back tray. Display Pack also applies a blister coating between the two sheets of .020" SBS paperboard which allows the board to seal to itself and trap the blister. After significant time and testing, Display Pack developed a process that allowed the application of new visual decorations over the heat-resistant coating.
Package assembly
Display Pack produces all the printed and thermoformed packaging components for Fellowes, including the process of trapping the blister. The thermoforming equipment used by Display Pack is from Sencorp.
The rotary sealing machine used to trap the blister between the paperboard is manufactured by Visual Packaging LP. Display Pack provides the paperboard and uses a 4-color printing process, including heat-resistant coating, matte coating, spot UV coating, and blister coating. Foil stamping is done by DE Baugh Co.
The carton is received flat by Fellowes with the front blister sealed to the front fifth panel of the carton. Fellowes personnel manually erect the cartons, slide the back tray into the carton, place the Body Glove Shocksuit smart phone case into the back tray, and then snap shut the front fifth panel door.
Retailing at approximately $40 each, the cell phone cases come with a one-year warranty. Initial orders were on shelf by May 2013 in national retail stores across the U.S. and also are available through on-line retailers.
Companies in this article