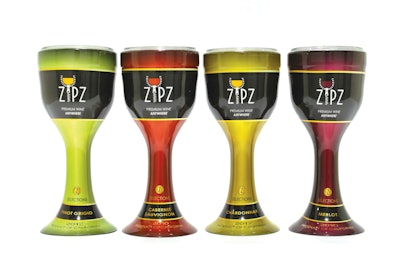 Zipz, a new collection of elegant, single-serve wines in a stemware-style package that takes the premium drinking experience anywhere has been launched in select locations. Using proprietary packaging, each Zipz glass is made from food-grade PET, which the company says looks and feels like traditional glassware. The packaging allows Zipz wines to be served anywhere standard glassware is not an option, including stadiums, arenas, convention centers, hotel and resort pool areas, and the beach. Zipz wines are also recommended for everyday celebrations, including outdoor barbecues, backyard gatherings, picnics, concerts, sporting events, and the like.
SnS Design was selected to help design the glass, which Nisha Sawhney, SnS president and CEO, says took almost 10 months to develop, including time to conduct research, product design, manufacturing files, product prototype and testing, select a manufacturer, and prepare packaging, logo graphics, icons, and other collateral materials.
Each Zipz glass is covered in patented Zipz Clean Wrap™ that keeps the wine fresh and the glass clean from handling. Enjoying a glass of Zipz is easy: Simply pull the tab on the Clean Wrap to unzip the wrap, remove the lid, snap the lid on the bottom, peel off the lift 'n' peel seal, and sip away. Both the Zipz glass and wrap are 100% recyclable as well.
"The Zipz collection addresses a long-standing need for a high-quality, single-serve wine that can be enjoyed both indoors and out," notes Pat Scire, president of Zipz, Inc. "Response from both consumers and the hospitality industry has been overwhelming, and we look forward to bringing this exciting innovation to wine lovers everywhere."
The first offering in the Zipz line is Z Selections, a collection of California wines including Pinot Grigio, Chardonnay, Merlot, and Cabernet Sauvignon varietals, to be followed with additional selections in the coming months. Z Selections will be available nationwide beginning in Summer 2013 at www.zipzwine.com and select locations starting in April 2013 for a suggested retail price of $13.99 for a four-pack, or $3.99 per glass.
Also, beginning April 1, Zipz has partnered with Fetzer Vineyards to introducte Fetzer Crimson Red Blend and Quartz White Blend wines in the Zipz glass. The collection will launch exclusively in select Major League Baseball stadiums across the country through Aramark and Centerplate, which have been partners since the inception of Zipz. Initial locations include AT&T Park (CA), Coors Field (CO), Turner Field (GA), Citi Field (NY), Kauffman Stadium (MO), Safeco Field (WA), and Tropicana Field (FL).