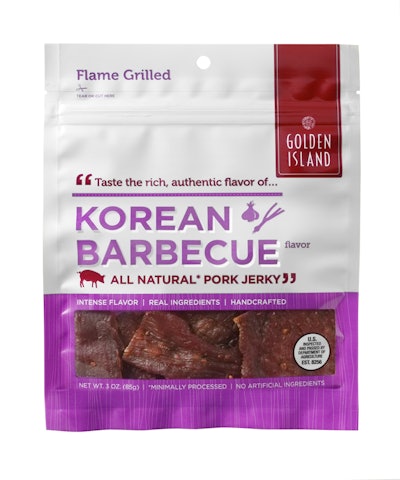 The product is the star of new windowed pouch packages for Golden Island Jerky Co.'s recently launched 3-oz retail size of jerky in six globally inspired flavors. Southern California-based Golden Island offers kettle-cooked beef and flame-grilled pork jerky crafted with all-natural ingredients and no preservatives in more than 20 flavors. Since 2008, the brand has been sold at Costco and at Texas-based chain Central Markets in a 14.5-oz pack size. This summer, Golden Island launched the 3-oz size in select markets within the western U.S., in a pouch that emphasizes the brand's handcrafted nature.
"The new packaging design we chose had a single purpose in mind: to signify that this was not just any jerky inside the bag," says Anna Kan, president and CEO of the third-generation, family-owned business. "We wanted to showcase a handcrafted look because our jerky is kettle-cooked and flame-grilled in small batches to give them unique flavor profiles and pleasing textures. We wanted to display our bold flavors and big pieces of meat that you can actually see through the clear window in each package. Our goal is to change people's perception of jerky and expand the jerky consumer demographic. The bottom line is that Golden Island is 'real honest jerky,' and we're not hiding anything."
Package graphics for the resealable, flexible film pouches were created by Brand Thirty-Three, which selected deep, rich colors and ingredient icons placed against a silver background to differentiate varieties. The six flavors in the new line include both beef and pork varieties "selected due to their past success in road shows held at various Costco locations throughout the U.S.," explains Han. One example of the design strategy is the Chili Lime flavor, which uses green color blocking around the clear window and features a cow icon, along with chili and lime symbols placed next to the flavor name. Another example, Korean Barbecue, is pink, with a pig icon, and garlic and onion symbols.
"We have received tremendous positive response from our customers, vendors, and employees alike," says Han. "We've been told that our new packaging better matches the quality jerky and unique flavors inside each bag. Some of the terms used to describe our new packaging include 'contemporary,' 'clean,' 'stand out,' 'unique,' and 'organic.'"
The 3-oz bags of Golden Island Jerky are available at retail in prices ranging from $5.99 to $6.49, depending upon retailer. The snacks are also available on the company's new Web site.