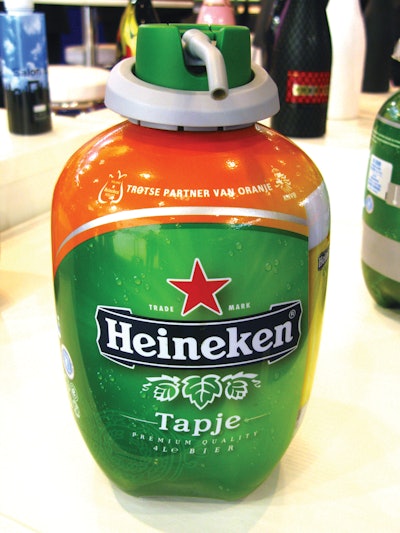 The aisles were full and the conversations animated at the 40th edition of Emballage. Here is a brief overview of just a few of the highlights encountered by one editor. (See www.bit.ly/pwe00455 for videos shot at Emballage.)

Stopping traffic at the PDC Europe booth at Emballage were 4-L PET kegs of Heineken beer (1) decorated in both stretch PE and shrink PVC labels. Called Chill Pak, the all-plastic concept represents a significant breakthrough for Heineken because it replaces a metal version that weighed far more and thus cost more to move through the distribution system. Both the metal and plastic are one-way containers for retail sale. Just as intriguing as the PET container is the dispensing system that comes attached to the top of the kegs. According to PDC Europe, a stretch PE label was used to decorate the keg at an early stage of introduction and rollout. Once the innovative package had proven its consumer appeal from a functional perspective, the full-body PVC shrink sleeve label shown here was introduced, primarily because of the enhanced graphic pop that it brings. Printed on this shrink sleeve label is a "thermometer" that tells the consumer how cold the beer is. Labels are applied by a Model STA labeler from PDC.

At the Aoki booth was a fascinating package (2) for St. Joseph, MO-based Hillyard Industries' range of industrial soaps—the kind of dispensing systems found in factories, hospitals, restaurants, schools, and other institutions. The container is injection stretch blow molded of PET in Aoki's single-stage method. The remarkable thing about the container is how thin the sidewalls are, an average of 0.15 mm, and how light the container is at 22 g. The appeal for Hillyard is that this replaces a rigid plastic container that did not always dispense the last ounces of product. This package—whose sidewalls are so thin it could almost be called a pouch—collapses in on itself as product exits, so the last of the product is always dispensed instead of being left in the neck area of a rigid plastic container. Speaking of neck areas, that is the one part of this container that retains the rigidity customary in an injection stretch blow molded container. This is necessary for two reasons: to support a threaded cap and to allow Hillyard to suspend the incredibly light container by its neck during filling. Also at the Aoki booth was the single-stage ISBM machine on which the Hillyard container is made: the Model ISBIII 250LL-50S.

PET tray fits the recycle stream

The Albert Heijn supermarket brand, well known in Europe, showed up at the Faerchplast booth, where that firm's MAPET II concept (3) was on display. Designed for chilled fish, chicken, or other proteins, this is a thermoformed monomaterial PET tray with a clear film lidding. To understand why it represents a departure, it helps to look at the container it's designed to replace. That container is typically made of PET, too. But it also includes a layer of PE so that film lidding can be heat sealed to the flange. The downside to this traditional tray construction is that when the tray reaches the automated sortation systems in the recycle stream, it causes confusion as to whether the tray is PE or PET. What Faerchplast has developed is a way of putting a layer of adhesive on the flange of the thermoformed tray that makes it possible to heat seal a lidding material of PP, PET, or PE. The adhesive won't interfere with the sortation process nor is there enough of it to contaminate the post-consumer RPET stream. Shown at the Faerchplast booth were two fish packages now available at the Albert Heijn stores, one for salmon and one for large sardines. The sardines package is a two-pack, with a nicely executed perforation down the middle to facilitate separation in the consumer's hands. It also included a separate compartment for diced onions. Both packages were notable for their beautiful presentation. Faerchplast emphasizes that this new materials approach is a drop-in solution requiring no new lid sealing equipment.

A fascinating new launch from Orangina/Schweppes/Suntory (4) was on display at the booth of AMC2. That firm supplied the robotic pick-and-place system that was automatically cartoning single-serve pouches of aseptically filled Oasis juice drinks in Ecolean stand-up pouches. Ecolean's unique pouch, supplied pre-made on large rolls, is made with 30% calcium carbonate to significantly diminish its petroleum-based polymer content. (For more on Ecolean, see www.bit.ly/pwe00452.) It also has an unusual air-filled handle, which makes the pouch easy to grasp, and a film-wrapped straw attached. Consumers—and this packaging concept is aimed squarely at children—can drink from the straw or pour the contents into a cup. Orangina already has its first aseptic Ecolean pouch-filling system plus AMC2 robotic cartoner in operation at its Chateauneuf-de-Gadagne, France, plant, where stock buildup is underway prior to a big launch planned for January 2013. A second Ecolean aseptic filler—along with the AMC2 robotic cartoner on display at Emballage—will soon be installed at Orangina's plant in Donnery, France. The cartoner features four delta-style pick and place robots from Schneider Electric. While aseptic Ecolean pouches are in the marketplace in places like China and Russia, this represents the first use of this intriguing technology in Europe. Ecolean's Lars-Eric Andersson says the firm will now target the U.S. with its novel packaging technology.

At the Mespack booth was an intriguing Nestle brand of shelf stable pasta and sauce (5) that's on store shelves in Russia. A Mespak horizontal form/fill/seal system first hot fills the food into a pouch format. Then an inline Mespack unit encloses the primary pack in a paperboard outer pack. The consumer microwaves the food and tears off a perforated bottom portion on the paperboard component. The end result is a pouch of hot pasta and sauce that can be eaten from what is essentially a bowl, thus eliminating any need for a separate container. Clearly a nice example of packaging that turns a meal into an on-the-go experience.

Elsewhere on display, this time at the Rovema booth, was Heinz ketchup in a standup pouch that featured a conveniently functional dispensing fitment on the corner. It appears the pouch is in the Russian market.

Controls developments

On the machine controls front, Linmot had on display its Linmot P-10-70 linear motor. These motors are being used, in combination with B&R drives, on some Krones blow molders to actuate the stretch rods used in stretch blow molding. They replace air cylinders, which, said Linmot's Ernst Blumer, have a higher total cost of ownership because of the cost of the air compressor, the amount of maintenance they require, and the energy they consume. A study by Linmot concludes that where it takes 3,000 Euros to run a pneumatic cylinder for a year, the Linmot linear motor costs 100 Euros. The significantly smaller carbon footprint of the linear motor, adds Blumer, should position it well in the future.

When leading French food marketer William Saurin delivered a design brief to RPC asking for a package that looked like the famous enameled cast iron Le Crouset pot, that is exactly the package it got. Launched in France in the fall of 2012, the pot (6) is thermoformed by RPC from a seven-layer coextrusion of PP/regrind/tie/EVOH/tie/regrind/PP. It's filled in William Saurin's Rodez, France, facility on a Waldner system that also applies the clear flexible film lidstock. Supplied by Huhtamaki, the lidding material is a lamination including PP peelable seal, a polyamide layer, and a polyester coated with aluminum oxide for barrier. Filled and sealed pots are retorted. Later, an injection molded PP lid is applied by hand (for now); molded into this PP lid are the words "William Saurin" in that company's trademark elegant script. The finishing touch on the package is a beautifully decorated paperboard sleeve. The finished package, holding 400 g of food, sells for 3 to 3.50 Euros. Five varieties of traditional French foods come in a red pot while a yellow pot holds a number of Mediterranean style foods.

The folks at APPE showed an interesting jar of jam (7) now being sold at Marks & Spencer that is said to be the first plastic container in Europe able to withstand thermal processing temperatures of 95 degrees C. Weighing just 34 g empty, it's considerably lighter than its 360-g glass counterpart. The innovative PET container is injection stretch blow molded on a Nisei two-stage reheat and blow system. APPE says only by using its specific proprietary PET grade and a special process on the Nissei machine can a container with these characteristics be made.

At RKW's booth, an application of QR code printing on display was unusual in that the code was printed on a shrink wrap film used to unitize three cans of food from William Saurin, the well known and packaging-savvy French food marketer. RKW is both a maker of high-definition printing systems and a supplier of film. In this application, RKW sends a three-layer PE coextrusion through one of its flexo printers to imprint the QR code. The challenge in such a print job lies in the fact that the QR code must be pre-distorted in just the right way so that when the film is shrunk, you don't wind up with a blurred QR code that can't be scanned by the consumer's mobile device. Consumers are being drawn to the package when they encounter it on store shelves because by scanning the QR code they are taken to a site where they can become eligible to win TVs and other cool stuff.

Rommelag's Bottelpack blow/fill system features a new mold-change function that provides a pneumatic assist. This greatly simplifies mold change and enhances worker safety. Rommelag customer Excelvision, located in Annonay, France, takes shipment of the machine in December. According to Directeur General Thierry Depauw, it will be used to fill single-dose eyedrop products for both Rx and OTC.