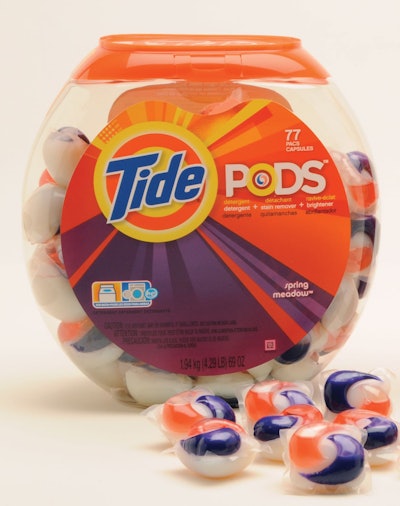 As 2012 draws to a close, Shelf Impact! and Dragon Rouge complete the year's final Innovation Survey with a focus on packaging for home and garden products, and reflect on the results of the previous three surveys. Comparing home and garden product packaging to the categories previously studied this year—beverages, food, and personal care/OTC—reveals that while the pace of product introductions may be less frenzied in this category, there are some notable innovations taking place here.

With composite scores ranging from 3.87 to 3.99 on a five-point scale, the leading innovations in the home and garden industry are the The Scotts Co.'s Snap cartridge spreader system, Tide Pods from Procter & Gamble, and Universal Lubricant's flagship product, ECO Ultra Synthetic Blend Motor Oil, in a flexible pouch. While all three scored high across the board, they were remarkably strong in relation to concept idea, structure, and graphics. Through the development of advanced technology platforms, these products have taken innovation to a new level, while also encouraging new and different ways for the consumer to interact with the product.

Taking the lead in this quarter's survey is Scotts' revolutionary new Snap spreader system, designed to take the guesswork out of lawn care. The product line includes a spreader and specially formulated products for specific lawn-care needs, such as weed control, insect control, and fertilization. The new spreader system features a custom flexible pouch with fitment that becomes an integral part of the product-dispensing process. The packaging not only uses encompassing graphics and vibrant colors, but also stands out with clear communication on-pack of the product's intent.

Demonstrating a new level of platform technology, the cartridge—or Snap-Pac, as it is called by Scotts—secures with the applicator to simplify the overall process, while also enveloping environmental benefits. The package optimizes space, and with its standout dimensions, it illuminates an on-shelf presence and consumer interaction.

Another breakthrough example of revolutionary innovation through packaging can be seen in P&G's Tide Pods. In a world where innovation and technology are constantly evolving, there had not been a fundamental shift in how people do laundry in quite some time. The single-dose pods feature an exclusive three-chamber design containing product formulations that brighten, fight stains, and clean. Conveniently premeasured, Tide Pods are also engineered with a proprietary film technology that dissolves and works effectively in all water temperatures, in any type of washer, and for any size load. The pods are housed in a unique tub with a round structure and a lid that highlights the brand's signature shade of orange. The tub also features a double latch to prevent child access. The eco-benefit provides a lift to consumers and is an example of intermittent innovation that will continue to drive the category to new levels.

New levels of platform technology and consumer insight can also be seen in the recent relaunch of Universal Lubricants' re-refined flagship product—ECO ULTRA Synthetic Blend Motor Oil. The first of its kind, the product is now packaged in a sustainable, flexible stand-up pouch. In comparison with conventional rigid plastic bottles, the new durable FlexPak offers consumers a faster, easier, and cleaner way to change their oil.

The pouch material is formulated to provide the superior burst and seal strengths required for the rigors of oil and other hard-to-hold liquid products. Designed for durability, the packs reportedly have passed drop tests in excess of 20 ft. And, the pouch's Clean Spout fitment has been engineered to enable an easier, smoother pour without "glugs"—air bubbles that form and cause oil to spill when the product is poured from the bottle. All in all, the stand-up pouch not only makes a valuable shelf impression in an otherwise stale packaging environment, but it also gives retailers a distinctive opportunity to bring consumers a high-performance product in an environmentally responsible package.

Innovation is not innovation unless it is compelling

Regardless of average or below-average scores, the packaging innovations that did not fare as well have one thing in common: They did not provide a compelling reason to attract and engage both new and current consumers to their category or brand.

In comparison to the innovative nature of Universal Lubricants' product relaunch, Chevron's Havoline brand motor oil falls short. With the Daytona 500 as a national stage, Chevron kicked off the 100th-year celebration of its Havoline brand motor oil with a package redesign. Flaunting one of its vintage logos and classic colors along with early racecar imagery, the goal of the redesign was to lend authenticity to the viewer's journey in time to visually connect them to the automobile's "Golden Age." While the explanation behind the redesign is interesting, the story is lost in translation. Respondents' comments were unfavorable, noting, "Graphic change only, no value added," "Not sure vintage works for this category," and "Questionable as to whether the target market will understand the heritage of the brand."

While The Clorox Co. recently created a modernized, slimmed-down version of their iconic classic, Clorox bleach, there is nothing new here. This modernized version holds a new, concentrated product that reduces the amount of plastic and water used by the brand, and although Clorox sought to meet the needs of their consumers' lifestyles while still remaining recognizable and trustworthy in the market, the package redesign lacks distinction within its innovation. The package is now easier to pour, handle, and use in high-efficiency washing machines. Yet despite all of this, the overall redesign cannot be differentiated from the classic apart from its slimmed down nature, and concentrated bleach is not a new method of innovation in the category, making the product quite late to the game.

On the other side of the bleach spectrum, Stain Solver is a clear, clean look for oxygen bleach that speaks to the "human friendly" nature of the product. The product is now encased in an oversized, clear jar with minimal labeling and typography, obviously geared toward the design-conscious consumer, setting it apart from the typically heavy-handed cleaning approach. Based on our results, consumers find the rebrand appealing to the eye, but are frightened, not engaged, at the aspect of a bleach product in a glass jar that carries little information on how the consumer is to use the product. Although a brand may be eco- and design-conscious, if consumer insight falls short, so will the innovation of the package design.

2012 survey result wrap-up

As we wrap up 2012, we should reflect on the top packaging innovations we reported on throughout the year. Overarching as a whole, Help Remedies received the top score of 4.08. The product's branding weaves a simple message through every aspect of its consumer value proposition—ranging from its clear benefit communication and its straightforward, crisp graphics, all the way to its unique single-dose structure.

Conversely the lowest-scoring package was seen in Budweiser's new design, which focused on the iconic bowtie. Despite an attempt at an innovative redesign, consumers felt it lacked purpose and actually felt outdated. So what can we learn from 2012?
In order for innovation to be truly successful, its intention needs to be clearly understood through the consumer's eyes.
Have a purpose—innovating for the sake of innovation is not resolute. Top packaging fills the gap with a consumer benefit that directly links to a specific consumer need state.
Approach innovation from a holistic perspective, while also delivering an unmet consumer need.
Eric Zeitoun is president of Dragon Rouge USA, an international brand and design consultancy. Contact him by e-mail or at 212/367-8800.
Survey process
For the past four years, Shelf Impact! and Dragon Rouge have partnered in inviting readers to comment on current packaging innovation through a quarterly survey that probes the value and level of innovation. For this 2012 fourth-quarter survey, participants were asked to evaluate 15 recent product introductions in the home and garden category through the lens of five distinct criteria:
1. The concept's ability to provoke new ways of thinking about a category.
2. The structure's ability to present new ways of interacting with a product type.
3. The packaging graphics' innovative cues that help bring the product positioning to life.
4. The use of innovative materials.
5. The relative effectiveness of the packaging production process.