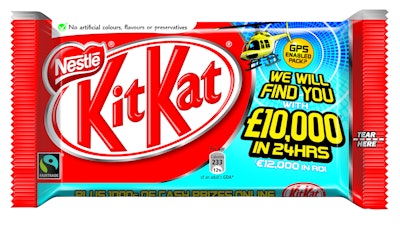 In a first-of-its kind promotion, Nestlé U.K. & Ireland has outfitted six candy-bar packages with GPS-enabled devices that, when activated by the consumer, will prompt the Nestlé prize team to track the consumer down within 24 hours to deliver a check worth £10,000 (US$15,880). Nestlé's We Will Find You promotion began Sept. 10 in the U.K. and Ireland and will run until next June, encompassing its Kit Kat 4 Finger, Kit Kat Chunky Milk, Aero Peppermint, and Yorkie Milk singles candy bar brands.
Consumers will also have the opportunity to win one of 2,000 additional prizes of £10 (US$15.88) each when they enter a winning code printed inside the candy bar wrapper on Facebook, or by connecting with Nestlé via one of its 3,000 campaign posters featuring either Near Field Communication (NFC) or QR code technology.
Graham Walker, trade communications manager for Nestlé U.K., told Australia's Food Magazine that the company is looking to tap into a new market by using these unexpected measures. He is quoted as saying "We believe this promotion will particularly appeal to men, attracting them into the chocolate singles category and thus driving incremental sales."
The six, randomly seeded promotional packages will each contain a "GPS-enabled replica bar," notes the contest's official rules. Says James Maxton, of Nestlé U.K. & Ireland's corporate communications, "There is no bar in the wrapper, it contains only a GPS device. Therefore, the consumer will get the £10,000, plus the bar they originally went into the shop to buy."
While Maxton says he cannot provide details on the physical characteristics of the GPS device or on the supplier of the technology, he does say, "a consumer wouldn't know they'd won until they unwrap the candy bar." Those brands involved in the promotion are specially marked for the We Will Find You campaign. Consumers who find themselves with a GPS-equipped replica bar are instructed to pull a tab inside the pack to activate the device, which utilizes mobile phone network technology and signals to communicate with Nestlé. According to the official rules of the promotion, consumers who do not wish to be located by GPS can contact Nestlé customer service by phone.
Maxton says several of the GPS devices have already been discovered by consumers. "Response was surprised, but happy," he says. Of the overall campaign, he notes, "On the Facebook page, there has been a fantastic buzz. In general, there has been great interest around the world in the technology used in this innovative promotion."
Companies in this article