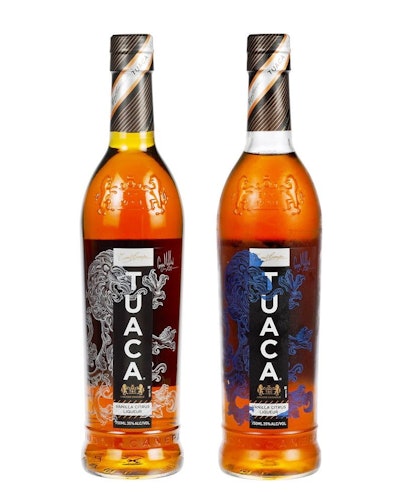 A limited-edition bottle label for high-quality liqueur brand Tuaca has been redesigned so that its classic brand image, a lion, now incorporates a thermochromic feature from Chromatic Technologies Inc. According to CTI, the "Perfect Chill" bottle has met with exciting consumer response since its introduction in 2011, and has been showcased on Tuaca's "Drinks & Ink 2012: A Celebration of Tattoo and Cocktail Artistry" tours with world-famous tattoo artist Corey Miller of television's LA Ink.
For the limited edition bottle, Miller created the custom artwork, which was printed by Eurostampa of Italy at its North American facility in Cincinnati. The unique design of the lion shifts from a silver color at room temperature to a stunning, vivid blue when chilled to 46.4° F—the temperature at which the product is at peak serving condition for consumers. The "tattoo," printed in CTI's thermochromic ink, is printed on a label that adorns the bottle.
"Tuaca makes mention of their 500-year history beginning as a legendary liqueur created for Lorenzo de Medici—ruler of Florence and visionary benefactor of renaissance art and architecture," explains CTI's Melanie Edwards, manager of strategic sales initiatives. "Tuaca's introduction to the U.S. dates back to WWII, when American servicemen brought the recipe home. Since that time, Tuaca's presence continues to grow in the market, and we are, of course, thrilled to play a role in their Perfect Chill campaign."
CTI's thermochromic process uses cold-activated ink technology to convey messaging, be it an indication of cold temperatures or an extension of the product's brand. CTI's technology also provides for the reverse process, wherein hot beverages can display a signal on the package or label.
Companies in this article