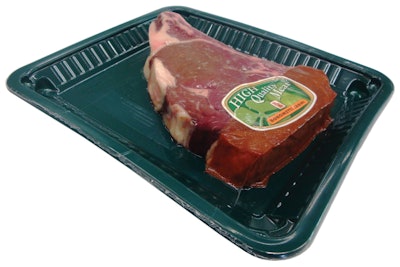 High-end whole-muscle meats are being packaged in a whole new format at Bonometti Carni, a leading meat processor in the Northern Italian town of Rodergo Saiano. "It's our first use of vacuum skin packaging," says the firm's Massimo Bonometti.

One look at the T-bone pictured here makes it abundantly clear that it's not just any vacuum skin packaging we're talking about here. It's called "super-protruding skin packaging" by G. Mondini-Ulma, the Italian machine builder behind this new packaging format. The idea is to give the meat considerably greater shelf impact by having it protrude so three dimensionally out of its tray that shoppers in the store aisle can't help but have their eyes drawn to it. The idea is to sell meat and not plastic, says G. Mondini-Ulma, which is represented in the U.S. by Harpak-Ulma.

The machine in use at Bonometti since early last year is Mondini's EVO 367. Preformed trays are picked automatically from a magazine and conveyed to the station where an operator places cuts of meat into the trays. Placed over each piece of meat is a bone-guard material that prevents any sharp edges of bone from puncturing the film that's about to be applied. The PET/EVOH/PE trays are supplied by Rosaplast.

Exiting the Mondini machine, a metal detector from CEIA causes any trays with metal to be kicked off the line. Good trays are conveyed through a Bizerba machine that applies a pressure-sensitive label to each package.

Film handling
Bonometti is among the first to use the super-protruding skin packaging concept. "The technology's secret lies in how the machines handle the films, which is highly complicated and based on a proven technical system for heating and cooling the films to produce a true 'skin' seal," says Alan Bickerton, director of G. Mondini-Ulma.

Before this new format was brought into Bonometti, the firm sold its top-of-the line cuts of meat in a Modified Atmosphere Packaging format produced on a thermoform/seal system. But a number of shortcomings were encountered with this approach, which was not the so-called "master barrier bag" method but rather a case of each unit having its own backflushed modified atmosphere.

For one thing, refrigerated shelf life was only eight days. Also, unsightly liquids naturally exuded from the meat would collect in the trays. The only sales channel suitable for packages with such an appearance was fooservice. Retail channels were no option because consumers were put off by the appearance. And from a production and efficiency standpoint, says Massimo Bonometti, "Thermoforming was more complicated than using pre-formed trays."

With its new vacuum skin packaging approach, Bonometti is able to produce about 40 trays/minute. Two tray sizes are used, one measuring 250 x 180mm and the other measuring 270 x 229mm. Refrigerated shelf life is 14-20 days instead of only 8 with MAP. Perhaps most important, the tight skin-pack format eliminates the problem previously encountered with unsightly liquid exudate, so now Bonometti can tap into the retail sales channel with these packages.

Bonometti confirms that this new approach to packaging is more costly from a materials standpoint. But the firm is willing to pay the upcharge when the new packaging format permits them to sell so many more cuts of premium, high-margin meat.
Companies in this article