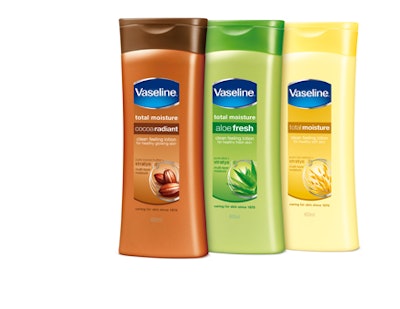 Vaseline, a Unilever brand, recently relaunched its core lotions range globally in striking new packaging crafted by strategic design partner Blue Marlin. The vivacious new packaging for Vaseline Essential Moisture body lotions is available in Oat Soft, Aloe Fresh, and Cocoa Radiant varieties, and is designed to reflect the growing consumer enthusiasm for natural ingredients in skincare products.
The global rollout began in December, with products available in Europe and Asia, followed by the U.S. early this year. The relaunch involves new packaging, new formulations, and a new communications platform. Unilever reformulated its 140-year-old brand introducing natural extracts and its patented Stratys-3 technology to deliver moisturization to all layers of skin with a light, silky feel. The brand's new communications platform encapsulates this via the phrase, "feels good, does good."
Packaging is designed to ensure that the product also looks good. The design makes use of warm tones and images of the ingredients, such as aloe vera, to bring the proposition to life in a modern, attention-grabbing way.
Anna Milivojevich, associate creative director for Blue Marlin New York, comments: "This design highlights what makes the product special to the consumer: natural ingredients, the latest in skincare science, and ultimately creating healthier skin so she has the confidence and energy to do more."
Ricardo Pimenta, global brand vice president--Vaseline and St Ives, comments: "Vaseline is one of the most trusted skincare brands on the market. The combination of reformulation, repackaging, and the new communications platform will keep it at the front of consumers' hearts and minds."