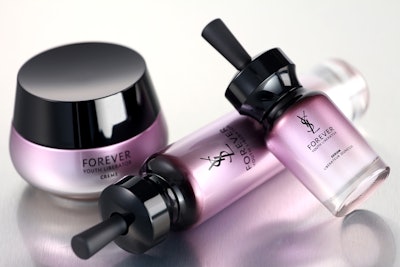 Glass packaging provides a distinctive, sleek appearance for Yves Saint Laurent's new anti-aging line, Forever Youth Liberator. The anti-aging line of products contain a complex called Glycanactif™ that's designed to "unlock" access to the cells to reactivate the skin's youth-promoting functions. Glycans attach to proteins on the surface of cells to provide healthful benefits.
Gerresheimer produced three crème jars and three glass flacons (bottles) for the serum, each in 15-, 30- and 50-ml sizes. Gerresheimer's Belgian subsidiary in Momignies produced the fire polish finish that gives the glass packages their striking appearance.
The crème jars and flacons differ in terms of the spray technology used. A hatched aluminum layer under a pink layer was selected for the crème jars, while bottles feature an additional brown coating, and the Yves Saint Laurent initials as a further sophisticated detail.
The initials YSL and the name of the line, Forever Youth Liberator, are screen-printed on the jars and flacons, with the YSL letters combined in a vertical line.