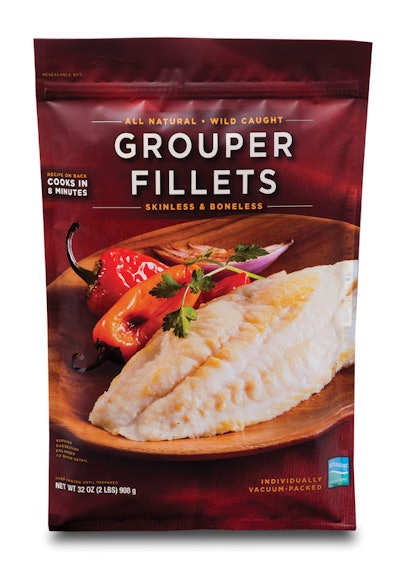 Creatively printed pouch packaging for frozen Icelandic Grouper Fillets has garnered an FPA Gold Award in Printing Achievement for Flex-Pack.

Flex-Pack worked with Icelandic Seafoods, Inc., Newport News, VA, to develop the packaging. Icelandic's Purchasing Manager Frederick Haller says, "We chose Flex-Pack based on a very impressive sales presentation they made to us, demonstrating the printing quality of some of their previous jobs."

Each 32-oz (2-lb) preformed pouch is designed to contain individually vacuum-packed frozen, skinless, boneless grouper fillets. The pouch film structure is a proprietary combination of oriented polyester and metallocene with high tolerance for freezer conditions.

The pouches feature vibrant, high-resolution, 9-color, rotogravure printing and registered matte over print varnish. A combination of glossy and matte areas helps give the pouch graphics a three-dimensional appearance. The excellent print quality and outstanding graphics serve to enhance shelf impact and help to advance the capabilities and opportunities for flexible packaging versus competing packaging options such as cartons and cans.
Companies in this article