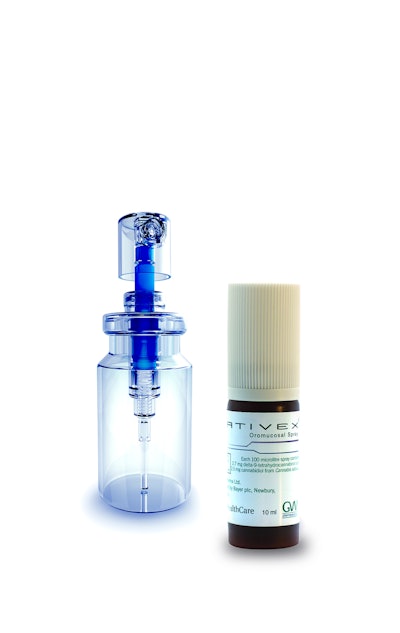 GW Pharmaceuticals and Aptar Pharma developed a mouth spray device that allows Sativex® and a cannabinoid medicine to be delivered to multiple sclerosis patients suffering from muscle spasticity.
According to Aptar Pharma, Sativex Oromucosal Spray is the first approved cannabis-based prescription medicine to be launched in Germany in the field of spasticity in MS management. The medicine is sprayed into the mouth either onto the inside of the cheek or under the tongue to provide patients with a flexible dosing regime.
Sativex was recently approved in Germany and Denmark, and has been launched in the U.K., Spain, and Canada. The medicine is marketed in the U.K. and Canada by Bayer Healthcare AG.
Aptar's VP7 spray pump is used in drug delivery for both systemic and local treatment via the nasal and buccal (mouth or cheek) routes. GW Pharmaceuticals selected the VP7 pump fitted with a specific buccal actuator of ergonomic design that is comfortable to use by the patient.
Founded in 1998, GW Pharmaceuticals plc researches and develops cannabinoid pharmaceutical products for patients who suffer from a range of serious ailments, in particular MS and cancer pain.