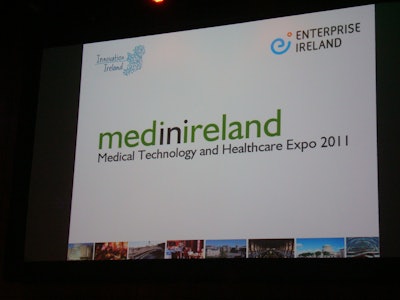 The day dawned crisp and bright for the one-day Med in Ireland – Medical Technology and Healthcare Expo 2011, on Oct. 27, after punishing rains earlier in the week caused massive flooding in the city of Dublin. But the record-breaking downpour and resulting transportation challenges were not enough to dissuade 650 delegates, representing 31 countries, from attending the conference and exposition, held at Dublin's new Convention Centre.
A biennial event, Med in Ireland is held by Enterprise Ireland—the government organization responsible for the development and growth of Irish enterprises in world markets—to connect indigenous Irish medical technology companies with potential partners in the med-tech and healthcare industries. According to the group, together the 2007 and 2009 events generated in excess of €55 million in new business for participating companies. This year's edition included approximately 950 20-min one-to-one meetings between suppliers and potential customers, all organized by Enterprise Ireland.
Among the 80 Ireland-based suppliers exhibiting their capabilities at the show were those offering finished medical devices, medical devices sub-supply, diagnostics, healthcare IT, and research and development. Healthcare Packaging, attending the event as a guest of Enterprise Ireland, focused its attention on those exhibitors directly involved with the packaging of medical devices, including packaging suppliers, co-packers, package designers, and package testing firms.
Range of packaging services represented
Among the companies supplying primary packaging materials and systems—many in addition to services such as medical device manufacturing, assembly, and co-packing—were:

• Medisize Ireland Ltd., which provides both standard and custom flexible and rigid pharmaceutical packaging

• Mergon Healthcare, a molder of plastic containers for diagnostic reagents and nutraceuticals, with facilities in Ireland, the U.S., and the Czech Republic

• Sealed Air Nelipak, providing rigid and flexible plastics, trays, cartons, and labels

• Sealpack Labelling Systems, offering converting of custom labels and labeling systems for labs, hospitals, and the healthcare sector

• SteriPack, a manufacturer of cleanroom medical packaging solutions. According to company sales and marketing executive Linda Gilsenan, SteriPack will soon be opening a new facility expressly for U.S. customers.
Two companies attending the event, visited by HCP the day before at their respective plants in Galway, highlighted their package design services, offered in addition to their primary areas of expertise. Anecto is an ISO 17025-accredited test facility that provides independent test services, including product and package testing, custom test equipment, and protocol development. Advant Medical provides contract manufacturing, assembly, and packaging services for medical device manufacturers. Both companies saw the lack of package design knowledge by medical device suppliers and developed consultancy/collaborative services to fill those gaps.
Packaging machinery was also represented, with Epi-Light Ltd., a startup company specializing in LED technology, that offers machine vision systems; and Crest Solutions, which provides machine vision solutions to highly regulated industries. A one-on-one meeting with Crest founder and CEO Frank Madden gave HCP an inside look at the company's newest product, PrintInspector™, an in-line print verification system for the large-format labels commonly used by manufacturers offering items such as catheters and prosthetic limbs. According to Madden, the system eliminates human error and allows for the verification of non human-readable items, such as 2D bar codes.
ArcRoyal, Ltd., which HCP visited at its plant the day after the show, is a leading manufacturer and distributor of single-use medical devices and custom procedure trays for hospitals. At its plant in Co. Meath, ArcRoyal custom-packs disposable components, with the items and their placement specified by each customer, for a range of surgical procedures. Customers can choose from more than 9,000 components, offered by 300 different suppliers, to create a kit.
Having built a distributor network throughout Europe, ArcRoyal also works with U.S. medical device companies that want to bring their products to the European market, helping them to position and market the products, as well as sell them.
Med-tech sector vital to Irish economy
According to Enterprise Ireland, the med-tech industry is of key importance to the Irish economy, and has continued to grow year-on-year despite the global recession and the economic challenges facing Ireland. Ireland is globally recognized as a major center of excellence in the medical technologies section, in the areas of manufacturing and—more recently—innovation.
The med-tech sector in Ireland employs 25,000 people directly, and had exports in excess of €7.2 billion in 2010. The country is the largest exporter of med-tech products in Europe behind only Germany and is the largest med-tech employer in Europe per capita. Due to various factors conducive to doing business in Ireland, including the country's low tax rate and highly skilled workforce, nine of the world's top 10 med-tech multinationals now have operations in Ireland.
Said Richard Bruton T.D., minister for jobs, Enterprise & Innovation, at the opening of the Med in Ireland event, "The medical technology sector is an area of strategic strength in Ireland, and one which this government is targeting for the growth and jobs we so badly need. It is crucial that we not only build on the incredible base of multinational med-tech companies already located in Ireland, but also ensure that Irish companies can start and grow in this sector to help create an indigenous engine of growth."
The opportunities for U.S. companies to engage with the more than 250 Enterprise Ireland client companies in the med-tech sector take different forms. Some of these suppliers have embedded sales offices and/or manufacturing sites in the U.S. to serve U.S.-based customers. Many of the suppliers work with the U.S. multinationals that have locations in Ireland, servicing their European businesses. And lastly, as was emphasized to HCP many times during the show, Ireland's med-tech suppliers have the ability to provide a "gateway to Europe," for those small U.S. companies wishing to establish their products overseas.