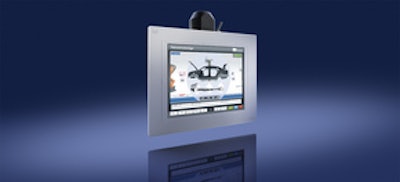 PharmaWorks (PACK EXPO Booth C-4006) will equip its large format (220mm x 290mm) TF3 blister thermoformer with a sleek new Intel® Atom™ powered, IP65 rated touchscreen PC from B&R that allows them to replace a separate HMI and industrial PC.
The sealed aluminum HMI panel runs Factory Talk® View Machine Edition, combining a single protected operator interface with the ability to run the Windows™ applications that are increasingly important for production management, OEE, vision, video and serialization applications.
To increase machine modularity, PharmaWorks has implemented distributed, machine mounted IP67 I/O modules, also from B&R, that connect to the control system's EtherNet/IP network. This provides the flexibility to ship machines as modules and reconnect them at the customer site with plug-and-play cables.