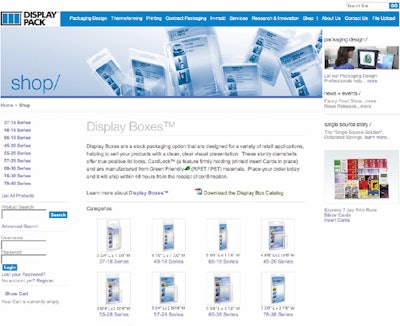 Joining the likes of Web giants Amazon.com, Yahoo.com, and Google, Display Pack has made online shopping available for its registered packaging customers. Following registration, customers can access the shopping cart feature by clicking the "shop" link on the company's homepage. From there, customers can browse and select from a variety of products as well as request free product samples.
They can also download a PDF of Display Pack's catalog.
Display Boxes are a stock packaging option designed for a variety of retail applications to stock and display products with a clean, clear visual presentation. These products are manufactured using green-friendly materials, and are a cost-effective alternative to custom packaging, company says.
This stock packaging, used for packaging of products from inexpensive fishing lures to expensive military compasses, is shipped from inventory and comes in an assortment of sizes. A Display Pack packaging design representative can help customers complete package requests with additional design and production of printed insert cards.
All online purchases can be made using Visa, Mastercard, or American Express credit cards. Following purchase, product will ship within 48 hours from the receipt of confirmation.


Companies in this article