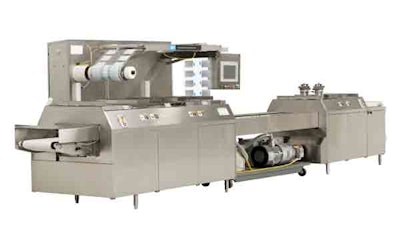 The new Model 8000 MH thermo form/fill/seal machine from Pro Mach division Ossid (www.ossid.com) is popular among packagers of foods as well as makers of medical devices. In both operations, the machine is used to produce packages from flexible or semi-rigid films. It does this by pulling film through thermoforming tools and then heat-sealing lidding material over the formed cavities after they've been filled either manually or by way of an automated loading system.
The Model 8000 MH incorporates three axes of servo motion that perform the following functions:
• film unwind and film advancement through the machine
• actuation of the forming tools
• actuation of the sealing tools
The use of servo rather than pneumatic technology not only reduces
the consumption of compressed air, it also reduces the potential for air contaminants and allows for greater speed.
The ControlLogix system from Rockwell (www.rockwellautomation.
com) is the controller on the 8000MH machine. The machine offers the new PV 1250 color-screen operator interface, also from Rockwell. Communication from the controller to the Rockwell Ultra Series servo drives takes place over a SERCOS interface. MP Series low-inertia servo motors, also from Rockwell, are rated IP65 for washdown protection.
Ossid's Hank Nixon, director of engineering, appreciates the contributions made by the integrated controller that governs the machine and by the PV 1250 color screen operator interface.
"The ControlLogix platform permits integration of motion control, machine logic control, operator interface, integration and communication with other equipment, and communication with the plant and outside world environment using a single source system and without the use of multiple programming architectures," says Nixon. Speeds are in the range of 30 cycles/min, and Nixon says the use of servo technology makes a key contribution where speed is concerned.
"Machine motions are more refined than would be the case in a machine that is operated by air," says Nixon. "When each actuation occurs at an optimum rate, that eliminates inefficiencies in the machine cycle. In addition, the use of servos enhances flexibility and makes it easier to integrate this machine with other machines."