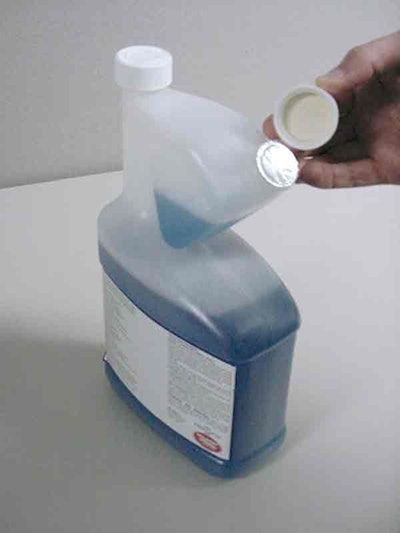 Spa Giene LLC, Kirtland, OH, a supplier of liquid spa/whirlpool anti-microbial cleaning chemicals in 16-oz to 32-oz HDPE bottles, is vigilant to ensure that these products are packaged with the utmost safety. The last thing Spa Giene wants is leaks during storage or transport.
To prevent this, the company first tried an inexpensive imported manual induction sealer. Induction sealing involves application of a foil innerseal to the bottle mouth when the overcap is applied. Induction sealing also adds a layer of tamper-evidence and, in some products, helps extend shelf life. But the manual induction- sealing system Spa Giene initially had selected did not permit the production speeds necessary to keep pace with the four-head bottle filling line.
A more efficient option
In search of a faster, but still cost-effective, hand-held alternative, Spa Giene co-owners Dennis Leonetti and Nick Iarussi contacted a supplier/systems integrator, LaPorte, IN-based A Packaging Systems (www.apackaging.net), for advice. A Packaging Systems suggested that Spa Giene consider a new induction sealer manufactured by Pillar Technologies USA (www.pillartech.com). Todd Cannon, president of A Packaging Systems, notes, "Pillar thoroughly tests each application and stands behind their products 100%. And when a budgetary quote is needed, we have it within minutes."
Prior to purchasing the Pillar sealer in October 2006, Spa Giene studied the results of sealing tests that Pillar ran in its own laboratory on samples of the chemical cleaning bottles. The tests ensured that the speed requirements were met without compromising seal integrity. Not only did the Pillar system meet the requirements, but overwhelmingly exceeded them, according to Leonetti. The original imported induction sealer took more than 11 seconds to seal each bottle. The Pillar Technologies sealer did the job at the click of a button in less than one second. In addition, the sealer can easily accommodate the company's range of bottle mouth sizes.
The new manual system is efficient and effective in sealing up to 330,000 bottles per month, or up to 11,000 bottles per day, depending on Spa Giene's production requirements for the particular day. The pre-assembled, child-resistant plastic caps (30mm to 38mm), supplied by packaging distributor Container Manufacturing, Inc. (www.containermanufacturing.com), come with the foil-based induction seal liners in place.
The high-density polyethylene bottles are supplied by Container Manufacturers and by Cleveland Bottle (www.cleve
landbottle.com). Some of the bottles are supplied bearing screen printing or decorated with pre-applied shrink sleeve labels. Others are manually labeled by Spa Giene with pressure-sensitive labels.
Leonetti notes, "We needed an induction sealer to leak-proof our bottles, and we looked around and found Pillar. We got the first unit of this model shipped for commercial use. We were in an emergency situation, and Pillar quick-shipped it to us. This new hand-held unit is the latest technology, and Pillar offers outstanding support. The compact hand-held sealer is so fast. As quick as we can hit the button, it's done, and we're on to the next bottle. The process is fast and clean, and we no longer risk leakage problems."
Spa Giene currently is looking into the possibility of adding more bottle filling capacity, accompanied by more Pillar induction-sealing equipment.

Companies in this article