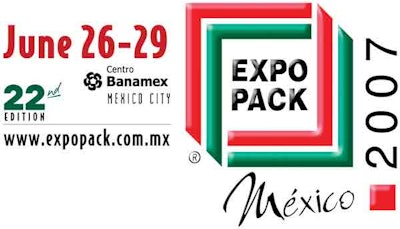 Considering that the total market value for packaging machinery and parts in Mexico is pegged at about $505 million, it's little wonder that the co-located Expo Pack Mexico 2007 and Procesa 2007 are expected to attract big crowds.
"Expo Pack Mexico and Procesa are the gateways to packaging innovation in Latin America," notes Chuck Yuska, president and chief executive officer of the Packaging Machinery Manufacturer's Institute (www.pmmi.org), sponsor of the show. "The entire spectrum of packaging and processing solutions are displayed in one location, making it easy to find innovative companies from across all market segments."
The food and beverage industries represent 19% of Mexico's GDP, and in terms of beer alone, Mexico is the third largest producer in the world. Pharmaceuticals is a sector that is also showing growth, averaging 7% in annual growth during the last three years.
PMMI expects 745 exhibitors at Expo Pack will occupy 151,300 sq' of net space. Drawn to these exhibits, which will include seven International Pavilions, will be some 31,900 visitors. On display will be technology from 22 countries.
Expo Pack Mexico and Procesa will take place June 26-29 at Centro Banamex in Mexico City. For more information, including exhibitor listing and on-line registration, visit ww.expopack.com.mx.
Companies in this article